More California students may be banned from using cellphones at school under new bill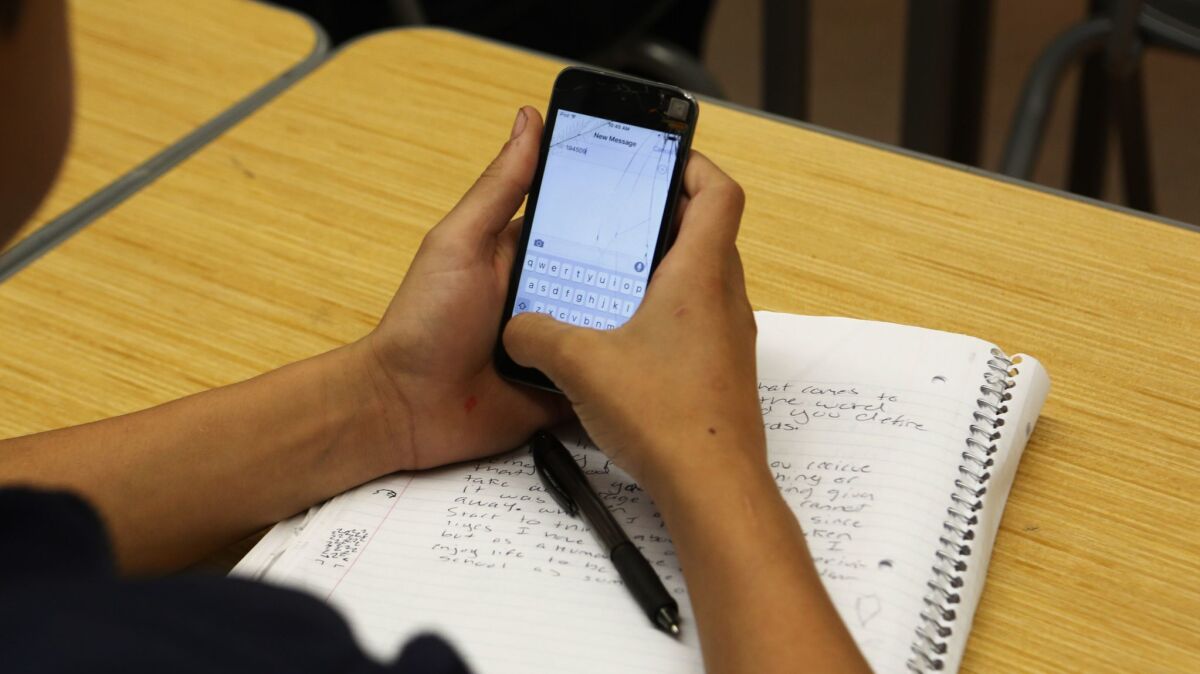 Reporting from Sacramento —
California students could be restricted or banned from using smartphones at school under a bill by a state lawmaker who says the devices can interfere with classroom learning.
The measure by Assemblyman Al Muratsuchi (D-Torrance) would require school boards to adopt policies that limit or prohibit the use of cellphones on school grounds, leaving it up to them what their rules would do.
"To the extent that smartphones are becoming too much of a distraction in the classroom, I think every school community needs to have that conversation as to when is too much of a good thing getting in the way of educational and social development," Muratsuchi said Wednesday after introducing the bill.
Many school districts have already banned the use of cellphones, said Muratsuchi, a former Torrance school board member.
Last month, the Palos Verdes Peninsula Unified School Board adopted a policy requiring children in grades K-5 to have cellphones turned off and stored out of sight during school hours, while older students face similar restrictions but can obtain teacher approval to use a smartphone for academic purposes.
"At the crux of the new policy is the fact that we want to make sure students are learning in the classroom and not preoccupied with being on their cellphones," said Alexander Cherniss, superintendent of the district.
The school board's president, Linda Reid, said "concern about cheating and cyberbullying has also come up," adding that "parents begged us for a policy."
The Times reported last year that 73% of teens carried a smartphone in 2016.
The California School Board Assn. has not yet taken a position on the bill, a spokesman said Wednesday.
Last year, the French government banned cellphones nationwide at primary and middle schools in a move that President Emmanuel Macron said was aimed at improving student performance. The assemblyman also cited a 2015 study by the London School of Economics and Political Science that found test scores improved significantly at schools that banned mobile phone use, and that the most significant gains were made by the most disadvantaged pupils.
The study concluded that "schools could significantly reduce the education achievement gap by prohibiting mobile phone use in schools."
Muratsuchi was also influenced by the work of San Diego State psychology professor Jean Twenge, author of "iGen: Why Today's Super-Connected Kids Are Growing Up Less Rebellious, More Tolerant, Less Happy — and Completely Unprepared for Adulthood."
Twenge found evidence that mobile device screen time and social media use may increase depression and suicide among American teenagers. Eighth-grade students who spend 10 or more hours per week on social media are 56% more likely to describe themselves as unhappy than those who devote less time to social media, Twenge said in her findings.
Electronic devices also affect classroom instruction, she said.
"It's just too tempting for teens to look at their phones during class — and when they do, they are not only distracting themselves, but distracting their classmates and their teacher," Twenge said Wednesday in an email to The Times.
Muratsuchi said the intent of his bill is to have school boards decide what policies fit for their schools.
"There is growing national and international evidence of the social and emotional consequences of too much screen time," he said.
Sign up for our Essential Politics newsletter »
Twitter: @mcgreevy99
Life is stressful. Our weekly mental wellness newsletter can help.
You may occasionally receive promotional content from the Los Angeles Times.