Sanchez no-show at UFW convention is missed opportunity for California's U.S. Senate race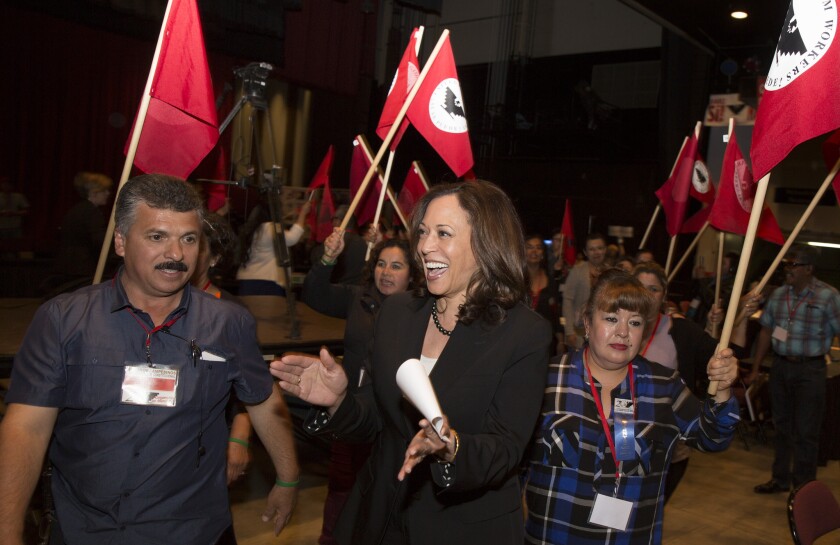 Reporting from Bakersfield —
A packed hall of unionized farmworkers was primed to provide one of the rare flashes of political drama in California's otherwise unremarkable U.S. Senate race this weekend, but, perhaps not surprisingly in this campaign, the opportunity fizzled.
With labor leaders from California's iconic United Farm Workers gathered for their convention in Bakersfield, and television news coverage from across the Central Valley, Democratic front-runner Kamala Harris made the most of her address as she called for strengthening rights and protections for immigrants.
The gathering appeared tailor-made for her top rival, Democrat Rep. Loretta Sanchez of Orange, the daughter of Mexican immigrants and a union machinist who would have been one of few politicians at the event able to talk to the mostly Spanish-speaking crowd without the aid of a translator.
But Sanchez, after campaign events in Fontana and Pico Rivera early Saturday, canceled her Saturday evening appearance, citing a "family matter." Her absence gave Harris a greater chance to make inroads among Latinos and in the Central Valley, both critical bases for Sanchez.
United Farm Workers President Arturo S. Rodriguez said Sanchez's absence was disappointing, but he offered praise for both Democrats. The union has yet to endorse a candidate, although UFW co-founder Dolores Huerta is backing Harris.
"Both women have tremendous capacity," Rodriguez said. "So they both have different things to offer, to Latinos, to immigrants, to farmworkers. And I think we're going to be looking at everything to make the best decision we can."
With just over two weeks to go before the June 7 primary election, the most intriguing subplot of California's U.S. Senate race has been the absence of political fireworks in the campaign that will decide the state's first open Senate seat since 1992.
Since Sanchez entered the race a year ago, her campaign has been primarily a weekend-only affair, with aides saying that is because of the 10-term congresswoman's commitments in Washington during the workweek.
"It's a challenge. It's definitely a challenge," said Sanchez campaign consultant Bill Carrick.
Plans for a third debate, sponsored by mega-Spanish-language network Univision in Los Angeles, were scrubbed when Sanchez had a scheduling conflict and had to stay in Washington for a crucial vote on a defense bill, he said. The network instead aired individual candidate forums, but it was another lost opportunity for Sanchez to distinguish herself from Harris with Latino voters.
There have been just two Senate debates, and both Harris and Sanchez started airing campaign ads only last week. None of the lesser-known, underfunded Republicans in the race have the money to buy TV time as they vie to replace retiring Democratic Sen. Barbara Boxer.
Not surprisingly, opinion polls in April and March showed that a third to one-half of registered voters remained undecided. That poses the greatest challenge to Sanchez, who is fighting to finish in the top two in June and ahead of the GOP pack. Under California's "top two" primary rules, the two candidates who receive the most votes in the primary will advance to the November election, regardless of party.
Carrick said Sanchez has plenty of campaign events, but they rarely attract news coverage, an essential staple for a successful campaign in a state as massive as California, which has more than 17 million voters. Only a handful of news outlets are covering the Senate campaign full time, he said, quite a change from the last open Senate races in California in the 1990s when dozens of reporters trailed the candidates.
Even Boxer's last reelection campaign in 2010 had more action.
In the hotly contested GOP primary that year, Republican Carly Fiorina spent more than $5 million of her own money on ads that took on her chief opponent, former U.S. Rep. Tom Campbell. The third-place finisher, former Irvine Assemblyman Chuck DeVore, also tried to rally support among California's budding and extremely vocal tea party supporters, but his effort fell short.
Political consultant Rose Kapolczynski, who was Boxer's campaign manager, said that race had a much different political dynamic. That it was competitive made the race a hot news story, she said.
"Everyone agreed there was a lot at stake in the 2010 Senate race and that led to high-profile, well-funded, vigorous campaigns," she said.
But California's current Senate race is hidden in the shadow of the wild presidential campaign.
"You try the best you can to get media coverage. Most of the time, the candidates have to go to the media, rather than the media come to the candidates," Carrick said. "It's no accident that one of the great accomplishments of Donald Trump is that he got all this coverage without leaving Trump Tower."
Harris campaign spokesman Nathan Click disputed any notion the campaign has been quiet. He said the attorney general has received ample local television news coverage during her weekday campaign events, the most recent string of which have been held in union halls.
Short of the insider crowds that Harris attracted at the California Democratic Party's annual convention in February, there have been no major rallies even remotely approaching the mobs coming to see Sen. Bernie Sanders. That's not unusual for a Senate race in California, where most campaigns rely on the television airwaves to reach voters statewide rather than packed arenas and town halls.
Harris has the added bonus of being a magnet for media attention as attorney general. In just the last week, Harris held a Santa Barbara news conference announcing the indictment of the company that operates a pipeline that ruptured last year near Santa Barbara, and she also touted her agency's crackdown on Stockton street gangs.
Sanchez has similarly taken advantage of her role in Congress, but as just one of 435 House members and serving in the minority party, she faces a more difficult task.
Sanchez, a senior Democrat on the House Armed Services and Homeland Security committees, was a popular guest on national news programs after the terrorist attacks in San Bernardino in December. But even that went awry when she suggested in an interview with Larry King that 5% to 20% of Muslims support a caliphate — a strict Islamic state. The comment prompted criticism from Muslim groups.
None of the top Republicans in the race hold an elected office, which leaves Tom Del Beccaro, George "Duf" Sundheim and Ron Unz dependent on small grass-roots campaigning to gin up support.
Saturday, Harris was trailed by television news cameras as she marched into the convention center chanting "Sí se puede!" — the United Farm Workers motto inspired by the union's co-founder, Cesar Chavez.
Harris told union delegates that immigration was the "civil rights issue of our time," a phrase she has repeated often at campaign rallies.
She offered few specifics on how she would work with the Republicans who control Congress to pass legislation. But no matter. A loud cheer rang out when she proclaimed her support for immigrant rights, saying in English and Spanish, "An undocumented immigrant is not a criminal."
ALSO:
Kamala Harris is focus of California's final U.S. Senate debate before primary
For California voters, picking a U.S. Senate candidate could be 'like throwing darts at a dart board'
California's next senator could be a Latina. Will her past mistakes get in the way?
How race helped shape the politics of Senate candidate Kamala Harris
Farmworkers win court battle over access to California labor board's proceedings
Produce industry giants team up to promote responsible labor practices
---
Get our Essential Politics newsletter
The latest news, analysis and insights from our politics teams from Sacramento to D.C.
You may occasionally receive promotional content from the Los Angeles Times.