Newsom wavers on Silicon Valley tech money for affordable housing in California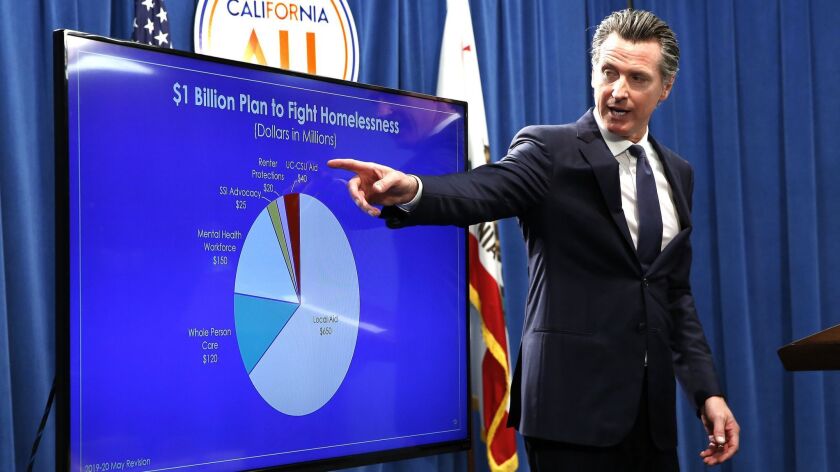 Reporting from Sacramento —
Gov. Gavin Newsom's push for Silicon Valley tech companies to commit a half-billion dollars this year toward resolving the state's housing affordability problems appears to have hit a snag.
While announcing his revised spending proposal on Thursday, Newsom said he still wanted the money to come through for the 2019-20 budget, but wasn't sure that it would.
"We can't count on anything in life," Newsom said. "Life's uncertain."
The governor unveiled the idea, similar to those recently advanced by Microsoft in Seattle and the personal philanthropic company of Facebook Chief Executive Mark Zuckerberg in the Bay Area, when he released his initial budget plan in January.
Newsom said the state's housing problems had been exacerbated by the growth of technology companies, which have fueled an increase in jobs without corresponding growth in homebuilding.
"I do not begrudge people's success, but that success is creating burdens and stress," he said in January.
Gov. Gavin Newsom wants the tech industry to help pay for new housing. But not for the neediest Californians »
At the time, Newsom said he was meeting with executives from Silicon Valley corporations about contributing $500 million to provide developers with low-interest loans to help build housing for middle-income residents, matching funding he proposed for such developments through a state program in the budget.
The governor mentioned the idea when asked whether he had taken into account the effects of potential initial public offerings of Uber, Lyft and other Silicon Valley tech companies in putting together his budget plans.
"What I did assume, and you'll see language in the budget, is that corporate California steps up and helps us on the housing front," he said.
Later in January, Newsom said he hoped to announce a deal with tech leaders that would outline their contributions within four to six months.
But on Thursday, Newsom downplayed his remarks from the beginning of the year, maintaining that he never said the money would be part of the coming year's budget.
"I said I wanted it to happen," Newsom said. "I didn't say it would happen. I said, 'I'm hoping it happens.' By the way, we're doing pretty good on our hopes and expectations. So stay tuned. I can't do everything in the first 120 days."
It's unclear how much progress Newsom has made since January in getting commitments from tech leaders. The governor's office declined to provide details on his efforts.
Carl Guardino, president and CEO of the Silicon Valley Leadership Group, said he exchanged text messages with Newsom in the weeks after the January budget announcement and offered his assistance in advocating for the idea with tech executives. Guardino said Newsom declined his help, but in a meeting two weeks ago the governor brought up the idea.
"He said he was having conversations that he thought were going well," Guardino said.
Newsom and the Legislature must agree on a budget plan for the coming year by mid-June.
---
Life is stressful. Our weekly mental wellness newsletter can help.
You may occasionally receive promotional content from the Los Angeles Times.