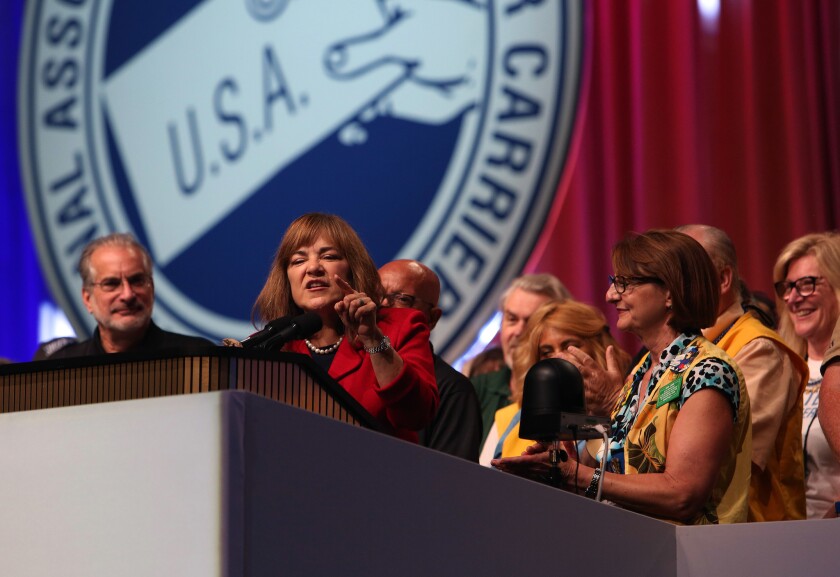 Reporting from Sacramento —
Down in the polls and trailing in fundraising, U.S. Senate candidate Loretta Sanchez has just more than two months to close the gap with front-runner Kamala Harris before Election Day.
Sanchez's absence from the campaign trail in recent weeks, a noticeable lull even for the sedate summer months of the political season, only adds pressure on the Orange County congresswoman to show voters and donors — soon — that she has a legitimate shot to win in November.
"Both of the candidates have been keeping unusually low public profiles. But Harris has been running pretty much ahead in the polls and there's not much incentive for her to do anything that might change that," said Dan Schnur, director of the Jesse M. Unruh Institute of Politics at USC. "It's much more unusual that the second-place candidate hasn't been more visible and publicly aggressive."
Sanchez's representatives say the congresswoman has been working behind-the-scenes to raise money, hosting fundraisers and burning up the phone lines with prospective contributors. She also attended "night out" crime prevention events earlier this month in Downey and Wilmington, though officially in her capacity as a congresswoman.
Still, Sanchez had not held a single public campaign event in August until last week, even though Congress has been on summer recess. On Thursday, Sanchez addressed the National Association of Letter Carriers at its convention in Los Angeles and then headed up to Northern California on Friday to discuss federal water policy at the Shasta Dam and meet with supporters around Chico.
U.S. Senate candidate Loretta Sanchez, a Democrat, speaks to members of the National Assn. of Letter Carriers at the Los Angeles Convention Center.
"Summer is very difficult," said veteran political consultant Bill Carrick, who is working on the Sanchez campaign. "Culturally, the political campaigns are out of sync with what most people are doing during the summer. People are taking vacations and long weekends — and we're asking them to come to a fundraiser."
Carrick said the campaign has to invest time and effort into raising money now to afford an effective media campaign in the home stretch that will emphasize Sanchez's expertise on national defense, the economy and other issues that separate her from Harris.
"We have to make it more of a choice," Carrick said.
The biggest development in California's historic Democrat-versus-Democrat Senate race this summer was President Obama's endorsement of Harris — and Sanchez's pointed response. Sanchez accused the president of being part of a political establishment that has failed to help Californians and she caused a stir when, during an interview on a Spanish-language TV station in Sacramento, she implied that Obama may have endorsed her rival because they are both black.
Not counting appearances and television interviews at the Democratic National Convention in Philadelphia in July, both Harris and Sanchez have had relatively light schedules for public campaign events since the June primary. Harris appeared often on national news shows in July in the aftermath of a series of fatal confrontations between police and black men, and held a few press conferences in her official capacity as state attorney general.
But Harris, California's two-term attorney general, has had only one campaign event in August so far — delivering a speech to the California Teachers Assn. in Los Angeles. Her campaign also has been busy raising money, and just last week former New York Mayor Michael Bloomberg hosted a fundraiser for her there.
In California's hotly contested Senate campaign in 2010, Republican Carly Fiorina and Democrat Sen. Barbara Boxer spent the summer months crisscrossing the state — sopping up the media news coverage to criticize one another. During the first three weeks of August alone, Fiorina campaigned in Riverside, San Diego, Los Angeles, Fresno and Sunnyvale. Boxer did the same in Long Beach, L.A., Palo Alto and Santa Barbara.
"We were all over the place doing events," said Marty Wilson, Fiorina's campaign manager. "Gee whiz. You're two weeks out from Labor Day, which is the historical start of the campaign. We were fully staffed, getting ready to get on the air with ads."
Boxer and Fiorina had already spent close to $20 million combined by this point in the campaign, which included Fiorina's GOP primary fight, federal campaign reports show. Harris and Sanchez have dished out a combined $12 million — with Harris accounting for $9 million of that.
Wilson said the 2010 campaign received a lot more attention, and media coverage, because it was a traditional, hard-fought Democrat-vs.-Republican campaign and Boxer was considered a vulnerable incumbent. With millions of Californians out of work and the state flattened by recession, Fiorina tried to frame the campaign as a referendum on the failed policies of the Obama administration and Washington Democrats.
The Democrat-vs.-Democrat general election sets the stage for the highest-profile contest between two members of the same party since California adopted a top-two primary election system. But it also robs the contest of drama because Harris and Sanchez are closely aligned on so many issues, Wilson said.
Wilson, who works for the California Chamber of Commerce, said he's fielded a few informal queries from "conservative leaning organizations" on the East Coast about whether they should weigh in on the California Senate race, in case Sanchez might be more friendly toward their interests. But if an outside organization wants to have an impact in a Senate race in a state as vast and expensive as California, it'll cost them about $15 million, he said. They could spend the same amount on toss-up Republican-vs.-Democrat Senate races in Nevada, Indiana and New Hampshire and have a much larger impact, Wilson said.
"A Democratic senator is a Democratic senator," Wilson said.
Rose Kapolczynski, who managed Boxer's successful reelection bid against Fiorina, said that unlike the 2010 contest the current Senate race is being lost in the shadow of a hyperventilating presidential election that seems to swoon with a new political controversy every week.
"With the presidential race being the car wreck that you can't turn away from, that probably contributes to it as well," Kapolczynski said. "Donald Trump dominates the headlines day after day, and that probably consumes the entire bandwidth that the average voter has for politics."
Compared with years past, the current Senate race also is receiving less news coverage because of the state's depleted press corps, Kapolczynski said. Just a handful of newspapers and radio outlets are covering the Harris-Sanchez race on a sustained basis.
"There are fewer reporters covering campaigns and many of those are covering many races all at once," she said. "There's a relationship between media coverage and fundraising. When you're in the news ... donors pay more attention and think you have chance of winning."
A Public Policy Institute of California poll in late July found that 38% of likely voters supported Harris, compared with 20% for Sanchez. Half of California's likely Republican voters and a third of independents said they wouldn't vote for either candidate.
"With Harris polling way ahead, maybe the media is just not finding this an interesting race," said Democratic pollster Ruth Bernstein of EMC Research in Oakland. "But it isn't Labor Day yet, so a lot of voters are not paying attention."
Election 2016 | California politics news feed | Sign up for the newsletter
Twitter: @philwillon
ALSO:
Sparks fly as California's U.S. Senate candidates wrestle about how often to debate
Rep. Loretta Sanchez implies Obama endorsed Senate rival because they are both black
Former Republican congressman backs Loretta Sanchez for Senate
Kamala Harris nabs support from top legislative leaders
Updates on California politics
---