Billions of dollars to help California's homeless population are piling up — and going unspent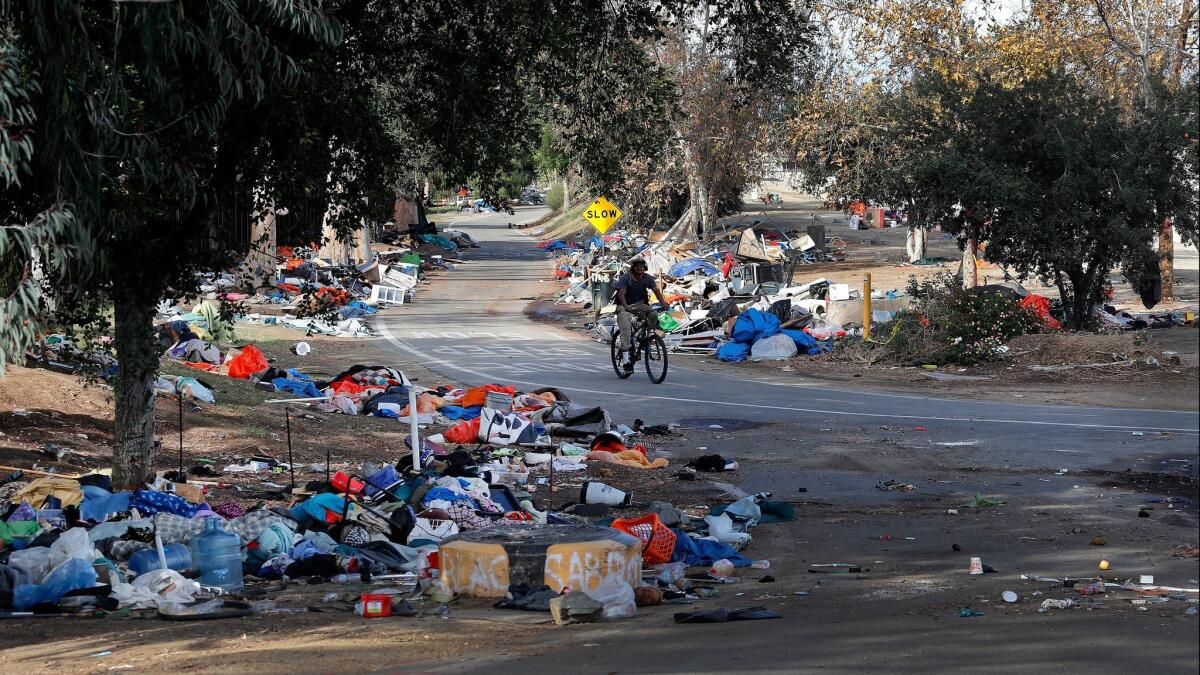 Reporting from Sacramento —
California's homeless population has grown to more than 134,000 people, and key state government spending is taking a while to reach the streets.
In summer 2016 the state approved its largest homeless program, a $2-billion loan to help finance new housing, but the money is tied up in court. That same year, lawmakers allocated $35 million for rental assistance and emergency shelters, but staff shortages at the housing department delayed spending the money for 18 months. Last year's package of housing legislation included more than $100 million for programs to help the homeless, but the state won't begin spending those dollars until fall at the earliest. The spending difficulties come as the state's homeless population has risen 16% over the past two years.
Some of the state's sluggishness, advocates say, springs from a history of limited investment. But that could be changing. Legislators are considering proposals that could pump an additional $1.5 billion into homelessness prevention next year, efforts that could lead to thousands of new beds for those needing shelter — and stronger scrutiny of state spending.
"We are now seeing what has taken decades of neglect to fester," said Sharon Rapport, associate director for California policy at the Corporation for Supportive Housing in Los Angeles. "When you don't have programs for a long time and then you try to create something new, it does take a culture shift."
Generally, funding to help the homeless comes from the federal government and goes directly to local agencies that coordinate homeless financing and services across the state. That federal effort has provided around $100 million annually over the past four years to an agency that covers much of Los Angeles County. At the state level, major programs that included homeless housing subsidies, such as a 2006 bond measure and a $1-billion annual property tax set aside for affordable housing, have run out of money or were eliminated over the past seven years.
Next year, the state expects to spend $700 million on homelessness, though more than a third of that amount is tied up in litigation. The state money is spread across six departments, and uncertainty over what's being spent led to frustration at a recent legislative committee hearing.
Officials with the California Department of Finance and the Department of Housing and Community Development tried last month to explain to legislators on the Assembly Committee on Budget how the state was spending its money. But the conversation turned to programs that weren't listed on the budget that state officials provided the committee, and lawmakers were upset that they didn't have a comprehensive accounting of the spending.
Assemblyman Phil Ting (D-San Francisco), chairman of the budget committee, has proposed spending $1.5 billion of the state's expected $6.1-billion tax revenue windfall next year on matching grants to city and county homelessness programs. Separate legislation from state Sen. Jim Beall (D-San Jose) would spend $2 billion of that revenue on low-income housing programs, with half of that amount reserved for homelessness efforts.
As lawmakers weigh new investments, they need to know that the money they've already approved is being spent efficiently, Ting said.
"We're going to be watching this issue much more closely than we did in the past," he said.
Ben Metcalf, director of California's housing department, defended the state's spending on the homeless. Some of the confusion at the recent budget committee hearing came from his department's attempt to redirect dollars from an outdated emergency shelter program to one that provides permanent homeless housing, he said.
Under Gov. Jerry Brown, the housing department alone has spent nearly $750 million fighting homelessness, Metcalf said, and any time the Legislature creates a new program it takes time to figure out the most efficient way to spend the money.
Lawmakers appropriated funding for one rental assistance effort in 2016 but didn't approve money for housing department operations to run that program until a year later. Last year's package of new housing laws added a $75 fee to mortgage refinances and other real estate transactions, with half of the money from the first year going to homeless programs. The state is waiting until the fall for that money to add up before it starts spending, Metcalf said.
"You can't just snap your fingers and make anything happen overnight," he said. "That's just the reality."
The administration has not taken a position on Ting's or Beall's homeless spending proposals, Metcalf said. Brown has said he wants to put money from the tax windfall into reserves in case of an economic downturn or repeat of last year's wildfires and other natural disasters.
State money for homelessness prevention also comes from other agencies. The Department of Social Services, which administers the state's welfare assistance program, CalWorks, has $85 million set aside to help families and individuals at risk of becoming homeless with temporary housing, rental assistance and counseling services. The Governor's Office of Emergency Services, the same department responsible for coordinating the state's response to mudslides and other natural disasters, also receives $19 million to help prevent homelessness among domestic violence and other crime victims, as well as homeless youths.
Last fall, state departments with homelessness programs formed a formal committee to ensure that their efforts don't overlap.
Jennifer Loving, executive director of Destination: Home, which handles homeless prevention services in Santa Clara County, said she became one of the committee's members because she's been encouraged by the state's increased attention to the issue.
"There's momentum now, and that's really important," Loving said. "That's a response to a lack of things happening for a long time."
ALSO
California housing crisis podcast: Why the state's homeless population is booming
$2 billion to help house California's homeless isn't being spent — and no one knows when it will be
California mayors push state for funding to address homelessness
Get our Essential Politics newsletter
The latest news, analysis and insights from our politics team.
You may occasionally receive promotional content from the Los Angeles Times.