State lawmakers want to restore an urban renewal and affordable housing program. But it's complicated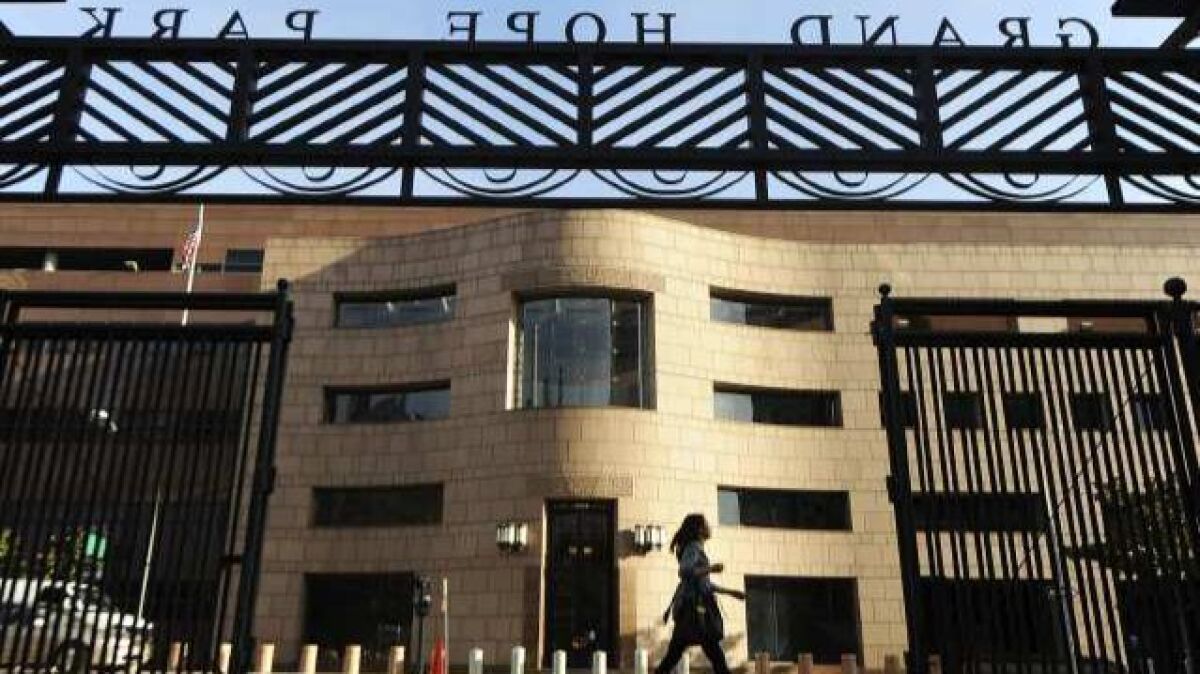 Reporting from Sacramento —
Seven years ago, at the depth of the state's budget crisis, Gov. Jerry Brown eliminated an urban renewal program that provided billions of dollars annually for economic development and low-income housing. Ever since, lawmakers have tried and failed to bring it back.
Now, with Brown on his way out of office next January, legislators are gearing up for another attempt. This time will be different, they say, not only because state government finances have improved, but also because they could have the support of Brown's would-be successor. Leading Democratic gubernatorial candidates Gavin Newsom, Antonio Villaraigosa and John Chiang have all endorsed the program's resurrection.
"We would love to work with this governor on it," said Assemblyman David Chiu (D-San Francisco), who plans to introduce legislation this year. "But if it's not meant to be by the time we're able to get something to the governor's desk, we want to be able for the next governor to move quickly."
Even with the backing of a new governor, bringing back the urban renewal program, known formally as redevelopment, faces major questions: How much is it going to cost, and how will the money be divided?
Starting in 1945, the redevelopment program allowed California's local governments to declare downtrodden neighborhoods blighted and in need of economic investment. Under the system, cities and counties sequestered most new property tax dollars generated in those neighborhoods — money that would have otherwise gone to the day-to-day budgets of cities, counties, special districts and schools. Redevelopment revenue could be spent on road, park and transit upgrades among other efforts to spur growth, and at least 20% of the funds had to be set aside to help build low-income housing.
Supporters have credited redevelopment with revitalizing Old Pasadena, San Diego's Gaslamp Quarter and other areas. But Brown successfully argued in 2011 that the state no longer could afford it and that the system was rife with abuses.
There were multimillion-dollar oceanfront homes in a redevelopment area that the tony San Diego suburb of Coronado had declared blighted. Palm Desert spent $16.7 million in redevelopment funds to maintain a luxury public golf course. The city of Sacramento spent millions financing the construction of a downtown bar featuring women dressed as mermaids swimming in an aquarium. A 2010 Times investigation found dozens of cities spent hundreds of millions of dollars reserved for affordable housing on employee salaries, planning documents and developer subsidies, among other payments, without building a single new home.
Since the program's dissolution, more than $15 billion that would have gone to redevelopment agencies instead has flowed to school districts and local governments, according to the state Department of Finance. Almost $9 billion of that went to schools, allowing state government to fund other programs with money that it otherwise would have been obligated to spend on education.
Since 2011, the Brown administration has supported other economic development programs, such as tax credits for businesses relocating or remaining in the state, that it believes are better at job creation than redevelopment was, said H.D. Palmer, spokesman for the Department of Finance.
"There is not an appetite to reconstruct redevelopment as it was before 2011 by this administration," Palmer said.
Chiu says any new program will look much different from the old one. His legislation will involve more state oversight and redefine how neighborhoods would be eligible for the program. A redevelopment replacement, he said, should emphasize housing and job growth near transit to help achieve the state's climate change goals.
"We need to think about what it means to revitalize our communities in the 21st century," Chiu said.
The new version of redevelopment will cost the state money, he said, though likely less than it once did. But the state's budget won't be the only one affected.
Under the old system, counties and special districts had little say when neighborhoods became redevelopment areas, even though these programs took a chunk of their tax dollars. Any new version of the program, said Dorothy Johnson, a legislative representative at the California State Assn. of Counties, should give counties veto power over the diversion of their revenues.
"Proposals that would sweep county resources into a project that was not approved by the local government body runs counter to the goals of building a stronger, more resilient California," Johnson said in a statement.
Cities also aren't ready to embrace a redevelopment replacement. They are facing pressures from rising pension costs and other expenses and would want a firm contribution from the state before agreeing to divert property tax dollars, said Dan Carrigg, legislative director for the League of California Cities.
Hard feelings also remain from the dissolution of redevelopment seven years ago, Carrigg said. The state had clawed back redevelopment dollars multiple times prior to 2011, and the League of California Cities sued that year over a legislative deal that would have deeply cut redevelopment agency budgets, but allowed them to continue operating. The lawsuit backfired when a California Supreme Court ruling in the case resulted instead in the program's elimination.
Local governments don't want to commit to a new version of redevelopment only to have the state renege a few years later, Carrigg said.
"The state is going to have to be a reliable partner," he said.
Still, the loss of redevelopment has left funding holes that haven't been filled, particularly for low-income housing. Since redevelopment's dissolution, the state has approved spending from its cap-and-trade environmental program and implemented a new real estate transaction fee to subsidize the development of low-income housing. Those efforts, however, are generating less money than the $1-billion-a-year redevelopment for housing when it was eliminated.
The nonpartisan Legislative Analyst's Office has estimated that providing subsidized homes just for the 1.7 million low-income California renters who spend more than half their income on housing would cost at least $15 billion a year. The state needs to find new sources of revenue, said Chiu, who is the chairman of the Assembly Housing and Community Development Committee.
"We haven't come close to replacing the affordable housing funding we used to receive from redevelopment," he said.
Even if a revamped version of redevelopment were to pass under Brown or the next governor, it probably won't provide an immediate infusion of cash. The system generates money through increases in property tax revenues over time. So if a neighborhood became a redevelopment area tomorrow, it could take years for enough money to build up to fund new projects.
ALSO
Gov. Brown just signed 15 housing bills. Here's how they're supposed to help the affordability crisis
California high court puts redevelopment agencies out of business
California's budget crisis a chance to rethink redevelopment funds
---
Life is stressful. Our weekly mental wellness newsletter can help.
You may occasionally receive promotional content from the Los Angeles Times.