California wildfires fuel a new push to ban smoking at state parks and beaches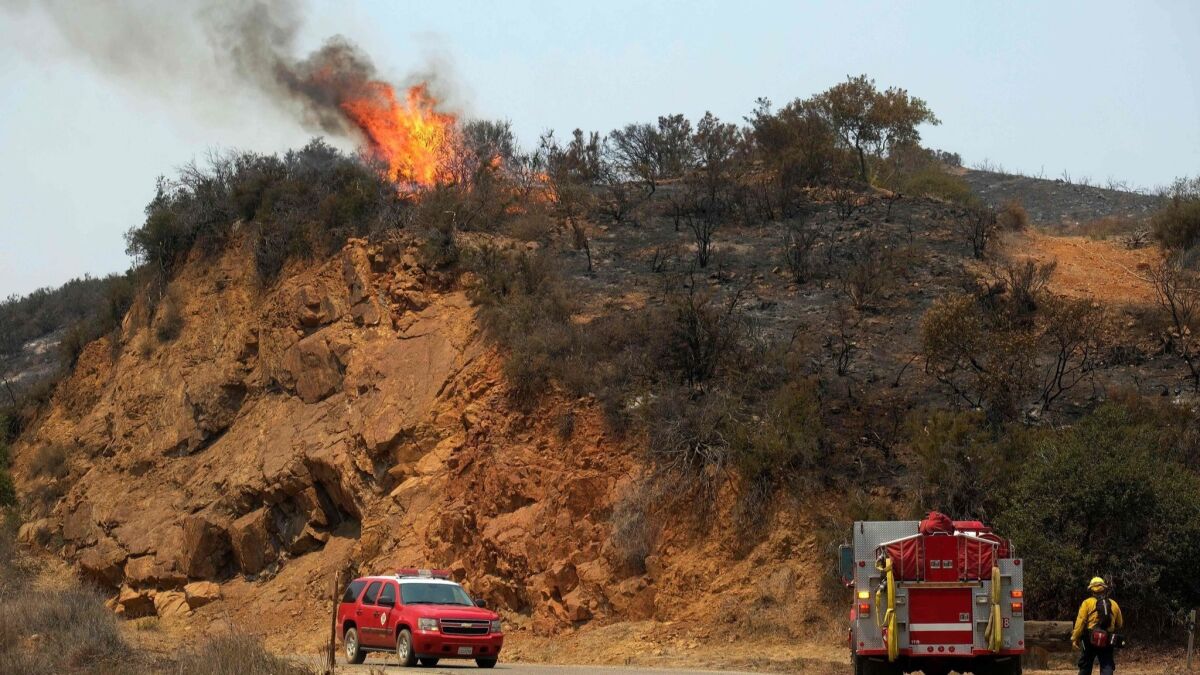 Reporting from Sacramento —
After more than a decade of attempts to ban smoking at California beaches and parks, environmentalists have advanced new legislation to prevent lighting up in certain public places.
The proposals, approved Thursday by the Senate, now go to Gov. Jerry Brown, who vetoed three previous bills on the issue.
Supporters feel this year's devastating wildfires have bolstered their argument and given their proposals new urgency.
Assemblyman Marc Levine (D-San Rafael) emphasized the fire-related need for the legislation during floor debate in the Assembly.
"The 2017 California wildfire season was the most destructive one on record, and the 2018 season is not off to a great start," Levine said. "This bill is a common-sense approach to lower the risk of forest fires and will help curb pollution."
Levine noted many of the wildfires that Cal Fire responds to are "started by carelessly discarded cigarettes."
Cal Fire responded to an average of 47 wildfires each year caused by smoking during the five-year period ending in 2017, the agency reported.
Environmentalists and health groups have pushed for expanded smoking rules for years, arguing that second-hand smoke presents a cancer risk, while cigarette butts littering beaches and park trails are toxic to wildlife and spoil the state's natural beauty.
Sen. Steve Glazer (D-Concord) made that point to colleagues after authoring two smoking-ban bills this year: one for beaches and one for parks.
"California is home to some of the nation's most scenic beaches and parklands," he said. "It's imperative that we protect our precious natural resources and ensure that we provide the people of California a clean and smoke-free space."
But similar appeals have not persuaded others in the past, including the governor.
"If people can't smoke even on a deserted beach, where can they?" Brown asked in his veto message last year. "There must be some limit to the coercive power of government."
Lawmakers who failed in prior attempts at a ban have pared back this year's legislation.
One of Glazer's bills sent to the governor bans smoking — including marijuana and electronic cigarettes — in state parks, but allows officials to exempt certain areas from the ban. The other bill would apply the same restrictions to beaches, but only where the state has posted signs warning that smoking is banned.
"I'm hoping that Gov. Brown will see that we refashioned the legislation to give him flexibility on where a smoking ban could be acceptable, especially with increasing fire risks," Glazer said.
Levine also introduced a bill, which was approved Friday. His measure would apply only to designated picnic areas at state parks and beaches. Narrowing the bill to where families congregate and eat makes sense, Levine said, noting that California banned smoking in restaurants long ago.
"Think of picnic areas as outdoor restaurants," he said.
Levine's bill that was vetoed last year proposed a fine of $50, while Glazer's last effort would have fined offenders $100. Brown objected to the proposals, noting that the cost of breaking the law could reach $485 with court fees included, which he said was excessive.
This year, both Glazer and Levine are proposing $25 fines.
Bills to ban outdoor smoking have been introduced since 2004, when legislation to prevent people from lighting up on beaches failed to make it out of the Senate.
A 2010 bill by then-Sen. Jenny Oropeza (D-Long Beach) was vetoed by then-Gov. Arnold Schwarzenegger, the cigar-loving Republican who called the bill "an improper intrusion of government into people's lives."
The theme was taken up by others in the GOP during floor debates this year.
Assemblyman Matthew Harper (R-Huntington Beach) read Brown's 2017 veto message on the Assembly floor and said he agreed with the Democrat.
"We should not restrict the freedoms that some Californians can still enjoy," Harper said, noting it is already against state law to litter state beaches and parks.
Harper also attacked the wildfire argument.
"As we know, beaches themselves are not flammable," he said.
Levine offered another possible strategy to get the governor on board.
"I would invite Gov. Brown to take a drag on a cigarette on his ranch in Colusa," Levine said in reference to the rural homestead where the governor plans to live after leaving office in January.
Coverage of California politics »
Twitter: @mcgreevy99
---
UPDATES:
3 p.m. Friday: This article was updated to reflect that the Legislature approved the bill by Assemblyman Marc Levine.
This article was originally published at 1:35 p.m. Thursday.
Get our Essential Politics newsletter
The latest news, analysis and insights from our politics team.
You may occasionally receive promotional content from the Los Angeles Times.