Tom Steyer makes moves toward a presidential bid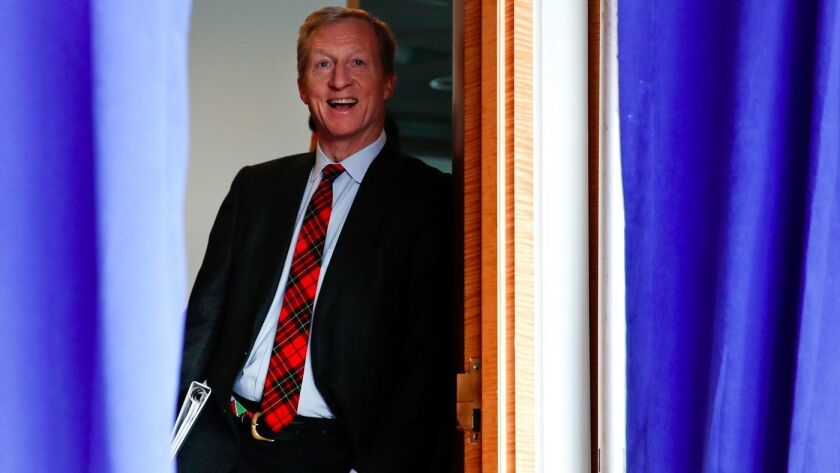 San Francisco billionaire Tom Steyer took the biggest steps yet toward a potential 2020 presidential bid Tuesday, laying out a progressive policy platform and announcing a tour of five key primary states.
Steyer, a former hedge fund manager who left his company in 2012 to focus on political activism, joins at least three other Californians who are widely believed to be running.
In an announcement, Steyer said he planned to hold town hall meetings in five states, starting with a Dec. 4 event in the early primary state of South Carolina, where he expects to discuss voting rights. That will be followed by an appearance in Fresno in mid-December focused on clean air and water as well as stops in New Hampshire, Iowa and Nevada.
Note to Democrats pondering a presidential run: The clock is already ticking »
Full-page ads in newspapers across the country will also lay out the rest of his "5 Rights" platform, which includes education, a living wage and healthcare.
"These five rights should be at the core of the Democratic Party's 2020 platform," Steyer said in a statement, "but this is bigger than any political party."
Three other California Democrats have suggested — either in actions or words — that they're potential 2020 contenders. On the trail in October, Sen. Kamala Harris hinted that she'd consider a presidential bid after the midterm election. Los Angeles Mayor Eric Garcetti toured early primary states to campaign for Democrats in House races. And Bay Area congressman Eric Swalwell, reported to be running, has visited Iowa more than a dozen times.
Coverage of California politics »
A spokeswoman said Steyer's priority is ensuring Democrats commit to the priorities he's laying out, regardless of who the nominee is.
Steyer's announcement comes on the heels of sweeping victories for Democrats in the midterm election. He spent more than $100 million in the midterms, most of it through his political advocacy organization NextGen America. He also invested money in boosting youth turnout and in Andrew Gillum's unsuccessful gubernatorial campaign in Florida.
Steyer had previously considered running for U.S. Senate and governor in California but decided not to seek office in the 2018 election.
In an interview days after the midterm, Steyer said he was still seriously considering running for president in 2020 but remained coy about when he'd make a decision and insisted he would press on with his campaign to impeach President Trump. He has poured millions of dollars into the petition campaign, complete with television ads starring himself.
"If Trump gets reelected, it's a disaster, full stop. If he even makes it to 2020, it's a disaster," Steyer said. "I'm going to try to personally figure out what is the most effective thing I can do."
Twitter: @cmaiduc
---
Get our Essential Politics newsletter
The latest news, analysis and insights from our politics teams from Sacramento to D.C.
You may occasionally receive promotional content from the Los Angeles Times.