Campaigning for Democrats, California's Kamala Harris hints she'll think about presidential run after midterm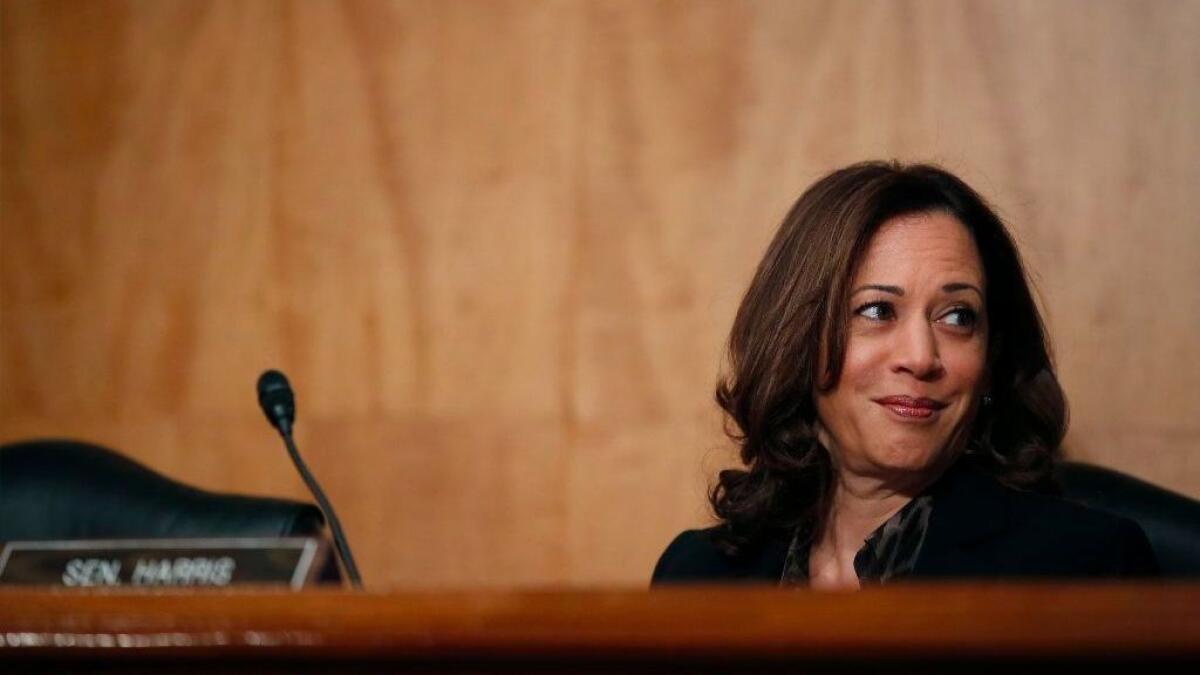 Reporting from Columbus, Ohio —
Michelle Garrett craned to snap a photo of Sen. Kamala Harris amid the sea of cellphones and campaign signs at a get-out-the-vote rally for Ohio Democrats, sliding her "Sherrod Brown for Senate" lawn sign under a chair to protect it from jostling feet.
"I can't believe she's here. For us, it's like a rock star," Garrett, 52, of Worthington, Ohio, said. "I've gone to things for Sherrod before, but ... having her is like the cherry on top."
Rookie senators aren't usually in such high demand to speak and raise money on behalf of colleagues in other parts of the country. But Harris' packed travel schedule is another sign of the freshman California senator's rising profile in the Democratic Party.
And it's probably no accident that campaigning for Democratic candidates in more than a dozen states has taken Harris — seen as a possible 2020 presidential candidate — to several important primary states. Last month she raised money for the Democratic candidate for governor in Iowa. Next week she'll campaign for candidates in South Carolina. At the end of October she is scheduled to campaign in Wisconsin for Sen. Tammy Baldwin.
Over the weekend, Harris visited Columbus, Ohio, for the rally and a fundraiser for Brown before speaking to more than a thousand Democrats at the annual Ohio Democratic Party dinner. Monday she traveled to Cleveland for another fundraiser.
Demand for Harris was so high that initially her schedule included two fundraisers and a speech within a three-hour period on Saturday night. But those plans fell apart when Harris and the rest of the Senate had to remain in Washington for the vote on Trump's Supreme Court pick, Brett Kavanaugh.
Beyond helping Democrats win election, such visits are a chance to engage with party faithful who have seen her on television grilling Trump's Cabinet and judicial nominees and want a chance to meet her in person.
As usual, attendees mobbed Harris after the Columbus rally ended and she spent nearly half an hour taking selfies, getting hugs and having brief conversations with people of all ages.
Retired music education professor Sandy Mathias, 75, of Columbus couldn't make it through the crowd and eventually approached Harris' husband, Doug Emhoff, to ask him to relay a message to the senator that she had done well in the Kavanaugh confirmation hearings. Emhoff shouldered his way through the crowd, Mathias in tow, so she could speak directly to Harris.
"I hope she runs in 2020," Mathias said afterward. "It's obvious she's very intelligent, but her demeanor in that hearing, asking those questions so professionally, so calm. I felt so proud watching her, because you begin to think: Where has integrity gone? Where has honor gone? Where has sanity gone? And it is with her."
When Harris began to tell the crowd why she had come to Ohio, one rally attendee yelled out: "You're running for president!"
While Harris has previously demurred or dismissed such speculation, she came close to acknowledging that she planned to consider a presidential run.
"I'm thinking about '18 and what we need to do around these races, and then I'll seriously take a look at things after that. But right now I'm focused on this," she told reporters.
Rep. Joyce Beatty (D-Ohio) said after the rally that Harris is such a big draw because she has been out front challenging the Trump administration on so many issues. Several people at the rally said they mainly attended because Harris was there.
"She's visible, she's a fighter, but she's also well-spoken and brilliant. So, I think her message, whether in her first term or her second term is received well," Beatty said.
Harris has helped out dozens of House and Senate candidates, though not all in person. Her expansive list of supporters' email addresses means a well-timed email from Harris can raise thousands of dollars overnight on behalf of a Democratic candidate. She has raised more than $6.5 million for candidates so far this cycle, according to her campaign.
During the contentious Kavanaugh nomination, Harris raised hundreds of thousands of dollars through fundraising pleas on behalf of vulnerable Democratic Sens. Heidi Heitkamp of North Dakota and Joe Donnelly of Indiana. About an hour after the Senate voted to narrowly confirm Kavanaugh, Harris sent an email with the opening line "I'm going to be honest with you — it's been a tough day" and urging supporters to donate to female Senate candidates Kyrsten Sinema of Arizona and Jacky Rosen of Nevada.
Harris isn't the only potential 2020 Democratic candidate in high demand. Sen. Cory Booker (D-N.J.) spoke at the Iowa Democratic Party dinner Saturday. Sens. Elizabeth Warren of Massachusetts, Bernie Sanders of Vermont and former Vice President Joe Biden have dispersed across the country in recent months as well, reaching out to local candidates and activists and road-testing potential messages for 2020.
Harris took the stage at the Ohio Democratic dinner to raucous applause and a standing ovation. She used several lines she has tested at similar events, calling this time an "inflection point" in American history similar to the civil rights movement, and saying their children and grandchildren will ask them one day what they did to fight back.
She urged voters in the swing state to not let the Kavanaugh confirmation defuse their enthusiasm just weeks before election day.
"Let's use this week to give us all that extra energy that we know we have," Harris said. "The bottom line is they may have the power right now, but we need to take it back and the only way we're going to do that is when we get everyone out to vote."
Ohio Democratic Party Chairman David Pepper said interest in the dinner jumped when the party announced that Harris would be the keynote speaker. Polls there have shown close races across the ticket in a state Trump carried by 8 percentage points.
"She was clearly a huge draw for us. She's just really energizing, not just at a dinner like this, but also a lot of our grassroots work, she's been out doing that as well," Pepper said. "To have some of these respected national figures come in to help share that message and fire people up is really important right now, and if it translates into more volunteers, and more people going to the doors and making phone calls, in the end that's how you win elections."
More stories from Sarah D. Wire »
Twitter: @sarahdwire
Get our Essential Politics newsletter
The latest news, analysis and insights from our politics team.
You may occasionally receive promotional content from the Los Angeles Times.