California's been rejecting legalized marijuana for more than a century. Here's why this time is different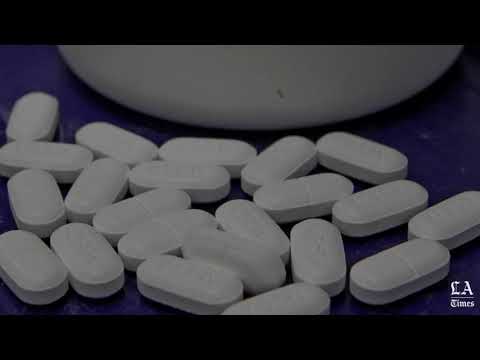 A new study from Columbia University's Mailman School of Public Health found that drivers were less likely to test positive for opioids after fatal accidents in states where medical marijuana was legal.
On Nov. 8, California voters will have the opportunity to legalize recreational use of marijuana. It won't be the first time.
We've put together a timeline of the Golden State's history with cannabis, which stretches back more than a century to the Poison Act of 1907.
1913: Addendum to the Poison Act
California became the first state to prohibit marijuana in an addendum to the Poison Act of 1907. The Poison Act made it illegal to sell or use cocaine or opiates such as opium and morphine without a prescription. In 1913, the law was amended to include cannabis.
1937: The Marihuana Tax Act
This federal act prohibited cannabis in the United States except for industrial and medicinal uses.
Following the Mexican Revolution in 1910, many Mexicans immigrated to the U.S., prompting an outcry about the effects of immigration. Anti-Mexican sentiment surfaced in public fears of "marihuana," which some believed came across the border with the immigrants and turned users into raging violent lunatics.
The Marihuana Tax Act had other contributing causes, including William Randolph Hearst's campaign against hemp as an alternative to using wood pulp for paper and reports from the Federal Bureau of Narcotics about the dangers of cannabis smoking.
The head of the Federal Bureau of Narcotics was Harry Anslinger, who went on a nationwide campaign against the drug. He often played on people's fears of immigrants and people of color to further his cause, once saying that "most marijuana smokers are Negroes, Hispanics, Filipinos and entertainers. Their satanic music, jazz and swing, result from marijuana usage."
1970: Controlled Substances Act
This act repealed the Marihuana Tax Act and replaced it with a more stringent anti-drug law that outlawed many narcotics, including cannabis.
The previous year, a report by the Field Poll — an independent nonpartisan statewide public opinion survey — found that only 3% of state residents supported complete marijuana legalization. Another 10% felt it should be legalized but treated similarly to alcohol, including limiting it to consumers by age.
1972: Proposition 19, marijuana legalization
Proposition 19 marked the first time California tried to independently legalize pot. The measure would have decriminalized marijuana possession and cultivation for people 18 and older, and was championed by Bay Area attorney Leo Paoli.
An editorial in the Sept. 25, 1972, edition of The Times recommended voters say "no" to Proposition 19, asking, "Does the state really want to run the risk of greatly increasing the smoking of marijuana? That, we fear, is what Proposition 19 would do."
The final vote was 33.5% for and 66.5% against.
One of the only legislative districts that passed Prop. 19 was the one that included San Francisco, represented by George Moscone in the state Senate, who went on to become the city's mayor. After the proposition failed, Paoli and Moscone worked to create the California Senate Select Committee on the Control of Marijuana. That group, often referred to as the Moscone Committee, organized the first major study of the fiscal and social impacts of marijuana prohibition.
1975: California Senate Bill 95
Moscone introduced this bill in Sacramento in response to his committee's study, which found that 90% of marijuana arrests were for simple possession and were costing the state $100 million annually. This bill downgraded possession of an ounce or less of marijuana from a possible felony to a misdemeanor with "a traffic-style citation and a maximum fine of $100," according to a Times article on the bill from July 10, 1975. An editorial that ran the next day called the new law "sensible and humane."
Jerry Brown signed the bill into law during his first term as governor. The bill was considered controversial, with critics saying it effectively legalized marijuana. Brown released a statement at the time underscoring that marijuana was still illegal and that "severe penalties still remain" for possession by minors and for selling or cultivating the drug.
L.A.'s police chief at the time, Edward M. Davis, asserted that the law would double both the crime rate and the number of heroin addicts. Brown publicly refuted him, saying it sounded like Davis was "running for office or to head some international police organization" and that his declarations were not well-founded. Neither of Davis' predictions came to pass.
1996: Proposition 215, the medical marijuana initiative
With this ballot measure, California became the first state to legalize medical marijuana. Arizona passed a medical marijuana bill the same year, but the state suspended its implementation until the Food and Drug Administration approved cannabis for medical use, which essentially nullified it.
California's proposition was one of the most significant pieces of marijuana legislation in modern history. Marijuana had been outlawed everywhere in every form for nearly 60 years.
The Times' editorial board was against Proposition 215, saying that allowing marijuana use for virtually any medical condition was a "huge loophole."
The proposition passed with 55.58% of Californians voting for it and 44.42% against it.
"We have legal anarchy," blasted Steve Telliano, a spokesman for then-Atty. Gen. Dan Lungren.
2003: Senate Bill 420, the Medical Marijuana Program Act
This bill clarified a few things in the California medical marijuana law passed by voters, including the scope of the law and which government agencies were in charge of enforcing it. It also created the voluntary ID card system to identify verified medical marijuana patients.
The following year, the Field Poll found that nearly three-fourths of all state residents supported the existing medical marijuana legislation.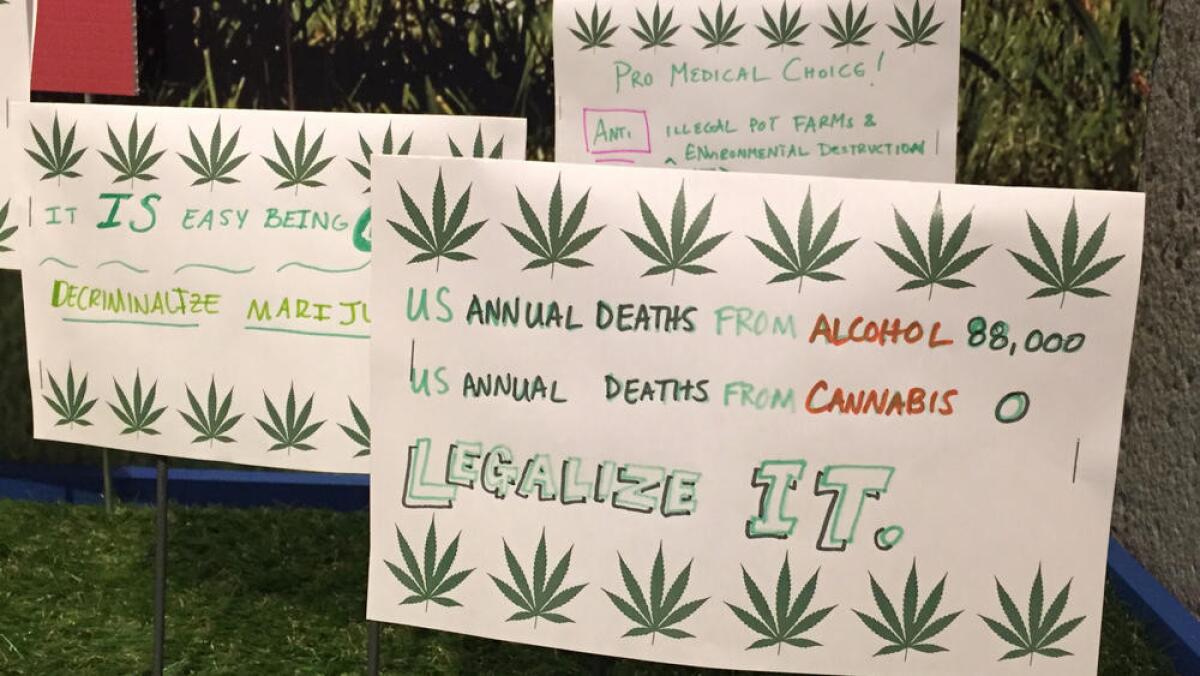 2010: Senate Bill 1449
Just before leaving office, Gov. Arnold Schwarzenegger signed a bill that downgraded possession of up to an ounce of marijuana from a misdemeanor to an infraction — the same as a traffic violation.
"In this time of drastic budget cuts, prosecutors, defense attorneys, law enforcement, and the courts cannot afford to expend limited resources prosecuting a crime that carries the same punishment as a traffic ticket," he said in a statement that accompanied the signing.
In the same year, the Field Poll found that half of all Californians supported legalizing marijuana, either by making it available to everyone (4% ) or by treating it similarly to alcohol (46%).
2010: Proposition 19, the marijuana legalization initiative
This ballot measure sought to legalize recreational marijuana for adults 21 and older. Every major state official, including Gov. Schwarzenegger, Sen. Diane Feinstein, Sen. Barbara Boxer and then-Atty. Gen. Jerry Brown, opposed it, and the California Democratic Party declined to endorse it, opting to take a neutral position in order to avoid conflicting with the party's candidates.
In April of 2010, 56% of poll respondents said they were in favor of the initiative. But that number dropped steadily leading up to the election. Ultimately, the final vote was 53.5% against and 46.5% for.
2012: Marijuana is legalized for recreational use in two states — but not California
In 2012, Colorado and Washington voters elected to legalize marijuana for recreational purposes. Since then, state legislators across the country have been keeping an eye on what this has meant for crime rates, drug use and new taxes.
The following year, the Field Poll found that 55% of Californians supported marijuana legalization.
2015: The Bureau of Medical Marijuana Regulation is established
Last year, California lawmakers sent a slate of bills to Brown's desk to create new statewide medical marijuana regulations. The Bureau of Medical Marijuana Regulation was created to dictate how cannabis is grown and sold in the state, and to set fees and licensing standards for marijuana-related businesses. Marijuana growers must also now adhere to the laws and regulations other types of farmers are subject to.
In early 2016, Brown appointed the Bureau's first "pot czar," Lori Ajax. The bills also laid the groundwork for marijuana distribution and regulation if voters choose to legalize it for recreational use.
2016: The Adult Use of Marijuana Act
This year's shot at legalizing pot has a number of differences from the 2010 initiative.
Dale Gieringer, director of California NORML, a group dedicated to reforming the state's marijuana laws, said a number of legalization efforts cropped up this year, but thanks to former Facebook President Sean Parker's hefty investment, this is the one that rose to the top.
Gieringer said the bill's organizers did a good job of getting key endorsements in place early from the California Medical Assn., Lt. Gov. Gavin Newsom and the California Democratic Party. The bill also very clearly lays out how taxation will work, said Gieringer, who was the author of the 1996 law that legalized medical marijuana.
And it's not a midterm election year. Elections that take place between presidential elections often have low voter turnout in California, and those who do vote have historically tended to be older and more conservative. This time around, more young people are expected to come out to the polls.
"I expect it will win," Gieringer said of Proposition 64.
A recent poll backs that up: Released by UC Berkeley's Institute of Governmental Studies, it shows 63.8% of California voters supported the recreational marijuana bill.
Find Jessica Roy on Twitter @jessica_roy.
Get our Essential Politics newsletter
The latest news, analysis and insights from our politics team.
You may occasionally receive promotional content from the Los Angeles Times.