Trump visits Calexico a day after retreating from threats to close U.S.-Mexico border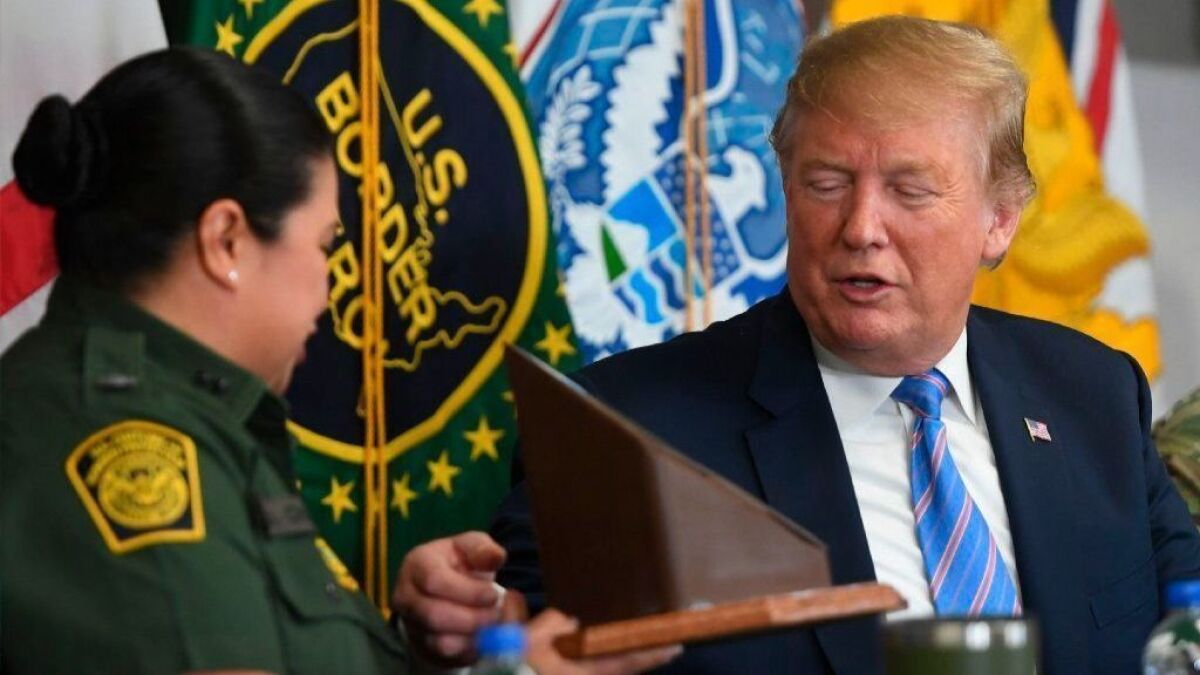 Reporting from Calexico, calif. —
President Trump argued Friday that the nation is suffering an immigration emergency, visiting the town of Calexico and inspecting a reconstructed border fence a day after he abruptly backed down from his threats to seal the lengthy border between Mexico and the United States.
With those threats behind him, Trump shifted gears and promised to construct 400 miles of border wall in the next two years, an unlikely benchmark for a president who has yet to build a single new mile of wall along the 2,000-mile border with Mexico.
The section Trump visited Friday was a replacement of existing barrier planned during the Obama administration and paid for during Trump's first year in office.
"It's better, faster and less expensive," he said as he stood before a slatted 30-foot-high fence.
Trump nonetheless conceded that getting money from congressional Democrats for any new wall construction was "like pulling teeth" even as he projected victory in his bitter funding battles with Congress.
The trip to California was intended to persuade the public that his declaration of emergency was necessary to circumvent Congress and to combat what the administration calls a national crisis. The Democratic-controlled House challenged the declaration in federal court in Washington even as Trump was in Calexico.
"We're really making progress in letting people know that this is an absolute emergency," Trump said during a roundtable discussion with local and national officials in Calexico.
"It's a colossal surge and it's overwhelming our immigration system and we can't let that happen," he said.
He said Gov. Gavin Newsom, who has separately sued Trump over his emergency declaration and said the state's national guard would not be deployed at the border, is "living in a different world … a dangerous world" and he accused Newsom of creating "lots of problems for the people of California."
Trump, who made his third trip to California since entering the White House, has railed against Mexico for not stopping thousands of Central American families who have crossed Mexico in an effort to seek asylum in the United States.
"The system is full, can't take you anymore," Trump said, referring to migrants who are seeking asylum or crossing the border illegally. "So turn around. That's the way it is."
Trump repeated his claims that most asylum seekers are lying about fearing persecution at home. He argued further — without any evidence — that many are gang members who are coached by attorneys and engaged in a "hoax."
"Rough, tough people with criminal records are asking for asylum," he said.
Trump has often sought to conflate illegal immigration and asylum, which has been enshrined in U.S. and international law for decades. Several of the administration's attempts to curb asylum claims have been reversed by federal courts.
Trump had repeatedly threatened to close the border in recent days, raising expectations that he would use his visit to a section of recently upgraded fencing in Calexico to announce at least a partial closure.
But White House advisors, some prominent Republican senators and key business leaders warned that shutting some of the 47 official entry points could quickly cripple U.S. auto manufacturing, agricultural exports and other cross-border trade, creating havoc in the U.S. economy — and in states that Trump would need to win reelection in 2020.
Trump thus arrived in Calexico in full retreat, left to argue his case for a border emergency and additional funding for his wall immediately after withdrawing a dramatic threat of reprisal against the Mexican government.
Trump nonetheless sought to portray his brief stop at the border as a victory lap.
While visiting the fencing in Calexico, Trump said to television crews, "Through your camera, I want to thank him, the president of Mexico," referring to Andrés Manuel López Obrador.
"Over the last few days, Mexico has been very nice," he said at another point, repeating his claims that that Mexican officials had suddenly started removing "thousands" of Central American migrants due to his threats.
But bewildered Mexican officials say they haven't changed their strategy or their enforcement operation.
In recent years, in part at the behest of U.S. officials before Trump took office, Mexican authorities have deported more Central Americans than the U.S. government has.
In the three months since López Obrador took office, his government detained more than 25,000 migrants. That's less than the 27,000 detained during the same period a year earlier, according to the University of Texas' Mexico Security Initiative.
The administration touted the section of border fence Trump visited as "a newly completed section of the promised border wall."
In fact, Trump has not completed any new sections of wall on the border. The 30-foot bollard fencing — posts placed too close together for a person to pass between but far enough apart to allow agents to see the other side — in Calexico is a replacement of a dilapidated barrier that was first built in the 1990s.
A plaque along the barrier calls it "the first section of President Trump's border wall."
The spending bill passed by Congress that Trump signed into law in February to avoid a second shutdown appropriated $1.375 billion for 55 miles of barrier.
He then declared a national emergency to pull $6.6 billion more from other federal accounts to build or repair more than 230 miles of border wall. Most of the money — $3.6 billion — would come from military construction projects.
Congress passed a resolution to terminate the emergency declaration, drawing Trump's first veto, but failed to override it. The issue is now in court.
U.S. officials have long warned that an immigration system designed decades ago for primarily single, adult Mexican men who could be swiftly returned is now being overwhelmed by near-record numbers of mostly asylum-seeking Central American families.
Customs and Border Patrol estimates apprehensions of border-crossers topped 90,000 in March, more than almost any month in the last decade. The numbers will likely continue to rise as warmer weather brings a seasonal uptick in migration.
Critics and immigration advocates argue that the Trump administration's policies are exacerbating the crisis at the border.
Administration officials are intentionally limiting the number of asylum seekers entering the U.S. at ports of entry, reducing processing to a trickle.
That, and a new policy requiring certain asylum seekers to wait in Mexico until their cases are adjudicated in the United States, are encouraging them to cross between official ports of entry, according to the Homeland Security inspector general's office, and potentially contributing to the rising apprehension numbers.
In his first presidential visit to California last March, Trump viewed a set of eight border wall prototypes, each of which cost between $300,000 and $500,000.
Rather than building any of the solid, concrete wall structures Trump often described during the campaign, the administration so far has used fencing to replace older barriers, much as the Obama administration did.
U.S. Customs and Border Protection announced in February that the prototypes Trump visited would be taken down to make way for a secondary barrier.
Bierman and O'Toole reported from Washington and Vives from Calexico. San Diego Union-Tribune writer Kate Morrissey in Calexico contributed to this report.
---
Life is stressful. Our weekly mental wellness newsletter can help.
You may occasionally receive promotional content from the Los Angeles Times.