Poll shows Newsom with a commanding lead over Cox in final weeks before Californians select their next governor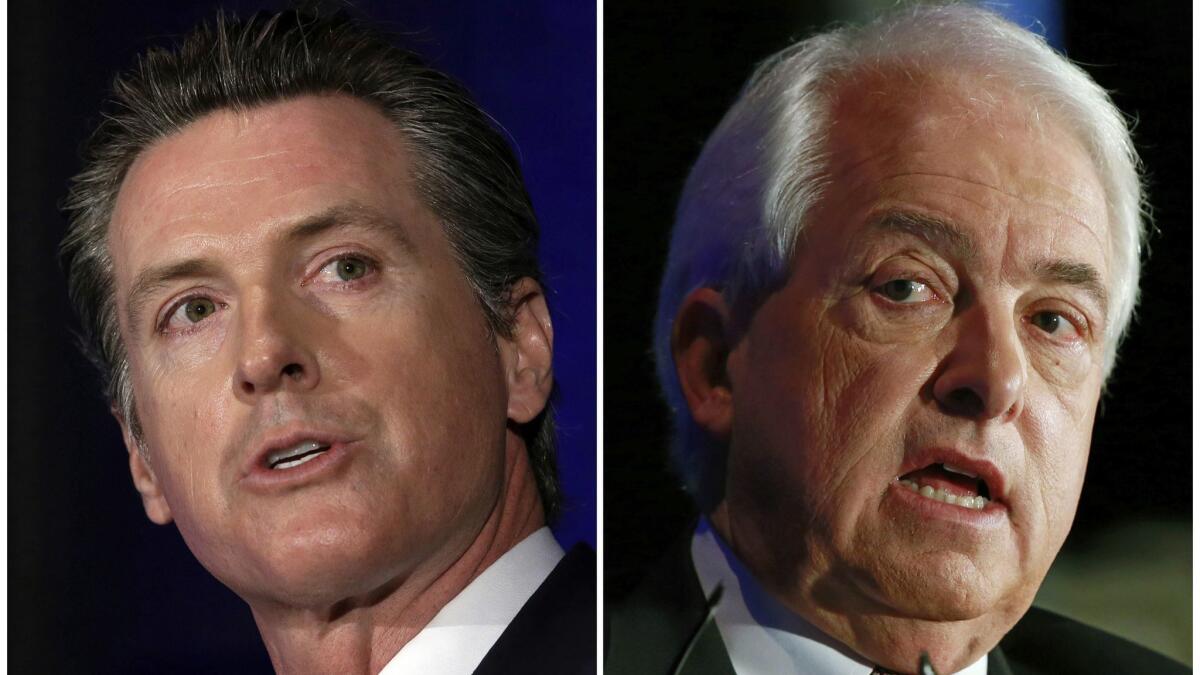 Reporting from Sacramento —
Democratic Lt. Gov. Gavin Newsom enters the final weeks of California's 2018 governor's race with a solid lead over Republican businessman John Cox, according to a new USC Dornsife/Los Angeles Times poll.
The survey's findings provide little hope to Cox's long-shot campaign in the left-leaning state as vote-by-mail ballots begin arriving at homes and Newsom, with an immense fundraising advantage, floods televisions and cellphones across the state with a steady stream of campaign ads.
According to the survey, 54% of likely voters in the state favored Newsom for governor compared to 31% who support Cox. The remainder were undecided.
"Cox has Mt. Everest to climb when you look at these [numbers]. Barring some massive event, it's very difficult to see how he makes up this," said Robert Shrum, co-director of USC's Center for the Political Future and a longtime Democratic strategist.
One of the most telling indicators of which candidate California voters favor is seen in their starkly divergent opinions about President Trump. His performance as president got a thumbs down from more than two-thirds of the likely voters in the state, the survey found. Among likely voters who disapprove of Trump, 77% support Newsom. Among those who approve of Trump, 87% back Cox.
Shrum said the animosity towards Trump is expected to increase voter turnout in California to a level higher than usual in a midterm, election. That would only add to Newsom's advantage in November; the Democrats have close to a 20-percentage-point edge over the GOP in voter registration in California.
Trump endorsed Cox for governor before the June 5 primary, giving the Republican's campaign a boost by helping him consolidate the Republican vote. Cox went on to defeat his top GOP rival in the race, Assemblyman Travis Allen (R-Huntington Beach), an ardent supporter of the president.
Newsom's campaign ran ads highlighting Cox's support of Trump and gun owner rights. That politically strategic move helped the Republican emerge from the crowded primary field of candidates, including beating out former Los Angeles Mayor Antonio Villaraigosa and state Treasurer John Chiang, Newsom's top Democratic challengers in the campaign.
But Trump's support will probably make Cox more vulnerable in November, when he goes one-on-one against Newsom in an election to be decided by California's energized, left-leaning electorate.
"California is still California. So in a Democratic state, in a Democratic year, with Democratic intensity, it's good to be Gavin," said longtime Republican strategist Mike Murphy, the other co-director of the Center for the Political Future. "He could be a bag of horseshoes and still do well."
The survey's findings provide a different picture of the race than a poll released in late September by the nonpartisan Public Policy Institute of California. That survey found Cox on the rise and trailing Newsom by 12 percentage points.
According to the poll, Newsom leads Cox among both men and women, Latinos and across voter income and education levels. The former San Francisco mayor also dominates California's two biggest population centers, the Bay Area and Los Angeles County, home to just under half the voters in the state.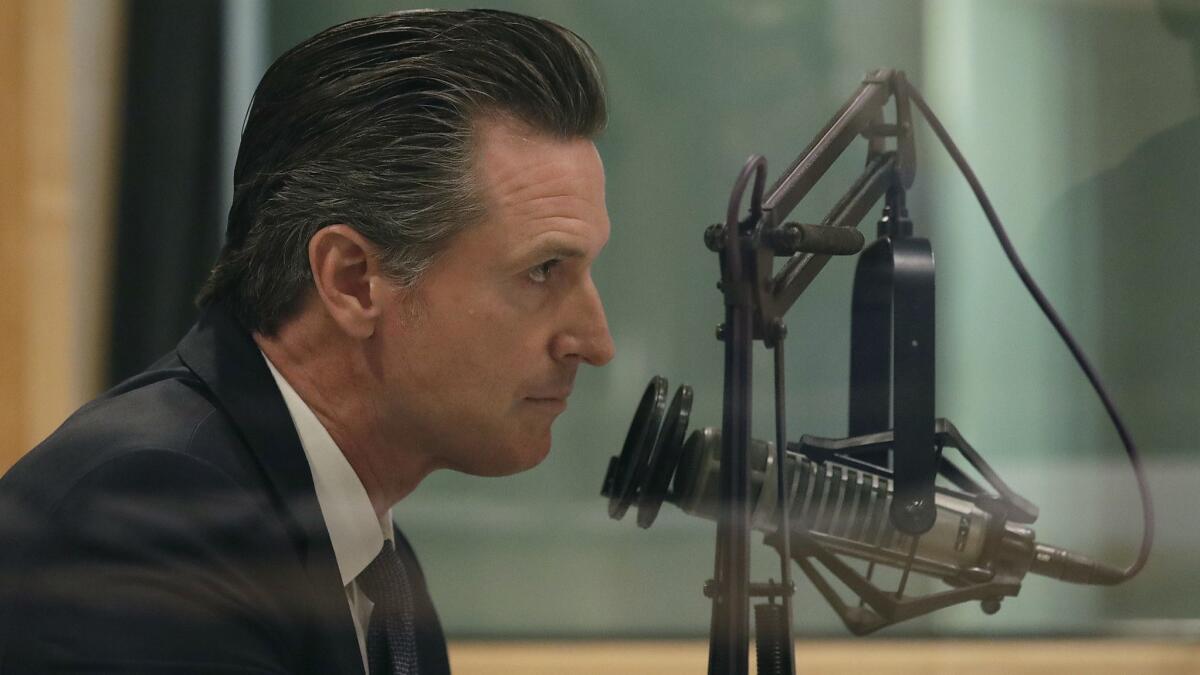 Cox, a wealthy real estate investor from Rancho Santa Fe, was favored over the Democratic rival in the region comprising Orange, San Diego, Riverside and San Bernardino counties and was neck-and-neck with Newsom among voters living in California's inland interior. The Republican also drew even with Newsom among white men and voters who said illegal immigration is a major driver of their vote, according to the survey.
Not surprisingly, both candidates had strong support from voters in their own parties. Newsom had more robust support among voters who registered as "no party preference," although nearly a third of those independent voters remained undecided, the poll found.
Newsom also entered the final stretch of the 2018 campaign with a substantial financial advantage over Cox. The Newsom campaign had $16.2 million in cash on hand as of Sept. 22 compared with the $1.7 million Cox had in the bank, according to the latest campaign finance reports filed with the state. The vast majority of the money raised by both candidates is being poured into campaign ads, airing on broadcast and cable stations as well as Facebook and other social media platforms.
The poll, conducted between Sept. 17 and Oct. 14, has a margin of sampling error of 4 percentage points in either direction and larger for subcategories of voters based on voting behavior, age, ethnicity, party affiliation and other demographic indicators.
For more information about the poll, visit bit.ly/USCpolldata.
Coverage of California politics »
Twitter: @philwillon
Updates on California politics
Get our Essential Politics newsletter
The latest news, analysis and insights from our politics team.
You may occasionally receive promotional content from the Los Angeles Times.