Antonio Villaraigosa banks on historic Latino groundswell in run for governor, but concedes his time might be over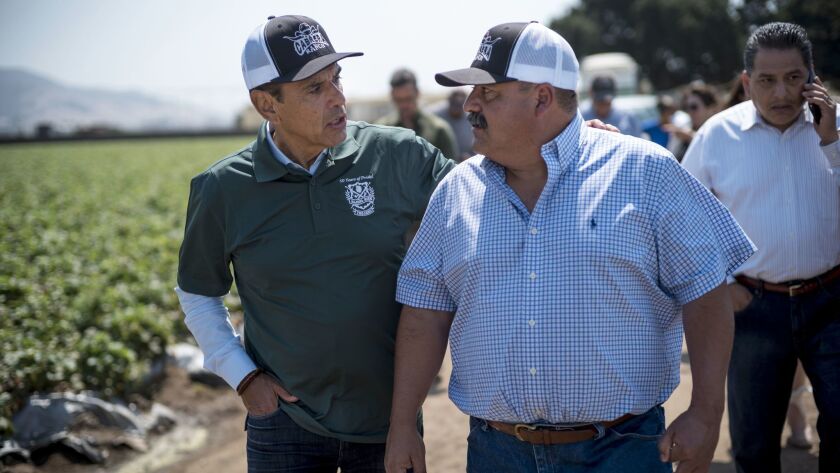 Reporting from Salinas, Calif. —
A few dozen migrants from Mexico looked up from the Salinas Valley field where they were picking strawberries and watched Antonio Villaraigosa's convoy rumble toward them in a cloud of dust.
Moments later, the former Los Angeles mayor, wearing shiny black dress shoes, stepped out of a sedan.
"Hola, señora — Antonio Villaraigosa," he told Estela Almanza, a fruit sorter.
He inspected a handful of ripe berries for news cameras and greeted Almanza's coworkers, most of them covered in hats, scarves and hoodies. "Buenas tardes. Hola."
The harvest was the highlight of a Monterey Bay campaign swing for Villaraigosa, a Democrat running for governor. It came almost 50 years after he broke into politics as an East L.A. teenager, urging Safeway shoppers to join a grape boycott for farmworker rights. He went on to serve as state Assembly speaker and win two terms as mayor.
But now, four years after his mayoralty came to an end, Villaraigosa, 64, is no longer the scrappy upstart whose rise to power symbolized Latinos' growing clout in California.
Instead, he stands out as the oldest of the top contenders for governor in the June 2018 primary. He is painfully aware that Californians might deny him what he craves: one more act in public life.
"Maybe it passed me up," he conceded to guests at a July reception in Stockton. "Maybe I'm yesterday's news. Maybe I'm just a guy who was starting out 20-some-odd years ago, broke glass ceilings — but maybe my time is over."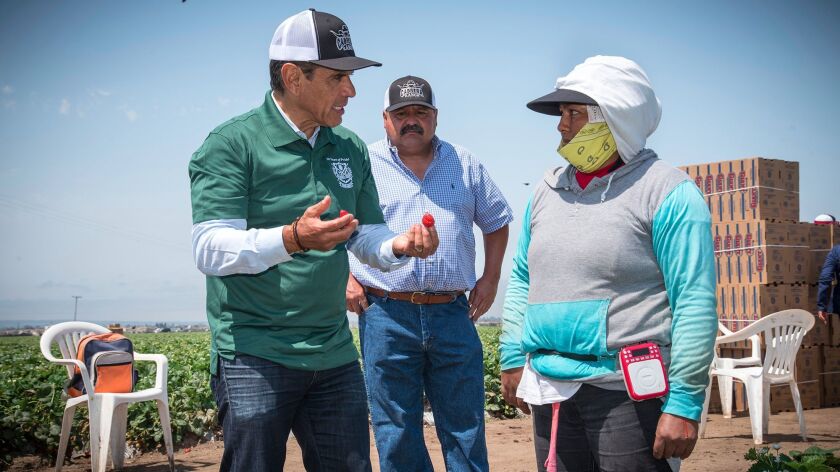 The burst of candor was not a sign that he lacks hope; he doesn't. But it did reflect his recognition that the odds, once again, are stacked against him.
"I have no shot if I don't work my ass off," Villaraigosa told another group in Stockton during a 14-hour day of back-to-back events in the Central Valley.
Critics are less kind.
"The aroma around Villaraigosa to me seems stale," said Nathan Ballard, a former top advisor to Lt. Gov. Gavin Newsom, Villaraigosa's chief rival.
One obstacle is a shortage of money. At the end of June, Villaraigosa reported $4.5 million in the bank — well behind Newsom and John Chiang, both fellow Democrats. Newsom had $16 million, and Chiang, the state treasurer, $9 million.
John Chiang: The no-drama contender for California governor in the era of Trump »
The strength of Villaraigosa's political base is also uncertain. He is counting on overwhelming support among Latinos. But many of them live beyond the reach of L.A. television and radio stations that have covered him closely for years, so they know little about him.
Turnout of Latinos in gubernatorial primaries is typically dismal. They make up 25% of the state's registered voters, but just 12% of those who cast ballots in June 2014 were Latino, according to Political Data Inc.
"That's a big problem for Latino candidates," said Paul Mitchell, vice president of the nonpartisan election data firm.
If he wins, Villaraigosa would be California's first Latino governor since Romualdo Pacheco in 1875. In theory, his candidacy could spark unusually high Latino turnout, as it did when he won election in 2005 as the first Latino mayor of modern Los Angeles.
Villaraigosa's recent stops include an East L.A. College immigration summit, a Mexican heritage center in Stockton and a luncheon of San Joaquin County's Hispanic Chamber of Commerce. In San Diego County, he spoke at a "Café con Leche" breakfast for Border Angels, a group that leaves bottles of water in the desert for immigrants crossing the border illegally.
President Trump serves as an occasional foil. At the strawberry harvest in Salinas, Villaraigosa met a Mexican picker who whispered to him in Spanish about her family's hardships as they try to elude capture and deportation.
"They're terrorizing these people, and it's wrong," he said later.
His overarching message is a call to relieve poverty and create jobs in some of the least prosperous parts of California — the Inland Empire, the Imperial Valley, blue-collar towns around San Francisco Bay and vast stretches of the Central Valley.
"We're growing unevenly," Villaraigosa told guests at the San Joaquin County luncheon. "When you look at where that wealth is getting created, it's disproportionately in tech, and it's disproportionately on the coast."
He deplored the shantytowns he'd seen in Firebaugh and Mendota, west of Fresno. He promised to build a state university campus in Stockton and a medical school at UC Merced.
Maybe it passed me up. Maybe I'm yesterday's news.
Former Los Angeles Mayor Antonio Villaraigosa
Villaraigosa also talked of invigorating public schools, but was light on details. "There's plenty of time to work on that," he said.
On the personal side, he has revived the up-from-nothing, bad-boy-turned-good stories that animated his mayoral campaigns.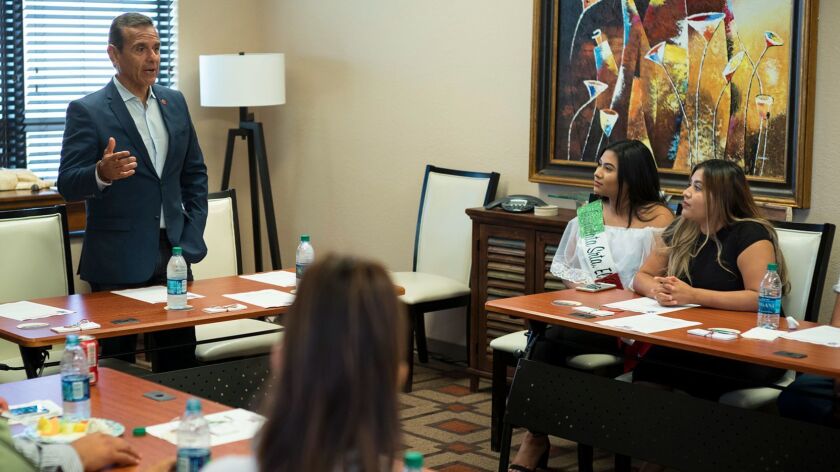 "I grew up in a tough neighborhood," he told a few hundred high school students in a Salinas gymnasium. "I grew up poor. I grew up with a dad who beat my mom and left us."
Villaraigosa, prone to fistfights as a boy, was kicked out of Cathedral High School after a brawl at a football game. Later, he dropped out of Roosevelt High School.
He recalled his mother prodding him to strive for success and reassuring him: "Sí se puede. You can do it. You can make it."
Villaraigosa wound up receiving a bachelor's degree at UCLA and a law degree from Peoples College of Law near MacArthur Park, an unaccredited school for students committed to social change. (He never passed the bar despite four tries.)
After years of work for labor unions and the American Civil Liberties Union, Villaraigosa won an Assembly seat in 1994.
His life as a former mayor bears little resemblance to his upbringing. In 2015, he bought a $2.5-million house in the Hollywood Hills with jetliner views of the city, from the ocean to downtown.
He's known for savoring fine wine and gourmet meals. Bestia, Gjelina, Madeo and the Tasting Kitchen are favorite dining spots.
"I'm a foodie," he said. "People talk about the wine all the time, but actually it's the food. I love the food."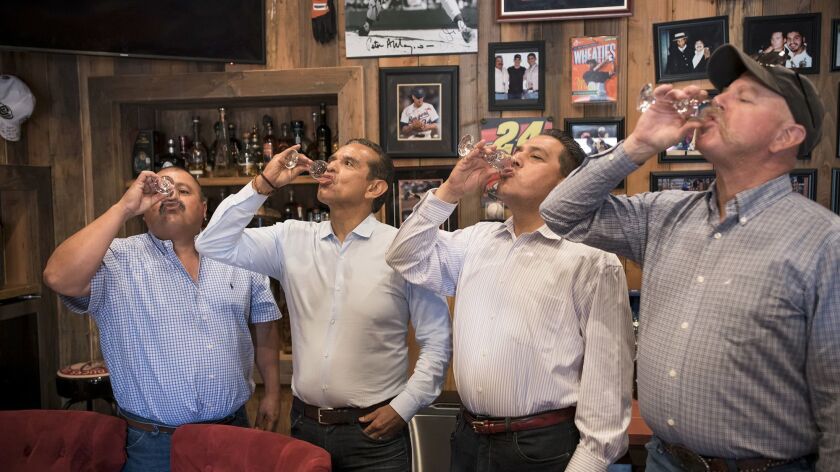 He also likes the occasional tequila shot. "I know my tequila — this is Don Julio Setenta, man," he told grape and walnut growers joining him for a toast at a reception in Lodi. "To Lodi! The lovable Lodi!"
Trump eases Gavin Newsom's path in his second run for California governor »
Some supporters say Villaraigosa enjoyed the trappings of power a bit too much as he befriended the rich.
Gloria Molina, a Villaraigosa friend and mentor, said he "clearly understands the struggle of low-income families and the challenges that they have every day."
But Molina, a former L.A. County supervisor, added: "There are people who feel he doesn't relate to the community as much as he should — the Latino community, the poor and struggling, the community where he came from."
Villaraigosa rejects the criticism. "I've campaigned my whole life on lifting people out of poverty," he said.
He revels in mocking Newsom's more privileged life history, suggesting the former San Francisco mayor traded on family ties to make millions of dollars investing in luxury hotels, restaurants and wineries.
"He got rich while he was in public office — come on," Villaraigosa said.
Villaraigosa said he left L.A. City Hall "with no job, no house, no car" and made his money as a private citizen. "I was focused on the city of Los Angeles," he said.
Newsom spokesman Dan Newman called Villaraigosa's remarks "false and comically absurd," saying he'd been "so desperate to cash in as mayor" that he flouted ethics laws by taking free tickets to Lakers games and other events. In 2011, Villaraigosa agreed to pay $42,000 in fines to resolve city and state ethics investigations of 34 undisclosed gifts.
After his second term as mayor ended in 2013, Villaraigosa, newly divorced, moved to Manhattan for 15 months.
"I loved the anonymity of it," he said, recalling long walks, good restaurants and a fun night life.
Villaraigosa often returned to Los Angeles. He also traveled for work to Mexico, Spain, France, England, Turkey, Azerbaijan, South Korea and China.
He made a living by giving speeches and working as a consultant to Herbalife Ltd., the controversial nutritional products business, and other clients. The only account he plans to keep while running for governor, he said, is AltaMed, a healthcare company.
In late 2015, Villaraigosa met Patty Govea at a book festival in Guadalajara, where she owned a high-end clothing boutique. They were married 10 months later at a resort in San Miguel de Allende, a mountain town in central Mexico.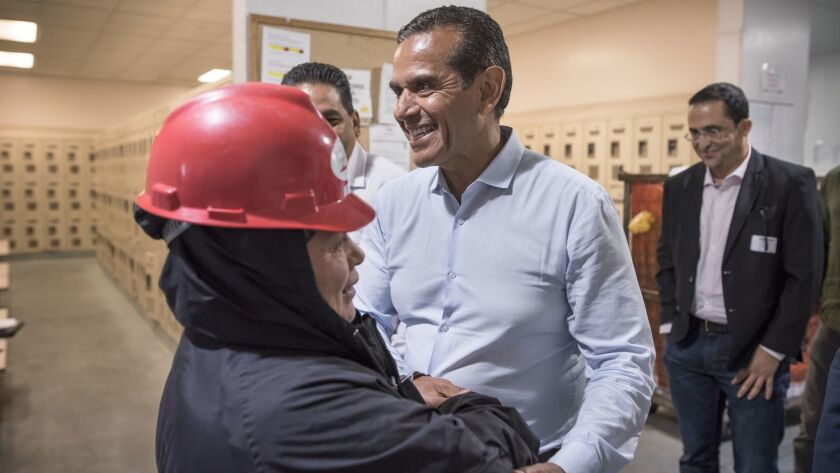 Govea, 44, now goes by Patty Villaraigosa. She has been taking English classes at UCLA. Her younger son, Sebastian, 16, lives with the couple in the Hollywood Hills house. Her other son, Javier, 26, is a lawyer in Mexico.
Villaraigosa, who has four grown children, two grandchildren and a great-grandchild, said he choked up when he welcomed Sebastian and Javier into the larger clan at a family meeting.
"I didn't want to take away from their father, so I said, 'You guys have a dad, and I respect that,'" he recalled. "'I know I'm not your dad, but you are my sons.'"
Villaraigosa's tumultuous personal life has long been tightly intertwined with his political identity. During his first term as mayor, his reputation was damaged by his extramarital affair with a Telemundo television anchor, which effectively ended his marriage to Corina Villaraigosa. (They had combined surnames when they married; his was Villar, hers Raigosa.) Friends were especially mortified because his infidelity years earlier had already embarrassed her.
Politically, Villaraigosa never fully recovered. He won reelection with just 56% of the vote in a race against a field of unknowns.
In eight years as mayor, he secured billions of dollars for public transit, hired hundreds of police officers, and shifted the city's reliance on coal-fired power plants toward solar and wind energy.
But his failed effort to gain mayoral control of the L.A. Unified School District turned powerful teacher unions against him. They now pose a major threat to his campaign.
His trimming of city workers' pension benefits during the economic crisis created more friction with labor. "I think it could have been handled much better than it was," said Bob Schoonover, president of Service Employees International Union Local 721.
The breach with labor has left veterans of California politics suggesting that Villaraigosa could have a tough time holding the support of die-hard liberals, who long backed him in Los Angeles.
As Newsom runs to the left with anti-Trump fervor and Chiang runs to the center as a fiscal watchdog, a key challenge for Villaraigosa is to decide how he fits in the race, said Democratic strategist Darry Sragow, who is not working for any of the candidates.
"He has a tough choice as he tries to define exactly who he is," said Sragow, a campaign advisor to Villaraigosa when he led the Assembly. "The pieces of the puzzle are not going to fit together with ease."
To read the article in Spanish, click here
About this article: This is one in a series of articles about the candidates vying to succeed Jerry Brown as governor of California in the 2018 election. Learn more about them at latimes.com/CA2018.
Twitter: @finneganLAT
ALSO:
Republicans face a divisive fight over immigrants that could define the party's future
Trump called him 'my African American.' But he condemns the president's treatment of black America
Updates on California politics
---
Get our Essential Politics newsletter
The latest news, analysis and insights from our politics teams from Sacramento to D.C.
You may occasionally receive promotional content from the Los Angeles Times.