California lawmakers find critics on both sides as they unveil effort to help utilities pay wildfire costs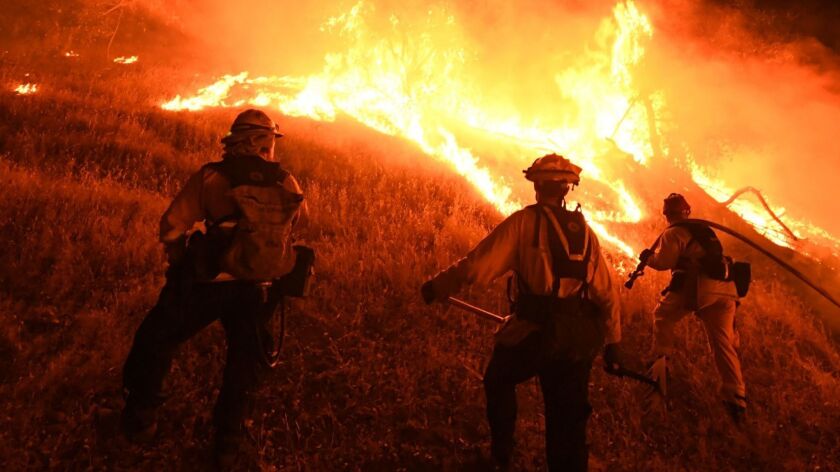 Reporting from Sacramento —
A far-reaching proposal to assist electric utility companies faced with covering billions of dollars in wildfire damage was unveiled Friday to intense debate over whether ratepayers would end up saddled with some of the bill for California's worst-ever fire year.
With time running out before the California Legislature adjourns for the year, lawmakers released a plan that would allow utilities to use payments from customers to help underwrite the cost of wildfire liability. Some of the biggest wildfires since 2017 — which destroyed thousands of homes — have been caused by downed power lines, and at least one major utility has said it faces insolvency without help in covering the costs.
"Ratepayers can't be on the hook for everything, but we cannot bankrupt the investor-owned utilities," state Sen. Anthony Cannella (R-Ceres) said. "At the end of the day, we're going to be providing power and somebody's going to pay for it."
While lawmakers were generally reserved during the hearing in Sacramento, interest groups sparred over a two-page outline of wildfire prevention and response proposals. Those ideas must be crafted into legislative language over the weekend to meet a key procedural deadline on Tuesday.
California fires rage, and Gov. Jerry Brown offers grim view of fiery future »
Under the plan, any attempt by a utility to borrow money for wildfire damages — which would probably depend on using a specific amount of money collected from ratepayers as collateral — would have to be authorized by the California Public Utilities Commission. Lawmakers were adamant during Friday's hearing that the plan would not let utilities and their shareholders off the hook.
"Financing these costs is not a bailout," state Sen. Bill Dodd (D-Napa), co-chairman of the conference committee, said of providing new help for utilities.
But some stakeholder groups including large manufacturers and consumer organizations told lawmakers they saw no guarantees in the proposal that the utilities would have to first use existing funds to pay wildfire costs, rather than impose an additional surcharge on customers.
"This looks like a bailout, smells like a bailout and certainly feels like a bailout," said Michael Shaw of the California Manufacturers and Technology Assn.. "We haven't heard a description of a scenario in which shareholders are going to be first at the table in paying this."
Nor were critics of the plan happy that it appeared to offer utilities a way to pay for past fires. No company has been as insistent on a retroactive legislative fix than Pacific Gas & Electric Co., which has said it faces potential costs of $2.5 billion or more for the deadly Northern California blazes last fall. PG&E's president told industry analysts last month that wildfire costs could push the company into bankruptcy.
Michael Boccadoro of the Agricultural Energy Consumers Assn. pointed out to lawmakers that the proposal they were offering could apply to fires that occurred before last year, allowing PG&E to finance payouts related to the 2015 blaze that burned through California's Gold Country.
"That is extremely, extremely concerning to us," Boccadoro said.
PG&E had no immediate reaction to the proposal. A spokesman said Friday that the company would review details of the plan once they are released.
Other powerful interest groups that testified either praised the new help for utilities or worried it wouldn't go far enough.
Scott Wetch, a lobbyist for the union representing utility industry workers, said PG&E could be on the verge of having its credit rating reduced to "junk bond status" without help from the Legislature, triggering high cash payments under existing contracts.
"Not only will they not be able to do any of the investments that you have to hope they make, but it will be challenging to keep the doors open and keep California safe going forward," he said.
Others echoed comments made last month by Gov. Jerry Brown, who said his own wildfire prevention proposal — some of which would be included in the pending legislation — would ensure that utility companies would do their part to help the state achieve its greenhouse gas emissions goals.
"We need to preserve the financial viability of the utilities," said V. John White of Clean Power Campaign. "We need to keep them whole."
The bill being crafted by the Legislature's two-house conference committee is the most comprehensive effort to date from lawmakers to address more than a year's worth of fires that have destroyed more than 10,000 homes and killed dozens of people from Redding in the north to Napa and Sonoma counties and south to the Ventura coast. The level of devastation has prompted discussion not only about the role of climate change, but what state officials can do to reduce the risk.
Perhaps less controversial is the legislative proposal's embrace of ideas suggested by a bipartisan duo of lawmakers to speed up clearing trees and brush that fuel the state's blazes.
Assemblyman Jim Wood (D-Healdsburg) and Assembly Republican Leader Brian Dahle (R-Bieber) have said their plan will expedite removal of fire-threatened trees from mountain and foothill regions, as well as shrubby chaparral in coastal communities. In some cases, private landowners would be given new freedom to sell lumber from smaller trees that otherwise would fuel bigger fires. The proposal would also expand state firefighter tree and vegetation management efforts to at least a half-million acres a year.
"We have no time for partisan politics right now," Dahle said. "We're losing property and lives."
Some of the efforts could be paid for with revenues collected from the sale of carbon emissions credits bought by companies as part of California's cap-and-trade program. While the two lawmakers sought up to $300 million a year, the legislative framework proposed by the conference committee suggests no more than $250 million for a broader array of programs.
Wood, a Democrat who has earned high marks from environmental groups in the past, said the emissions from several weeks of smoke show there's a clear connection to climate change mitigation efforts.
"We don't react to changing times quickly enough," Wood said. "These fires are massive and we need to take a massive step to react to that — and to do something to help combat that."
The two lawmakers also appear to have won concessions for biomass energy plants, which burn wood and waste to produce electricity. Their pitch had been for the state to help many of the plants, which have struggled in recent years, to stay open and process significant amounts of the wood removed from overgrown areas. The legislative committee's outline agreement would extend by several years existing contracts that the biomass facilities, many privately owned, have with electric utility companies.
Wood and Dahle, whose Assembly districts are adjacent to each other in covering the entire northern part of the state, have been part of what could informally be called a "fire caucus" of legislators whose communities have been hard hit over the last year. Though they don't always speak with one voice, those lawmakers from both major parties have led many of the discussions in Sacramento this summer over new fire prevention efforts.
The draft proposal unveiled Friday included several other elements designed to improve future wildfire response efforts.
It called for new flexibility by state energy regulators to assess the conduct of utility companies in preventing wildfires involving their equipment, a process the CPUC labeled a "reasonableness review" of the companies and their actions.
It would also add new state budget spending on mutual aid, the assistance provided to fire departments from other agencies across California. And it would establish a "blue-ribbon commission" to examine long-term ways to prepare for the high costs incurred by wildfires and report back to the Legislature and governor with recommendations next year.
Follow @johnmyers on Twitter, sign up for our daily Essential Politics newsletter and listen to the weekly California Politics Podcast
---
Get our Essential Politics newsletter
The latest news, analysis and insights from our politics teams from Sacramento to D.C.
You may occasionally receive promotional content from the Los Angeles Times.