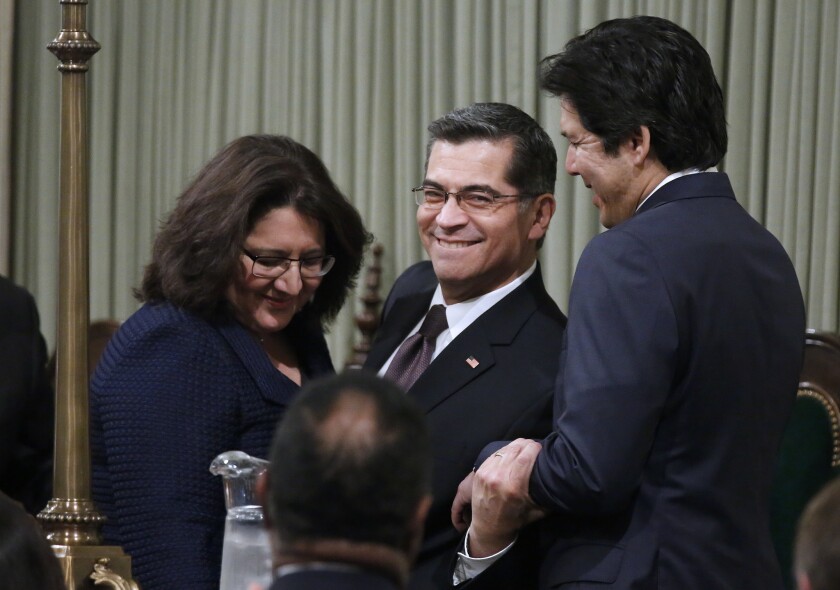 Reporting from Sacramento —
Sworn in Tuesday as California's attorney general, Xavier Becerra said he will team up with his counterparts in other states to form a united front to defend state policies against any challenge from the administration of President Trump.
The Los Angeles Democrat, who resigned Tuesday from Congress to become California's top lawyer, was appointed by Gov. Jerry Brown to counter Trump proposals that are expected to include mass deportations, a roll-back of environmental laws and the dismantling of the national healthcare system that Californians have come to rely on.
"I don't think California is looking to pick a fight, but we are ready for one," Becerra told reporters Tuesday at his first news conference as attorney general.
One of Becerra's first actions will be to arrange meetings with like-minded attorneys general in other states to "start charting a path together as a team on how we deal with representing our people."
Becerra is supported by Democratic lawmakers as "the tip of the spear" for California in a coming legal battle with the federal government. Some observers see the state becoming the leading antagonist of the Trump administration in much the same way Republican elected officials in Texas were a leading counterforce to the administration of former President Obama.
At the same time, Becerra has been counseled by former top officials of the state attorney general's office to avoid suing the federal government "early and often" because it could result in legal precedents that they say might hurt California for decades.
"Becerra will need to box, not brawl," former state attorney general's office advisors Michael Troncoso and Debbie Mesloh wrote in a recent op-ed piece published by The Times.
Becerra, 58, is the state's first Latino attorney general and supports California policies that provide immigrants in the country illegally with driver's licenses, college financial aid and legal services to appeal deportations.
He weighed in quickly Tuesday with concerns about a Trump administration proposal to deport criminals in the country illegally who could pose a threat to the community. While committed to removing dangerous people from California streets, Becerra worried that any eventual deportation orders may be too broad, unfairly catching in the net those with minor offenses who are otherwise productive members of society.
"Is someone who has a broken tail light a criminal?" he asked. "I hope that's not the definition that the administration in Washington, D.C., will use."
Becerra was given the oath of office at the Capitol by Brown, who said that he "will be a champion for all Californians." The ceremony was held before Brown delivered his annual State of the State address, and a day after Becerra received final confirmation by the state Senate.
Becerra was accompanied at the ceremony by his wife, physician Carolina Reyes, two of his three daughters, and his parents, both immigrants from Mexico.
Brown noted his appointee's background during his speech.
"Like so many others, he is the son of immigrants who saw California as a place where, through grit and determination, they could realize their dreams," Brown said.
Arturo Vargas, executive director of the National Assn. of Latino Elected and Appointed Officials, congratulated Becerra for making history as the first Latino in the post, and predicted he "will set the gold standard for defending the values of the Golden State and fighting for the rights of Latinos and all Californians."
Asked what it means to have a Latino become attorney general, Becerra said "It's about time."
Brown appointed Becerra to fill a vacancy created when former state Atty. Gen. Kamala Harris won election to a seat in the U.S. Senate.
Becerra, who did not attend the Trump inauguration, said he would take direction from Brown's speech Tuesday.
"You heard the governor," Becerra said later to reporters. "He laid out a game plan that's forward leaning. It's clear that we're going to move forward and we're not stopping."
The new attorney general said he planned to meet with staff at the state Department of Justice on Tuesday. He said he also looks forward to working together with former U.S. Atty. Gen. Eric Holder, whose law firm was hired by the California Legislature to provide advice in dealing with potential threats from the federal government over conflicting policies.
"The more we prove that we are ready to take on any battle, the better off we will be," Becerra said.
Becerra met with some county sheriffs on Monday, but plans to meet with more of them next week to talk about law enforcement issues facing the state. His first meetings with residents, civic leaders and others in coming weeks will be in the state's Central Valley, he said.
"Some people think that California revolves around Los Angeles, San Francisco, sometimes Sacramento. There are a whole bunch of phenomenal Californians who often feel neglected," Becerra said of people who live in the central part of the state.
The initial focus on local law enforcement in the Central Valley was welcomed by Kern County Sheriff Donny Youngblood, president of the California State Sheriffs' Assn.
"He wants to start with law enforcement in the San Joaquin Valley, and I think that's a really positive step," Youngblood said. "I'm impressed with his credentials. I'm impressed with his background, and I think he's going to be a good attorney general."
Becerra will fill out the last two years of Harris' term before the next election. He said he plans to run to keep the post in the 2018 election.
"I will officially open an account and do everything it takes to be a candidate for this office," he said. "I hope that I can prove to the people of this state that I will be able to earn their support to be reelected."
After 12 terms in Congress, Becerra's appointment represents a homecoming, he told reporters.
"It's nice to be here in Sacramento, where I grew up," he said. "It's nice to be in California. It's nice not to have to do red-eye flights. It's great to be home."
Twitter: @mcgreevy99
ALSO
Assembly panel recommends Becerra for state attorney general after he promises to protect California against 'federal intrusion'
Xavier Becerra is officially California's new attorney general. Here are all the people running to replace him in Congress
---