Newsletter: Essential Politics: One Darrell Issa is worth 5,404 Kevin McCarthys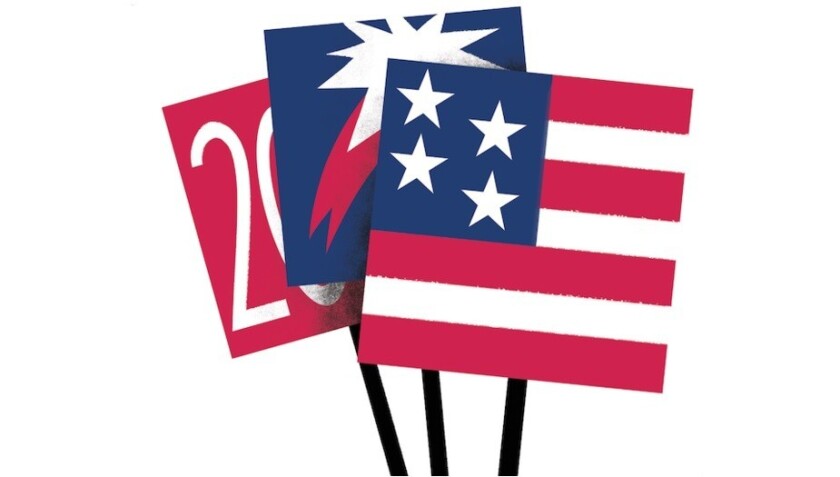 I'm Christina Bellantoni, the Essential Politics host today. Let's get started.
Looking at an annual financial disclosure form is a little bit like going through someone's mail. Except in this particular case, it's a document listing each and every asset and debt disclosed by a member of Congress.
In my past life as the editor-in-chief of Roll Call, I was intimately familiar with those forms, which the news outlet has used since 1990 to tally the richest and poorest in Congress. It's a transparency endeavor that sheds light on lawmakers -- and both surfaces and makes sense of public records difficult to find if you don't know where to look and nearly impossible to interpret without guidance.
So when I joined the Los Angeles Times for our new political project to increase engagement, Roll Call's financial disclosure database presented an obvious opportunity to partner. Tuesday debuts the result. We've used Roll Call's annual ranking of every lawmaker to make our own list of The 55: Californians in Congress.
Worth noting — California boasts both the richest and poorest members of Congress, in Reps. Darrell Issa and David Valadao. Sarah Wire profiled the two Republicans — one who made it big thanks to a car alarm business and the other who only seems poor due to lines of credit for equipment used on his dairy farm.
Our state sends 20 millionaires to Washington, along with a vineyard estate owner and a doctor with a student loan balance of at least $100,000. Even if you exclude Republicans Issa and Valadao as the outliers, Democrats in California are worth substantially more than their political rivals. Of the 20 millionaires, 16 are Democrats. The California delegation includes more male millionaires, and has eight members among Roll Call's 100 richest in Congress. You can get all the facts and figures here.
As for that headline, it could be the case that Issa is worth 5,404 times Majority Leader Kevin McCarthy. As we explain, the disclosure rules and broad ranges for assets and liabilities make it difficult to present precise figures. Check out our interactive database and see for yourself here.
ATTEMPT TO DUMP TRUMP FROM 'SNL'
The Congressional Hispanic Caucus, led by Rep. Linda Sanchez (D-Whittier), urged NBCUniversal on Monday to drop Republican presidential candidate Donald Trump as host of "Saturday Night Live" this Saturday, Sarah Wire reports. Eleven of the 26 caucus members represent California.
On June 29, NBCUniversal announced it was cutting business ties with Trump — including no longer airing the Miss America and Miss Universe Pageants — because of comments Trump made about Mexican immigrants.
In announcing the end of the business relationship, the company said in June that "at NBC, respect and dignity for all people are cornerstones of our values."
The caucus urged the network to stick to its earlier decision: "The Congressional Hispanic Caucus calls upon NBCUniversal, Broadway Video, and SNL Executive Producer Lorne Michaels to disinvite Mr. Trump from hosting Saturday Night Live because racism is not funny. The values of 'respect and dignity for all people' are more important than ratings and ad revenues."
NBCUniversal did not return emails seeking comment Monday.
HARRIS USES POLITICON IN VIDEO
Javier Panzar reports that California Atty. Gen. Kamala Harris is using a clip from her appearance at Politicon in Los Angeles last month as a video ad on Facebook to promote her U.S. Senate campaign.
In the 30-second ad, Harris tells Politico's Carla Marinucci that Washington, D.C., needs more leaders with experience in the executive branch, before going over her own resume as San Francisco's and California's top prosecutor.
"I like getting things done," she says.
LATINO VICTORY FUND ENDORSEMENTS
Two California candidates in open congressional races have been endorsed by the Latino Victory Fund PAC, according to a forthcoming release provided first to the Los Angeles Times.
Panzar reports that attorney Nanette Barragan and Santa Barbara County Supervisor Salud Carbajal are among the first candidates to be endorsed by the PAC ahead of the 2016 primary. Barragan is seeking the seat vacated by Rep. Janice Hahn (D-San Pedro), while Carbajal is going for the seat opened by the retirement of Rep. Lois Capps (D-Santa Barbara) retirement. Both are expected to be in competitive races against fellow Democrats.
TODAY'S ESSENTIALS
-- Chris Megerian and John Myers report from Sacramento that more than a dozen oil companies or oil industry groups spent almost a total of $11.3 million on lobbying in the period between July 1 and Sept. 30.
-- Noah Bierman on the Elizabeth Warren effect.
-- Airbnb is on the ballot in San Francisco Tuesday. Here's a primer.
-- Former Napster and Facebook exec Sean Parker is putting his money into pot.
-- Bierman examines Jeb Bush's promise he can "fix it."
-- Californians will act on a ballot measure next year that would require voter approval of many large public works projects, including Gov. Jerry Brown's twin-tunnel plan to divert water south around the Sacramento-San Joaquin Delta, Patrick McGreevy reports.
-- Hillary Rodham Clinton met with Michael Brown's mother while in Chicago.
LOGISTICS
Miss yesterday's newsletter? Here you go. Did someone forward you this? Sign up here to get Essential Politics in your inbox daily. And keep an eye on our new politics page throughout the day for the latest and greatest. And are you following us on Twitter at @latimespolitics?
Please send thoughts, concerns and news tips to politics@latimes.com.
---
Get our Essential Politics newsletter
The latest news, analysis and insights from our politics teams from Sacramento to D.C.
You may occasionally receive promotional content from the Los Angeles Times.