From the Archives | Past presidential visits to California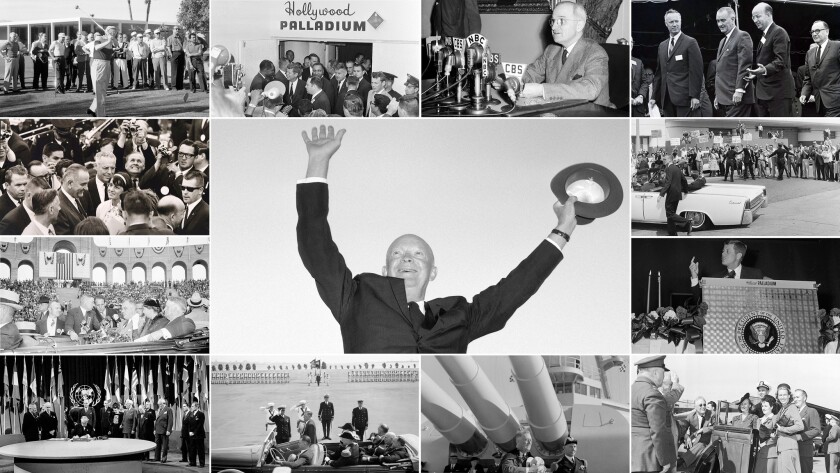 As President Trump arrives this week to inspect eight prototypes for a border wall – his first presidential visit to California – he joins the list of presidents who visited the Golden State.
We dipped into the archives to bring you a handful of visits from sitting presidents.
FDR in Southern California
President Franklin D. Roosevelt speaks to a crowd of 70,000 from his car on Oct. 1, 1935, in Los Angeles. Right, members of the president's family gather around his car at Camp Pendleton near San Diego on Oct. 1, 1942, just one stop on his trip to California. (Associated Press)
Ike in Palm Springs
Left, President Dwight Eisenhower tees off from the first tee for round of golf at the El Dorado golf course in Palm Springs on Jan. 29, 1960. Right, Tanned from eight days of golf in the desert sun, President Eisenhower waves a cheerful goodbye from the ramp of his plane in morning, Oct. 8, 1959 in Palm Spring just before taking off for Washington. (Associated Press)
Truman in San Francisco
President Harry S. Truman broadcasts a message on the first day of the United Nations on International Organization conference in San Francisco on April 25, 1945. Right, Truman and the entire American delegation look on as Sen. Tom Connally signs the U.N. Charter in San Francisco on June 26, 1945. (Associated Press)
LBJ in Orange County
President Lyndon B. Johnson participates in the dedication ceremonies at what would become the brand new UC Irvine campus on June 20, 1964. (uci.edu)
JFK in Hollywood
Left, President Kennedy acknowledges an ovation at the Hollywood Palladium. Right, Kennedy, seated in car, waves to picketers urging him to "Act Now" in racial matters, as he left the Palladium in Los Angeles on June 8, 1963. (Associated Press)
---
Get our Essential Politics newsletter
The latest news, analysis and insights from our politics teams from Sacramento to D.C.
You may occasionally receive promotional content from the Los Angeles Times.