This millennial illustrates why Iowa is a swing state
As a teenager before he was even allowed to vote, Charlie Comfort organized for then-Sen. Barack Obama in his hometown of Oskaloosa, Iowa.
Now he's a Republican.
Meet Charlie. He lives in Waterloo.
He's 23 and this will be his third presidential caucus.
Charlie's first foray into politics was during the 2008 campaign. He met Obama at the Smokey Row Coffeehouse, one of the most popular stops for candidates in Oskaloosa, on the Fourth of July in 2007.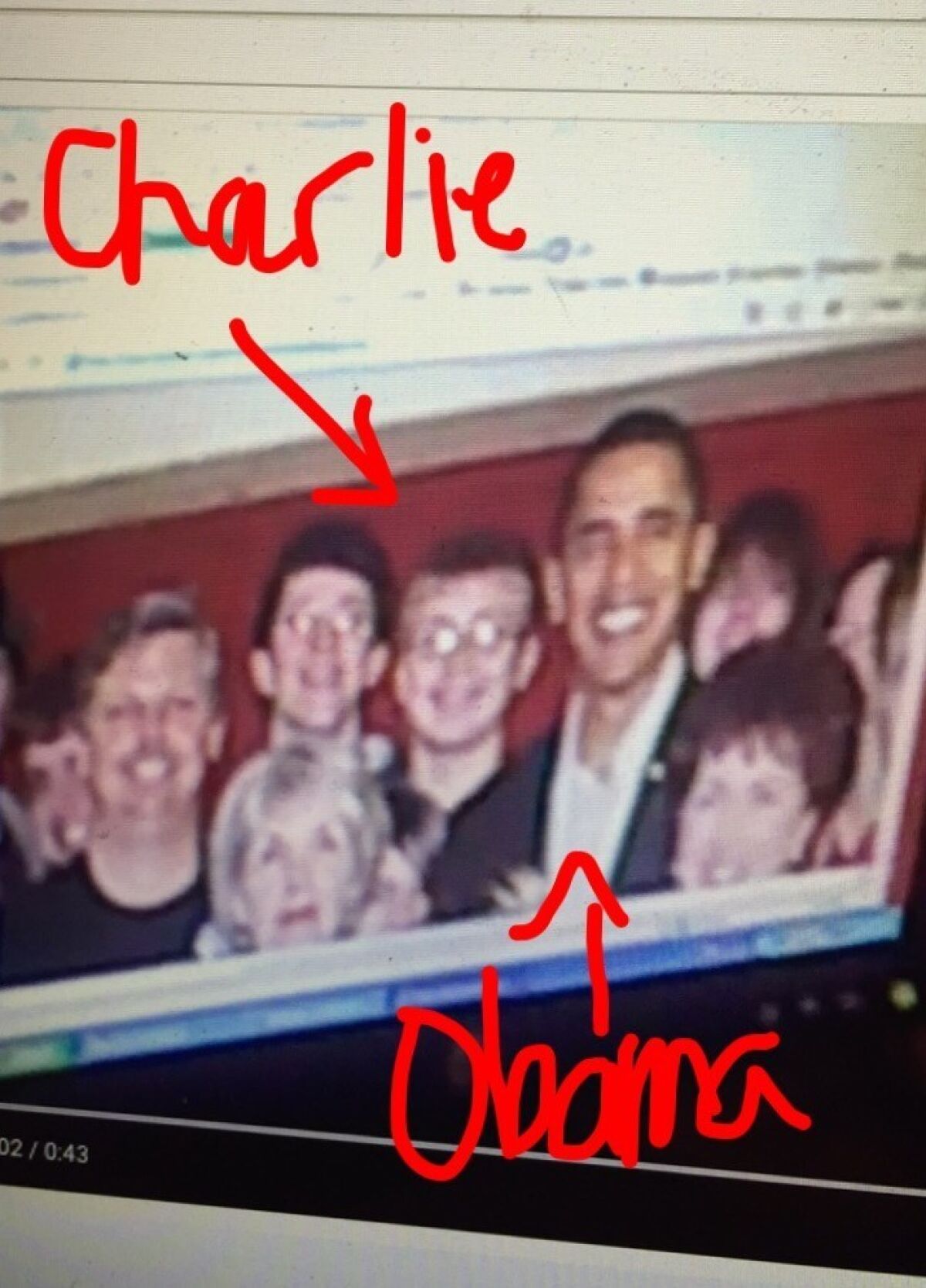 It was Malia Obama's 9th birthday, and the shop's staff put the candidate's daughter's name up on the marquee inside.
After Obama spoke, Charlie ran home excited and ready to help.
He wasn't old enough to vote but dedicated hours to organizing his neighbors, teachers and anyone else who would listen. The Obama campaign said Charlie, a high school student, made more phone calls than any other volunteer in town.
His hard work — at age 15 — earned him a prime spot next to the candidate in this group photo.
The Comfort family was the subject of a front-page story in the Washington Times the morning of the caucus.
Why?
They clearly illustrated the divided nature of the state: Martha Comfort backed Hillary Clinton, Keith Comfort preferred John Edwards and their son was traveling all over the region to put up Obama lawn signs instead of finishing his homework.
Here they are, eight years ago.
Martha Comfort, a legal assistant in town, was working as a Clinton precinct captain. Keith Comfort, a banker, was a little more passive about his support for Edwards, who would ultimately come in second in the caucuses (and later drop out of the race).
Here's a semi-awkward clip where I tried to get them to pretend they were in a caucus.
SIGN UP for our free Essential Politics newsletter >>
Eight years later, Charlie is a Republican.
Before we get to how that happened, it's important to note the teenager used the skills he built as a political organizer to run for office himself.
At the age of 19 in October 2011, he became the youngest school board member in Oskaloosa's history after unseating a 17-year incumbent and getting all his friends to vote.
His interest in education policy had an unintended consequence — he didn't like that Obama, for whom he'd worked so hard to get to the White House, had not revamped the No Child Left Behind Act as promised. He found himself intrigued by the Republican candidates coming to town in the hopes of winning the Iowa caucuses and challenging Obama in 2012.
In the 2012 Iowa caucuses, he was a Newt Gingrich precinct captain.
But he changed his mind on the way in, and his first caucus vote ultimately went to ex-Sen. Rick Santorum. "I appreciate he spent so much time in Iowa," Charlie says now.
Once Mitt Romney won the nomination, Charlie set out to help the GOP in the swing state.
That fall, he appeared in a piece by "PBS NewsHour." (About four minutes into the piece, interviewed at the Smokey Row coffee shop, of course.)
Fast forward four years, and he's got a tough choice to make.
Charlie has moved from Oskaloosa to Waterloo and is working in marketing. He spent his weekend "chasing the candidates around" because he was undecided as the long campaign for the caucuses comes to a close.
Like most Iowans interested in this quirky process, he's met many of the hopefuls as they make their way across the state. He even introduced former Florida Gov. Jeb Bush at an event at Smokey Row in October. But that didn't really help him make up his mind.
"I am disappointed by all the anger, rhetoric and hatred that has been spewed by the party this year," he says. "I am disappointed that the candidates who would support more moderate values have balked on that to try and get more of a conservative base turning out and I don't think the Republican platform has been expressed as well as it could."
Martha and Keith Comfort are still Democrats.
But they also are still split on their preferred candidate.
Keith Comfort gave his first-ever political donation, to Sen. Bernie Sanders. Martha Comfort isn't working on Clinton's behalf this time, but she's still in her corner — probably.
"Now I'm on the fence and I may lean towards Bernie," she says. "I like what he stands for and I look at Hillary and she really does have the experience but she does have some baggage. But I guess everybody does."
Then again … "I'm leaning to Hillary because she's realistic about what she's promising. She knows what takes place in the office of the president and the process to get things through Congress."
She says she'll be resolute in her choice before walking into her neighborhood caucus meeting Monday night: "Nobody is going to persuade me there, even if my husband is across the room."
As for Charlie, he's made up his mind.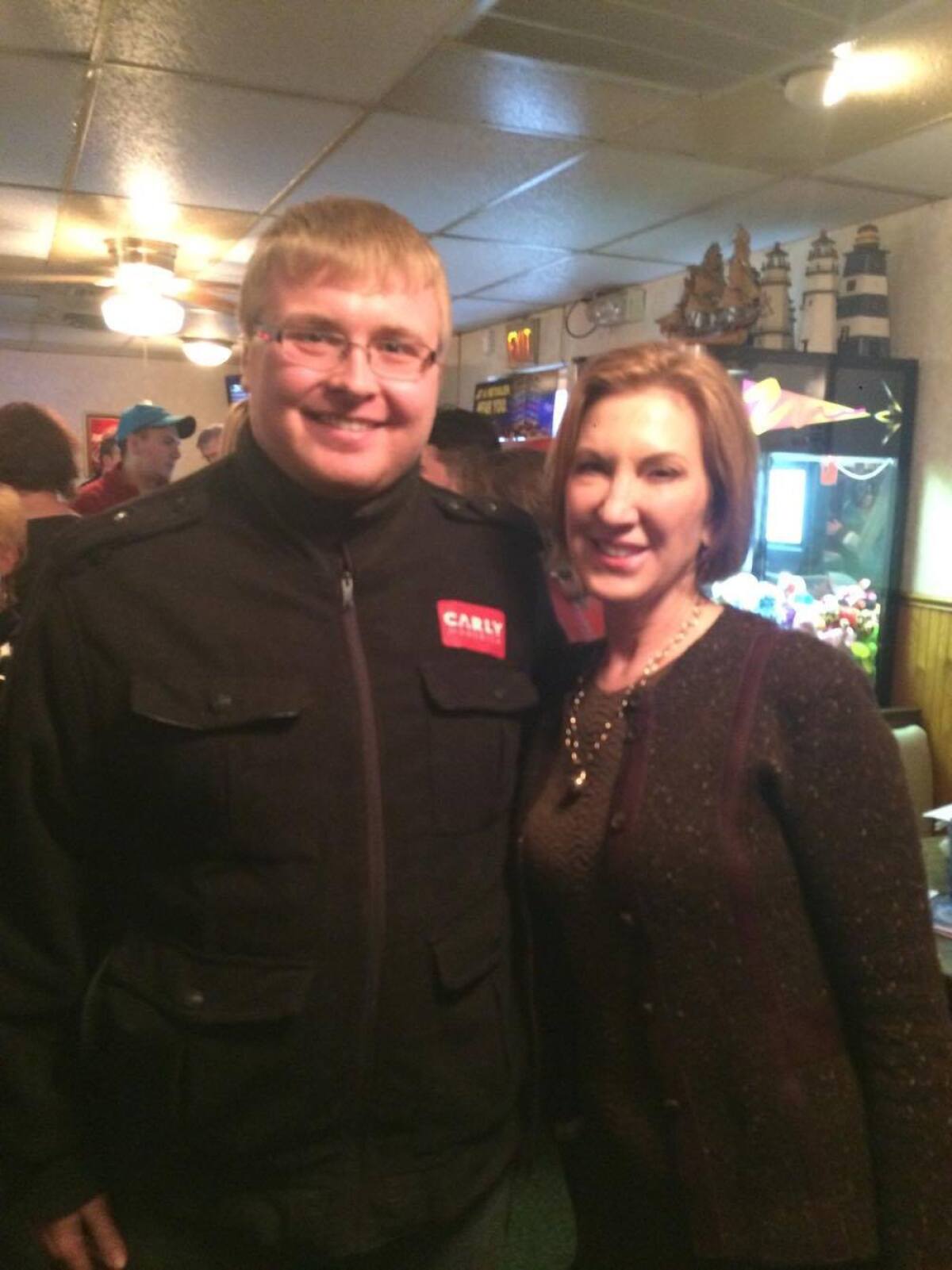 He didn't even need the whole weekend.
"This is who I plan to caucus for," Charlie said Saturday via Facebook Messenger.
It wasn't intended to have dramatic effect, but the photo didn't come through for several minutes.
But there he is, smiling next to former Hewlett-Packard Chief Executive Carly Fiorina, considered a long shot in Iowa and nationally.
"She seems genuine, authentic. She has a business background and has experience with policymakers, whether it be domestically or foreign. Ultimately, I think she is in it for the right reasons — to help fix America," he said.
"I am very impressed with her secretary-to-CEO story. Only in America."
For more, go to www.latimes.com/politics
ALSO:
Everything you need to know about the Iowa caucuses and why they matter
From west to east, Iowa voters have starkly different realities and fears
How Martin O'Malley could decide who wins the Democratic caucuses in Iowa
---
Life is stressful. Our weekly mental wellness newsletter can help.
You may occasionally receive promotional content from the Los Angeles Times.