'A real commitment backed up by real power': Gov. Jerry Brown to sign sweeping new climate legislation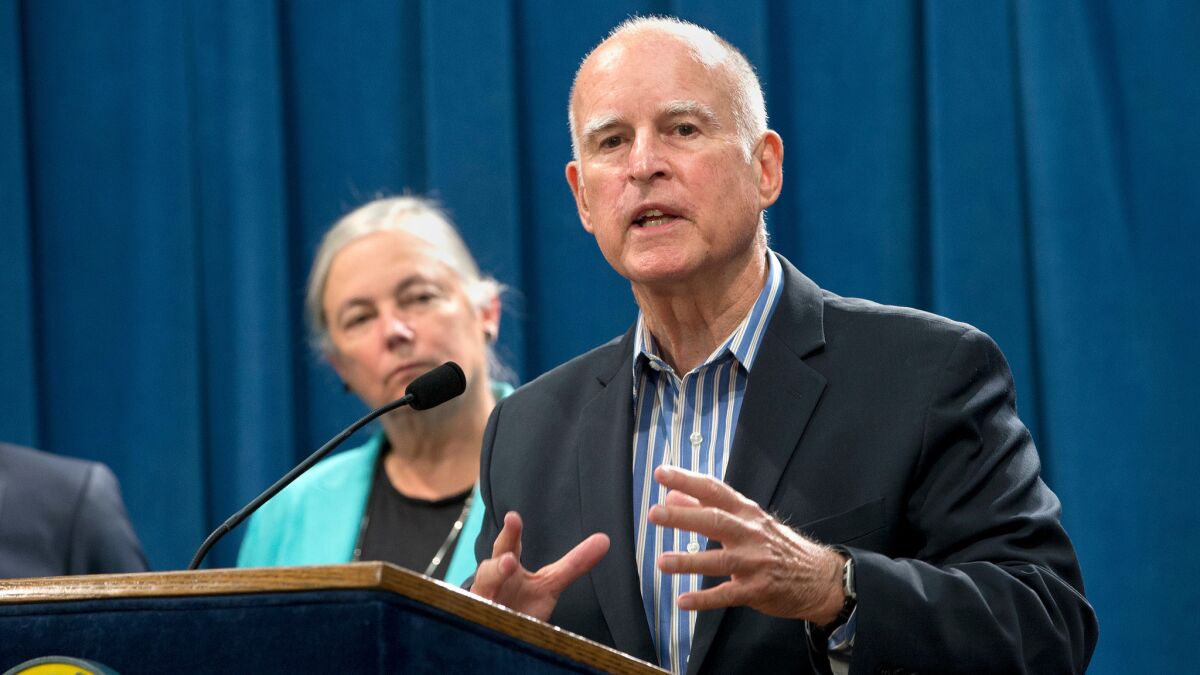 Reporting from Sacramento —
Gov. Jerry Brown marked a milestone for California's climate change policies Wednesday even as he warned of more battles to come, saying opponents of new environmental regulations were "vanquished" as lawmakers approved tougher plans for cracking down on greenhouse gas emissions.
"This is a real commitment backed up by real power," Brown said while flanked by legislative leaders from the state Senate and Assembly.
The two measures that Brown plans to sign would:
require the state to slash emissions to 40% below 1990 levels by 2030, a stiffer target than the one currently on the books;
create a new committee to oversee climate programs and require regulators to provide more detailed information on where progress is being made; and
prod regulators to take stronger action to cut pollution from refineries and other facilities
Environmental advocates and clean energy companies have pushed the proposals as a major step forward for California, which has been touted as an international example for tackling global warming. Oil companies and some manufacturers fought the legislation, warning of higher costs and out-of-control regulators.
Left unresolved is the future of cap and trade, which requires companies to buy permits in order to release greenhouse gas emissions. Brown said new steps would be needed to safeguard the program, a crucial source of revenue for projects such as the bullet train from Los Angeles to San Francisco, from a years-long legal battle over whether it is an unconstitutional tax.
Cap-and-trade revenue has been reduced to a trickle amid concerns about the program's future. But the governor said the measures passed by lawmakers Wednesday would help provide the leverage needed to reach an elusive deal with businesses that would prefer a flexible program like cap and trade instead of more stringent requirements to slash pollution.
"They're going to plead for a market system," he said.
Brown's news conference with lawmakers provided a celebratory capstone to weeks of intense lobbying over climate policies in the closing weeks of this year's legislative session. Although it appeared earlier this month that the measures did not have enough support, clean energy companies, environmental advocates and even White House officials urged lawmakers to pass them.
Get the latest news on what's happening in California politics »
The conclusion also marked a victory for Sen. Fran Pavley (D-Agoura Hills), who a decade ago authored landmark legislation creating a 2020 target for cutting emissions to 1990 levels. The state is on track to meet that goal, and she said setting a 2030 target with Senate Bill 32 was on her "bucket list" before she retired this year because of term limits.
"This is a great way for me to spend my last week in the Legislature," she said.
Republicans warned that the tougher target would lead to higher energy prices and fewer jobs.
"We won't build anything here anymore," said Sen. Ted Gaines (R-Roseville). "It will just be too expensive."
Democrats rejected those concerns, pointing to a growing number of clean energy jobs in the state.
"This is about reducing carbon and economic growth," said Senate leader Kevin de León (D-Los Angeles).
The second measure, Assembly Bill 197 from Assemblyman Eduardo Garcia (D-Coachella), includes a mix of proposals to increase legislative oversight of state regulators and focus their attention on disadvantaged communities.
In particular, the California Air Resources Board would be asked to prioritize steps to reduce emissions from refineries and other facilities, an approach favored by advocates who are concerned about the health effects of pollution.
Garcia, a freshman lawmaker and a relative newcomer to the state's environmental debates, said it was important to "make sure all communities of California are benefiting from our climate change policy."
His legislation was a key part of piecing together enough votes from lawmakers eager to claw back some authority from regulators, who were given wide leeway for pursuing emissions goals under previous laws.
Although some business groups and even a few Democrats said the proposal didn't go far enough in reining in regulators, it still marked a compromise from Brown, who has carefully guarded against such attempts in the past. The measure would create a new committee to oversee the Air Resources Board, and board members would need to receive another stamp of approval from lawmakers to serve longer than six years.
The governor and lawmakers are now expected to turn their attention to proposals for spending revenue from the cap-and-trade program, which has been stuck in political limbo as they debated climate policies.
Around 60% of the proceeds are automatically directed each year to certain projects, including the bullet train, transit and affordable housing, but the rest has been left unused for two years despite some lawmakers pushing to spend it.
The fund now has $1.4 billion available, and the cash was viewed as a potential incentive for Democrats and even Republicans to reach a deal on climate policies. Now that the measures have cleared the Legislature, there is a renewed push to earmark at least a portion of that money before the session ends next week.
Senate Democrats have proposed a $1.2-billion spending plan for the unallocated funds that includes $100 million for weatherizing older homes and energy efficiency projects, and $150 million for a subsidy program for low-income residents to purchase cleaner vehicles.
The Assembly has not yet released a framework for how to allocate the unspent money but plans to advocate for spreading out spending over multiple years to guard against unexpected dips in revenue.
Brown indicated that he's inclined to spend less than lawmakers want.
"I am committed to spending a little of that money," he said, emphasizing the word "little."
The governor and lawmakers have until Wednesday to reach a deal on how much money to spend and where to spend it.
Times staff writer Melanie Mason contributed to this report.
Follow @chrismegerian on Twitter, sign up for our daily Essential Politics newsletter and listen to the weekly California Politics Podcast
A big question complicating the climate debate: Are current policies only benefiting the rich?
Clean tech leaders try to put a business-friendly spin on climate change policies
Get our Essential Politics newsletter
The latest news, analysis and insights from our politics team.
You may occasionally receive promotional content from the Los Angeles Times.