Tax candy, not tampons, say lawmakers who pushed for sales tax exemptions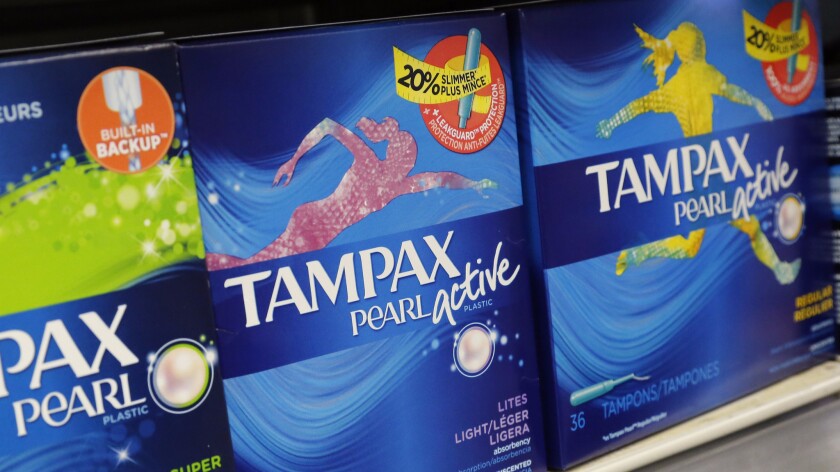 Reporting from Sacramento —
Gov. Jerry Brown vetoed bills Tuesday that would have repealed the sales tax on diapers and tampons, saying that they would cost the state budget too much money. Now the two legislators who authored the legislation have an idea they say will make that argument irrelevant: Tax candy instead.
Democratic Assemblywomen Lorena Gonzalez of San Diego and Cristina Garcia of Bell Gardens, who wrote the diaper and tampon bills, respectively, believe the state's sales tax system needs a broad overhaul.
"If you had to tax something, and it had to be candy or tampons and diapers, which would you choose?" Gonzalez said.
Gonzalez said she wants voters to approve a measure to give consumers tax breaks for products such as toilet paper, diapers and tampons, and pay for them through new taxes on items such as candy, soda and chips. Voters would need to sign off on the proposal in part because of a 1992 ballot measure that eliminated a short-lived "snack tax" that charged sales taxes on candy, other snack foods and bottled water.
A spokeswoman for Garcia, who first floated the idea in March, said the assemblywoman plans to introduce an amendment to the state Constitution when the next legislative session begins in January that would tax candy and snacks.
Garcia's effort wouldn't repeal the entire 1992 measure — bottled water would remain tax free — but it would probably generate significant revenue, allowing lawmakers to cut taxes on plenty of other products without breaking the bank.
Taxes on candy, snacks and bottled water would have added $1 billion to state and local government coffers this year, according to a state Department of Finance estimate. Exempting diapers and tampons from sales taxes would have cost $45 million combined, according to legislative analyses of the bills.
Any plan to take a deeper look at the state's sales tax policies would turn up exemptions that have multiplied over the years.
Under existing law, according to a 2015 report from the nonpartisan Legislative Analyst's Office, Christmas trees are taxed, but pear trees aren't. Newspapers are taxed, but magazines aren't. To-go sandwiches aren't usually taxed, but to-go sandwiches on toasted bread usually are.
Still, efforts to overhaul the sales tax system have run into staunch opposition. State Sen. Bob Hertzberg (D-Van Nuys) introduced bills in the last two years to expand sales taxes to purchases from service providers, such as attorneys or accountants, but they never came up for votes.
The highest-profile attempt in recent years came in 2009 when then-Gov. Arnold Schwarzenegger proposed extending sales taxes to rounds of golf, auto repairs, veterinary care and other services during the state's budget crisis. That plan was also unsuccessful.
Because of the state's troubles, Gonzalez said she knows unwinding the history of sales tax exemptions will be difficult.
"In California, the sausage has been made in a way that's not very pretty," she said.
Follow me at @dillonliam on Twitter
ALSO
Governor vetoes bills to repeal sales tax on diapers, tampons
---
Get our Essential Politics newsletter
The latest news, analysis and insights from our politics teams from Sacramento to D.C.
You may occasionally receive promotional content from the Los Angeles Times.