Brown's budget earmarks big money for natural disasters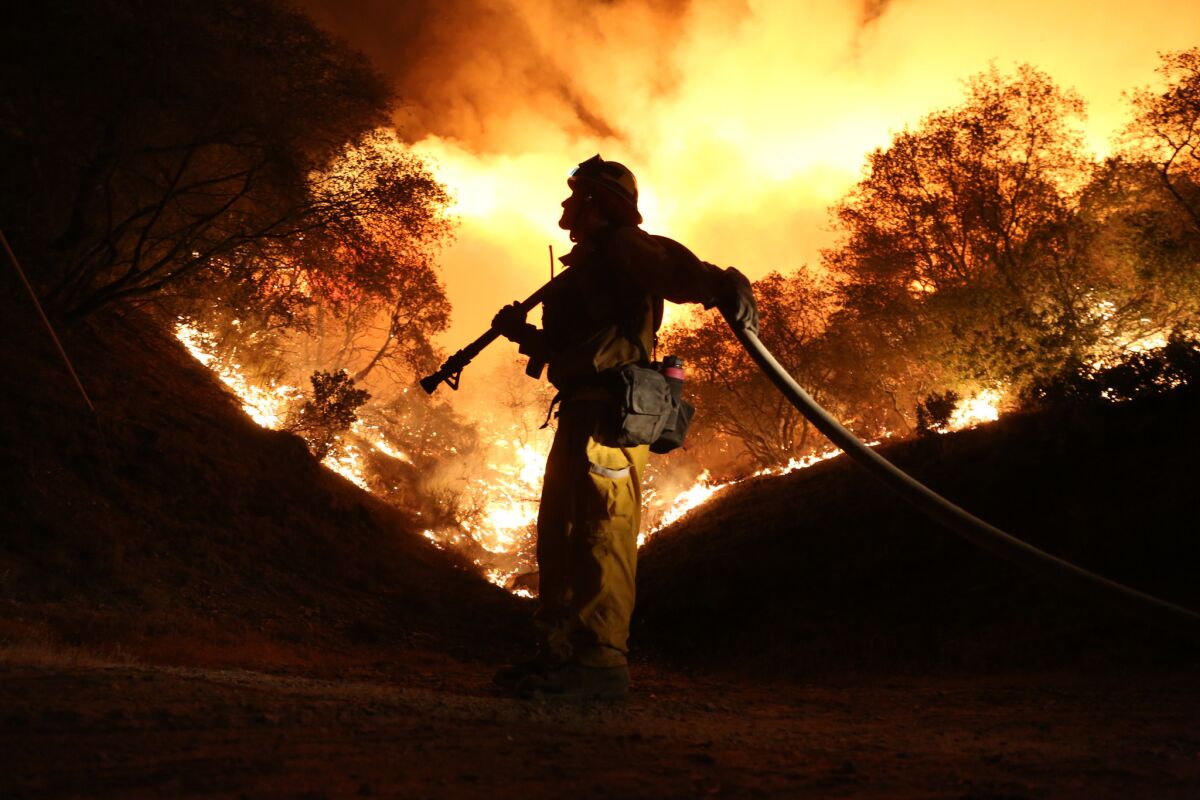 Reporting From Sacramento —
After one of the most destructive fire seasons in California history and with an eye toward the increased potential effects of climate change, Gov. Jerry Brown has proposed spending more on fighting wildfires than the state has in more than a decade.
Brown's $170.7 billion budget proposal includes a $719 million one-time drought package, including an extra $215 million to the state's emergency fund for battling big blazes.
The extra cash, along with increased funding for healthy forests and bolstering levies, takes into account the "new normal" as it relates to climate change and the state's historic drought, officials say.
Join the conversation on Facebook >>
"As we stand here today, while we've had a great, wet week here in Sacramento, and we're feeling pretty soggy and good about it … we've got a long ways to go before we're comfortable that our drought is over," said Mark Cowin, director of the state's Department of Water Resources.
"We are fully budgeting for the drought as if it's going into a fifth year," John Laird, secretary of the state's Natural Resources Agency, said in a conference call Thursday.
With continuing drought comes fear of an explosive fire season, even with record rainfall.
"The impact of this rain and moisture, it's sort of a double-edged sword," said CalFIRE Chief Ken Pimlott. "While it may delay some of the larger fires that we saw in the last several years, we're going to see a lot more grass, a lot more of that kindling. And that light, flashy fuel is where fires start."
Those quick-burning grasses, combined with the estimated 22 million dead trees throughout the state, could be a lethal combination, Pimlott said.
SIGN UP for the free Essential Politics newsletter >>
The governor has allocated $424 million for CalFIRE's emergency fund, which would be the highest budgeted amount in more than 10 years and at a near historic level, according to figures from the California Department of Fire and Forestry and state Department of Finance. More than half of that money was added in anticipation of another especially treacherous fire season.
"Anticipating long-term weather conditions – how bad the Santa Anas are going to blow, what fire conditions are going to be, we just don't know," said H.D. Palmer, a spokesman for Brown's Department of Finance. "But what we do know is that conditions have changed in California to the extent that we should change our budgeting process to account for that."
Also included in Brown's budget is $100 million to bolster the state's levee system, $150 million to help with reforestation and healthy forests, more than $240 million to help with cleanup of fires in Lake and Calaveras counties, and an additional $17 million to help CalFIRE bolster staffing in 21 emergency command centers across the state.
Actual spending for wildland firefighting in recent years has far exceeded what the governor has proposed spending next year, since fire funding is often hard to predict and is usually bolstered with additional money after an emergency is declared.
No matter how bad the fire season, said Laird, "We will fight the fire, and balance the books later."
See the most-read stories this hour >>
Still, Pimlott said, the governor's latest budget proposal represents a commitment to putting more funds up front for those purposes.
"We've seen some of the largest most devastating wildfire seasons in recent years, based on climate change, the changes in the state… and we're starting to realize now that we've got to get ahead of this sort of thing," he said. "Based on everything we've experienced, I feel we're going into this year in very, very good shape."
ALSO:
Brown again preaches prudence in state budget
Budget reflects Brown is sour on ballot measures
---
Life is stressful. Our weekly mental wellness newsletter can help.
You may occasionally receive promotional content from the Los Angeles Times.