Capitol Journal: California Republicans would be wise to cut Trump loose rather than be tied to a sinking ship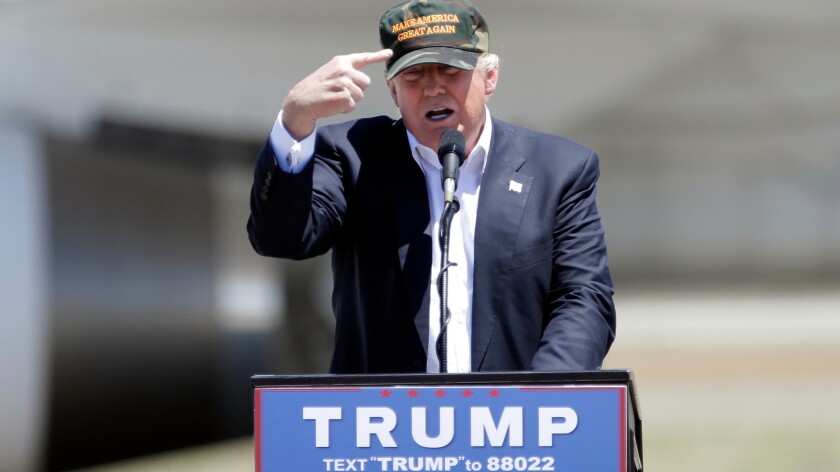 Reporting from In Sacramento —
Donald Trump's anticipated crowning next week as the Republican presidential candidate will amount to Christmas in July for California Democrats.
They'll gleefully use their priceless gift in an effort to regain supermajorities in both houses of the state Legislature. Maybe even pick up a seat or two in Congress.

For the record:
12:53 p.m. July 14, 2016An earlier version of this article said that Democrats have a 38-14 advantage over Republicans in the California delegation of the U.S. House of Representatives. Democrats outnumber Republicans 39-14.
And their chances of success are pretty good, given the extreme unpopularity in California of the GOP standard-bearer.
That would render Republicans even less relevant in Sacramento, if they'd have any relevancy at all.
There's no question among California political pros that Trump will be a drag on down-ballot Republican candidates in November. Just how much will depend on their self-survival skills.
"It's like holding onto a boat in the middle of the ocean and Trump is underneath hanging onto you," says veteran Republican strategist Richard Temple. "What you have to do is reach down and cut him loose."
Democratic pros are working hard at registering new voters.
"We don't have to do much," says Charu Khopkar, strategist for the state Assembly Democratic Caucus. "Just put a Trump picture on the back of a clipboard with a line through it."
Those clipboard-carrying registrars are going house-to-house in heavily Latino districts, where Trump is particularly reviled. They recently signed up roughly 8,000 new voters around Oxnard. They've also registered 10,000 in the San Joaquin Valley around Merced and Chowchilla. And they're moving into other areas.
"We've just gotten started," Khopkar says.
It's like holding onto a boat in the middle of the ocean and Trump is underneath hanging onto you.
Richard Temple, Republican strategist
The current party breakdown in Sacramento is lopsidedly Democratic: 26 to 14 in the Senate, 52 to 28 in the Assembly. That's just short of the two-thirds majority needed to pass tax increases, bond issues or constitutional amendments without Republican help.
Democrats briefly enjoyed two-thirds majorities after the 2012 presidential election. Presidential races typically turn out more voters than gubernatorial contests and help down-ballot Democrats. Republicans regained a few seats in 2014 when the party made major gains across the country and reclaimed control of the U.S. Senate.
This year, Democrats are licking their chops, not only because it's a presidential year, but because Trump is such an easy mark. Also, since 2012, the shrinking California Republican Party has lost more voter registration — down from 30% of the electorate to 27% — while Democrats have gained slightly to become nearly 45% of the electorate.
In the U.S. House of Representatives, Democrats hold a huge 39-14 advantage in the California delegation and are looking to add on.
The latest nonpartisan Field Poll shows how Republicans are burdened by their flag carrier.
The survey was taken before FBI Director James B. Comey called out Hillary Clinton for being recklessly sloppy with her classified emails as secretary of State. Still, she enjoys a big cushion over Trump in California. And she wasn't indicted.
The poll found 73% of likely voters holding an unfavorable view of Trump. Only 24% looked at him favorably. Clinton's image among those surveyed was 43% unfavorable, 53% favorable.
In the November matchup, Clinton held a 2-1 lead: 58% to 28%. Statewide among Latinos, who probably will vote in record numbers this year, Clinton was crushing Trump by 63 points.
The danger for GOP candidates, Temple says, is that voters will side with Clinton and then keep voting Democratic because "they think the Republican is like Trump."
California used to be a ticket-splitting state, but that has changed in recent decades.
"Elections have gotten nationalized," says Tony Quinn, editor of the California Target Book, which charts down-ballot races. "It's no longer, 'I vote for the man, not the party.' It's now, 'I vote for my party and hate the other party.'"
Another danger is that some Republicans will be so turned off by Trump that they just won't vote at all. That seems to have been the case for many in the June primary.
Fewer than half the counties have reported their turnout data. But based on a preliminary analysis by Paul Mitchell, who crunches voter stats for Political Data Inc., it appears the Democrats' share of the electorate has increased and the Republicans' share has decreased compared since the 2012 presidential primary.
A prime example of a Republican legislator in jeopardy is Assemblyman David Hadley of Manhattan Beach. It's a typical swing district. In 2014, Hadley eked out a win over Democratic incumbent Al Muratsuchi, who now is trying to recapture the seat.
Another Republican who's in trouble is Assemblywoman Young Kim of Fullerton. In 2014, she won comfortably over Democratic incumbent Sharon Quirk-Silva. Now they're in a rematch.
Other Assembly Republicans in tough races include Marc Steinorth of Rancho Cucamonga and Catharine Baker of San Ramon.
What you need to know about the legislative races after the primary »
Typically in these districts, polls find Trump is losing by landslide margins, while the Republican legislator is trying desperately to hold on without any coattails to grab.
In the state Senate, Democrats are making a run on the seat of the late Lancaster Republican Sharon Runner. (Runner, who had announced her retirement, died Thursday.)
In Congress, Rep. David Valadao (R-Hanford) is a fat target in a heavily Latino district. Democrats are trying to chain him to Trump.
So Valadao recently disavowed his party's presumptive nominee. "I cannot back a candidate who denigrates people based on their ethnicity, religion or disabilities," he said recently.
"If you can't support Trump," says longtime Republican consultant Wayne Johnson, "then you should not be afraid to say so. Speak out. People will understand. Don't try to be coy."
It's the right thing to do — both for self-survival in November and perhaps the long-term survival of the party.
Follow @LATimesSkelton on Twitter
ALSO:
Republican in heavily Latino district says he can't back Trump
What you need to know about the legislative races after the primary
Updates from the campaign trail
---
UPDATES:
12:33 p.m.: This article was updated to reflect the death Thursday of state Sen. Sharon Runner.
This article was originally published at 12:05 a.m.
---
Get our Essential Politics newsletter
The latest news, analysis and insights from our politics teams from Sacramento to D.C.
You may occasionally receive promotional content from the Los Angeles Times.