Capitol Journal: Trying to get a handle on California's deadly wildfires has lawmakers flummoxed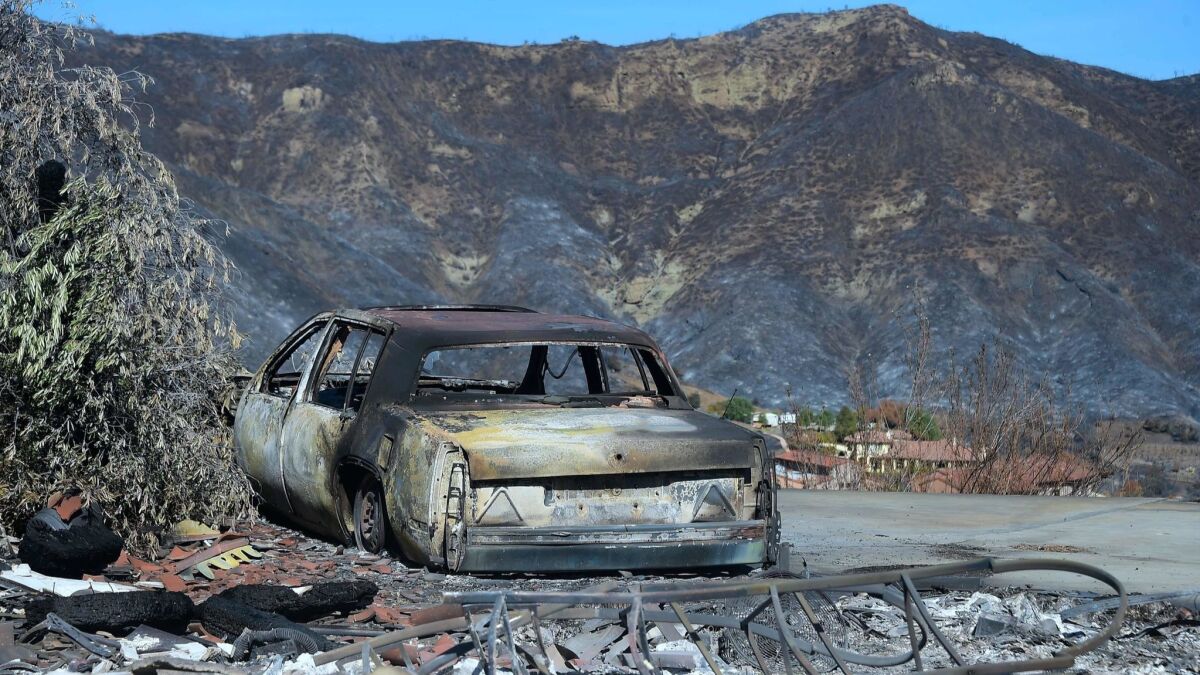 Reporting from Sacramento —
This was going to be easy, I thought foolishly. Ask some legislators and experts for their ideas on how to control California's deadly wildfire epidemic. What should state government do about it?
But they basically didn't have a clue. And who could fault them? It's like asking how you stop hurricanes or tornadoes or earthquakes. It's all part of nature. You try to prepare.
Fires are a little different, of course. The risk can be reduced. You can hold off flipping a lighted cigarette onto dry grass, or building a campfire in a forest tinderbox. You can try to keep power lines from falling on chaparral.
But that's all just common sense. You don't need legislation for that stuff. Well, maybe you do to require utilities to better maintain their power lines. And some good public education ads could help. Bring back Smokey Bear.
Give Gov. Jerry Brown and the Legislature some credit: They did enact major wildfire legislation in September. But surely there must be more they can do.
Last week, Brown told the truth no one wants to hear. While inspecting the Camp fire devastation in Butte County, a reporter asked Brown, "How do we curb these fires?"
"You know, we've had fires for long before the Europeans showed up here," the four-term governor replied. "And our indigenous people had a different way of living with nature. For 10,000 years, there were never more than 300,000 [people living in California]. Now we have 40 million and we have a totally different situation.
"So it's not one thing. It's people. It's how people live, it's where they live, and it's the changing climate…. And the truth is…we're going to have more difficulties. Things are not going to get better. They're going to get more challenging because of the continuing alteration in the climate — lack of moisture, early snowmelt and faster winds, the whole thing."
All this will be a skunk at Gavin Newsom's inauguration party when he's sworn in as Brown's replacement in January.
I contacted the governor-elect's transition office and asked whether he had any fresh thoughts about preventing and fighting wildfires. Apparently not. I was referred to a written statement he gave The Times during the election campaign. In it, he talked about spending more money. And, really, there's no way of avoiding that.
"This has to be a top priority," he said. "That starts with more resources to address this crisis…. I will build on the work currently underway …reexamining lands and vegetation management strategies … including the removal of dead trees."
Newsom should make wildfires his No. 1 priority — higher than homelessness, universal healthcare, anything.
The state isn't short of money. The Legislative Analyst's Office last week projected a nearly $15-billion budget surplus. A chunk of that could be spent on a crash program of buying firefighting equipment, cleaning forests and funding emergency alert systems.
But Brown already is purchasing 12 state-of-the-art helicopters. And the state owns 23 air tankers that couldn't fly when the Camp fire erupted because of high winds.
Fire statistics make Brown's point about wildfires becoming an increasing menace.
Coverage of California politics »
The Camp fire is the deadliest and most destructive ever recorded in California. As of Sunday, it had killed 76 people, destroyed nearly 12,800 structures — 9,700 of them homes — and charred almost 150,000 acres. The simultaneous Woolsey fire between Thousand Oaks and Malibu had killed three, destroyed 1,452 structures and burned about 97,000 acres.
Of the 20 deadliest wildfires ever recorded in California, 10 have occurred since 2000. Of the 20 most destructive, 14 have been in this century. So have 16 of the 20 largest.
The laws enacted in September will significantly expand wildfire prevention efforts while allowing utilities to shift some of their liability costs to customers.
But the utility cost shifts don't affect this year's fires. And there's speculation that Pacific Gas & Electric could ultimately go bankrupt if its equipment is found to have ignited the Camp fire.
State Sen. Jerry Hill (D-San Mateo) is considering legislation to break up the company and allow local governments to buy its pieces.
"Many have argued that PG&E is too big to fail," Hill says. "I think it's too big to succeed."
The state has substantially stepped up its controlled burning of vulnerable woodlands. And this year's legislation provides $200 million a year for forest thinning.
But "you can have the cleanest forests in the whole world, with thousands of leaf blowers out there, but once a fire starts with 80-mph winds, you can't stop it," says Brian Rice, president of the California Professional Firefighters Assn.
You can't cut down all the trees and brush. There would go the watersheds and here would come the mudslides.
And, sure, maybe people shouldn't live in potential firetraps. But just try to stop them. People have been flocking to the Sierra foothills since the Gold Rush.
One legislator who has been doing heroic fire work is Assemblyman Jim Wood (D-Healdsburg). Much of his district was devastated by last year's wine country fires. Last week, the dentist left a legislators' group junket in Chile and flew to Chico to help identify the dead through dental records.
"It's a bit of a slog, frankly," he told me. A lot of dental records were destroyed in the fire.
Wood, one of the wildfire bill authors, said: "Seeing all the devastation I am now, I feel we have a long way to go. Maybe we need stricter brush management regulation and enforce it."
Another fire bill author, Assemblyman Marc Levine (D-San Rafael), urged patience.
"We're still putting fires out, identifying remains and looking for the missing," he said. "There'll be time for [new ideas] when the next session begins."
That will be in January. Hopefully lawmakers will show up with creative ideas. But by then it could be flood season. Attention spans are short.
Follow @LATimesSkelton on Twitter
Get our Essential Politics newsletter
The latest news, analysis and insights from our politics team.
You may occasionally receive promotional content from the Los Angeles Times.