Capitol Journal: 'When will this end?' When Congress has the courage to stand up to the gun lobby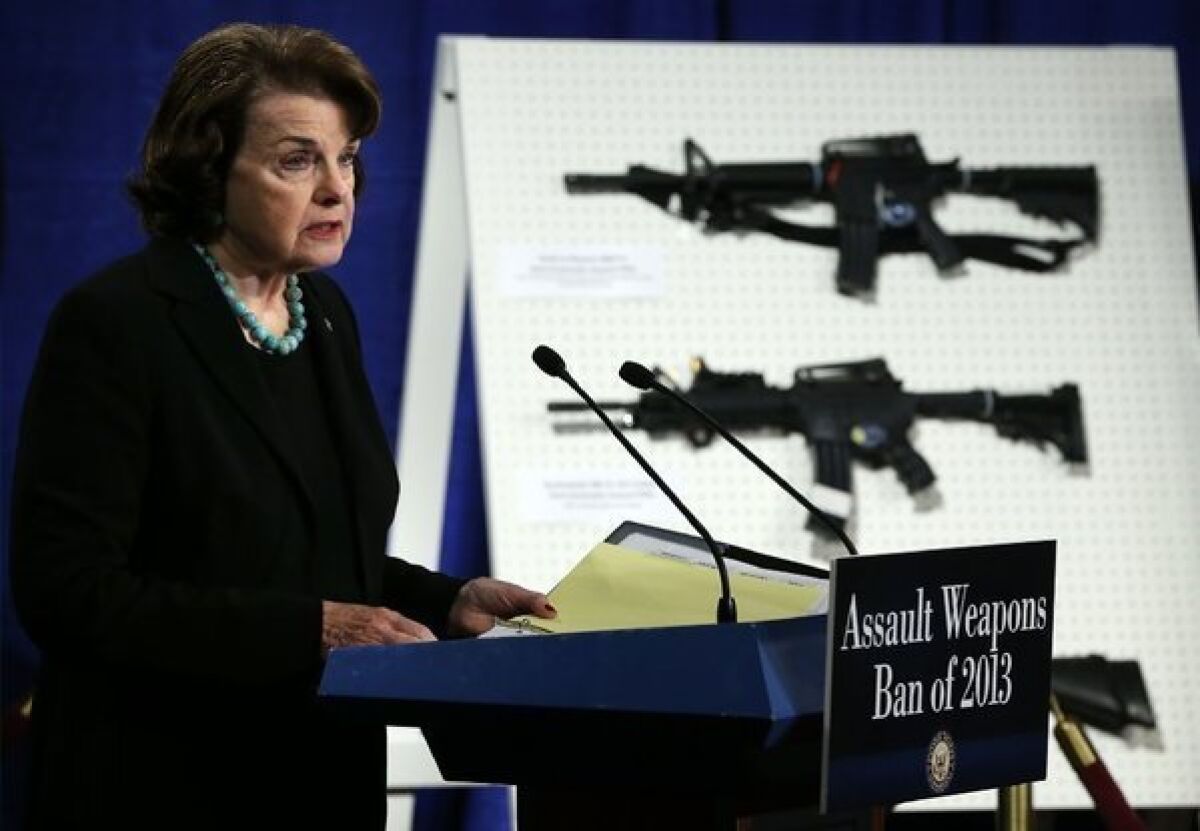 Reporting from In Sacramento —
The death toll from the Texas church killings was still rising when U.S. Sen. Dianne Feinstein issued a simple statement that spoke for many millions of Americans. She asked:
"When will this end? When will we decide that we can't accept massacres in our places of worship, schools or at concerts? When will we actually do something about it?"
Excellent question.
One answer: When gun control advocates — meaning Democrats — recapture Congress and the White House. Not until then, at least. And even then, some Democrats will be weak-kneed. Such is the power of the gun lobby.
But after key Democratic victories in Tuesday's elections, next November's midterm contests are looking more promising for the party to pick up enough seats — 25 — to retake the House.
That's why the most important elections in America next year probably will be for the House. In California, that means seven seats currently held by endangered Republicans.
Feinstein, who's running for reelection to a fifth full term, on Wednesday reintroduced her previously rejected bill to ban the sale of military-style assault weapons and high-capacity ammunition magazines.
The bill is dead on arrival in this Congress. But she introduced it, the San Francisco Democrat said, so Americans "will know that a tool to reduce these massacres is sitting in the Senate, ready for debate and a vote."
Feinstein cited some numbers to show how mass gun killings have dramatically increased in recent years. From 1988 to 1997, she said, 125 people were killed in 18 mass shootings. During the next 10 years, 171 perished in 21 mass shootings. Over the last decade, 437 have died in 50 massacres.
"That's 89 mass shootings in the last 30 years that snuffed out the lives of more than 700 people," Feinstein said. And that's just a small fraction of the gun deaths in America.
In 2016, according to the Centers for Disease Control and Prevention, more than 38,000 people died in America from firearms. About two-thirds were suicides.
"After each mass shooting," Feinstein said, "I hope we'll summon the courage and the will to change."
Hope is as far as it gets in Congress. There's no courage or will. Feinstein managed to pass an assault weapons ban in 1994. But the law expired in 2004, and Congress didn't reinstate it.
"To those who say now isn't the time, they're right," Feinstein said. "We should have extended the original ban 13 years ago."
Instead, after every mass killing, we get "thoughts and prayers" and "moments of silence."
Rep. Ted Lieu (D-Torrance) walked out of the House chamber Monday night when Speaker Paul D. Ryan called for a moment of silence for the Texas church victims.
"I just felt angry," Lieu said. "I've been to so many of these, and then nothing happens. I just thought, I can't do another one."
Of course, to believe President Trump, the church killing was not "a gun situation." It was about "mental health."
OK, the killer was a wacko who once escaped from a mental health facility. But he wasn't armed with a slingshot.
Devin Patrick Kelley was firing a semiautomatic rifle while wearing a bullet-resistant vest. And he brought with him 15 ammunition magazines, each holding 30 rounds. That's 450 bullets. Any clear-thinking person would call that "a gun situation."
The "mental health" cop-out is always a refuge for anti-gun control zealots. Sure, anyone who murders is nuts. But that doesn't mean they're clinically mentally ill. No more than 4% or 5% of all violence is committed by the mentally ill, according to Garen Wintemute, director of the UC Firearm Violence Research Center.
At least two things should be done in response to the killing of 26 worshipers and wounding of 20 others at the small First Baptist Church in Sutherland Springs, Texas.
First, all levels of government need to take our gun laws more seriously. Clearly the Air Force screwed up by not reporting the shooter's bad conduct discharge and domestic violence court-martial to an FBI database. That allowed him to pass background checks and buy his weapons from gun stores.
Coverage of California politics »
Also, the federal government should spend enough money to significantly upgrade the nation's firearms database so law enforcement has a better picture of potential gun buyers.
The problem is that many pro-gun old-timers don't like firearms registration because they fear invading forces will grab the lists and seize their weapons. They cite Nazi Germany. Yes, really.
Another need is to close the "gun show loophole." In most states, only gun purchases from licensed dealers need to go through background checks. Firearms can be sold by private parties at gun shows without checks.
The second thing that should be done is a step Feinstein is trying to take: Ban ammo magazines that hold more than 10 rounds. Force the killer to pause and reload and give victims a few seconds to flee or jump the guy.
Californians voted overwhelmingly for such a ban last November as part of a sweeping gun control initiative. But the gun lobby sued, and the ban has been temporarily blocked by a federal judge in San Diego.
After the bad guy had finished mowing down the congregation, he walked outside where an armed neighbor risked his life to confront him in a firefight. That was admirable of the neighbor.
But do we really want church lawn shootouts on Sunday mornings? We can do better.
Follow @LATimesSkelton on Twitter
ALSO
Sen. Dianne Feinstein reintroduces assault weapons ban legislation
Blasting California's gas tax while working to cut federal tax breaks? That's called hypocrisy
California's Capitol always has been a sexual playground with bullies from both parties. Now, empowered women could change things
---
Life is stressful. Our weekly mental wellness newsletter can help.
You may occasionally receive promotional content from the Los Angeles Times.