Capitol Journal: Gov. Brown stiffed doctors, dentists and hospitals by not increasing provider fees with new tobacco tax money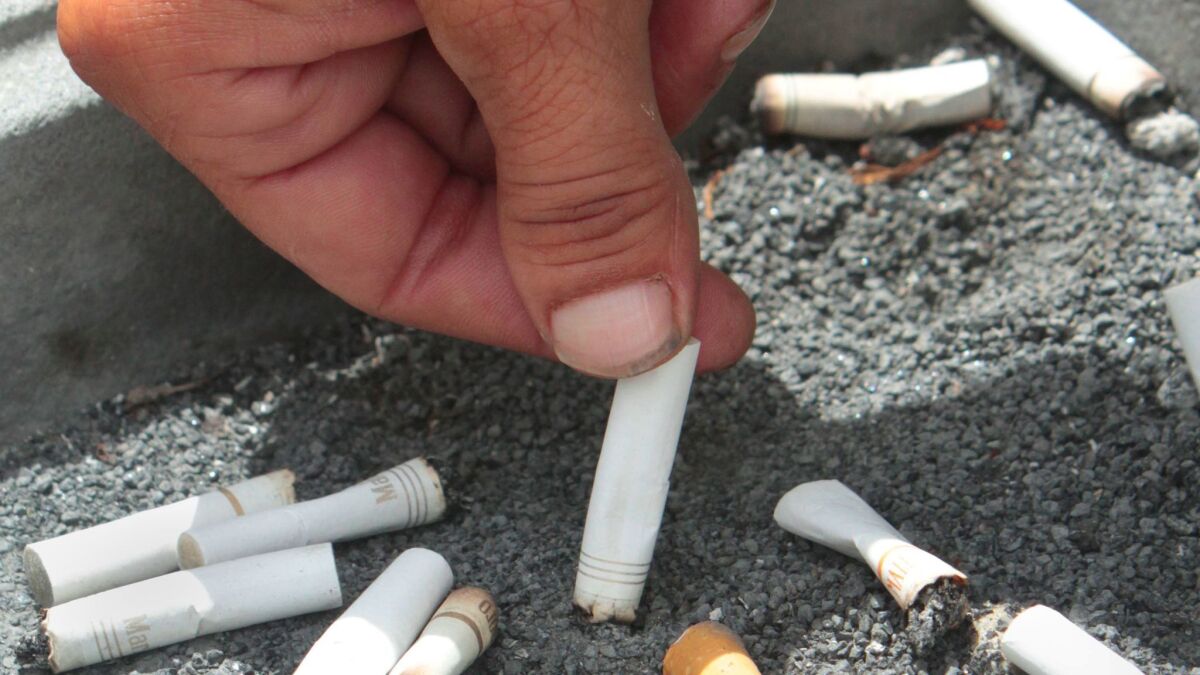 Reporting from Sacramento —
The way Gov. Jerry Brown is proposing to spend — or not spend — the hefty new tobacco tax is an example of why citizens are so cynical about government and politics.
In fact, it's the sort of thing that contributed to the election of President Trump. No, Brown isn't to blame for this White House misfit. But voters who felt kissed off by the political establishment were Trump's electoral base.
By a landslide, California voters — roughly 9 million — approved a $2-per-pack increase in the cigarette tax last November. Much of the new revenue was supposed to go toward raising fees for doctors and dentists who treat poor patients on Medi-Cal, the state's version of federal Medicaid.
But Brown has refused to allocate any of the new money for that, despite the glaring need.
During the recession, Sacramento cut the already miserly Medi-Cal provider rates by 10%. And those cuts haven't been rescinded, even as the economy has recovered and income tax rates have been increased on the wealthy.
Consequently, California's Medi-Cal rates are shamefully about the lowest in the nation, at 48th.
So what? So providers aren't fools. There's no law forcing them to treat Medi-Cal patients. And many are refusing to.
The only providers required to treat everyone are hospital emergency wards. And that's where patients who can't find traditional care wind up, clogging waiting rooms and costing more to treat. Most of us pay the cost through stiffer private insurance premiums.
California's liberal state government has generously increased eligibility for Medi-Cal and added benefits. But because it's stingy with provider rates, it has simultaneously reduced the patients' access to treatment.
There are now around 14 million people on Medi-Cal, more than one-third of the state. They include, as an example of recent generosity, 183,000 immigrant children here illegally. Medi-Cal expansion through Obamacare has added 3.9 million recipients. But it's all hollow if they can't find doctors and dentists to treat them.
Here's an example of why they're shunned: In the Sacramento region, a routine doctor visit would bring in $16 for treating a Medi-Cal patient, but $46 for someone on Medicare. An average Medi-Cal patient would gross the doc $37 a visit, compared to Medicare paying $103.
"If you're getting reimbursed $16 an office visit, it's awfully hard to keep the practice going," says Dustin Corcoran, chief executive officer of the California Medical Assn.
The paperwork dealing with Medi-Cal bureaucrats would be enough alone to prompt a doctor to reject a potential patient.
One provider that can accept poor patients because of major private donations is the Children's Dental Health Clinic of Long Beach.
"Most dentists would rather do procedures for free than deal with [Medi-Cal]," says Dr. John Blake, the Long Beach clinic director. "A lot of them are fed up with the rates and the burdensome way of processing reimbursements.
"Dentists aren't greedy, but they at least want to know they can pay their bills."
The California medical and dental associations each put up $1 million to help bankroll the tobacco tax hike, Proposition 56. The California Hospital Assn. kicked in a whopping $10 million.
The hospitals weren't looking for higher reimbursements. They were hoping doctors would get them so they'd be willing to treat more Medi-Cal patients and keep them out of hospital emergency rooms.
"When they can't go to a doctor, they show up in an emergency room," says Jan Emerson-Shea, spokeswoman for the hospital association. "That's not good for the patient and not good for the hospitals. When they can see a doctor, they're not coming to an ER for a sore throat or earache and sitting in the waiting room for four or five hours."
In recent years, Brown and the Legislature have poor-mouthed — even while dramatically increasing spending — and claimed they didn't have enough money to boost Medi-Cal fees. So the providers formed a coalition with anti-smoking activists and passed Proposition 56, despite being greatly outspent by the tobacco industry.
But Brown shrugged off the election result. He proposed giving Medi-Cal $1.2 billion in tobacco taxes, largely to pay for recent benefit and enrollment expansion, but not one dime for provider fees.
"There is only a certain amount of money," the governor told reporters. If the state boosted fees, it would have to cut Medi-Cal eligibility or benefits. Brown called what he did "the least harmful, least painful way to go."
"It's fair to say we're upset," Corcoran says.
H.D. Palmer, spokesman for the state Finance Department, notes that Brown did propose a 2% increase for Medi-Cal managed care plans. Those plans and the provider networks can negotiate higher rates if they wish, he said. And 80% of Medi-Cal patients are now covered by plans.
But that's not what the provider groups expected and the voters were told. It's sort of another bait-and-switch — only not switched by the baiters, in this case, but by the controlling politicians.
Brown also wants to make sure that any fee hikes would prompt more doctors to open their doors to Medi-Cal patients.
There's about a month to negotiate. The Legislature's deadline for passing a budget is June 15.
"You never know what people will be able to persuade me of as we get down the road," Brown said.
The people he should listen to are the millions who voted for Proposition 56. He might keep some of their cynicism in check.
Follow @LATimesSkelton on Twitter
ALSO
While California spends liberally, the governor talks like a penny-pincher
This lawmaker learned to revere education after her parents fled Jim Crow. Now she's tackling teacher tenure
Activist Ron Kovic says disabled parking cheats 'just aren't thinking.' Or do they just not care?
Life is stressful. Our weekly mental wellness newsletter can help.
You may occasionally receive promotional content from the Los Angeles Times.