Inspired by Measure S, California lawmaker takes aim at anti-growth ballot measures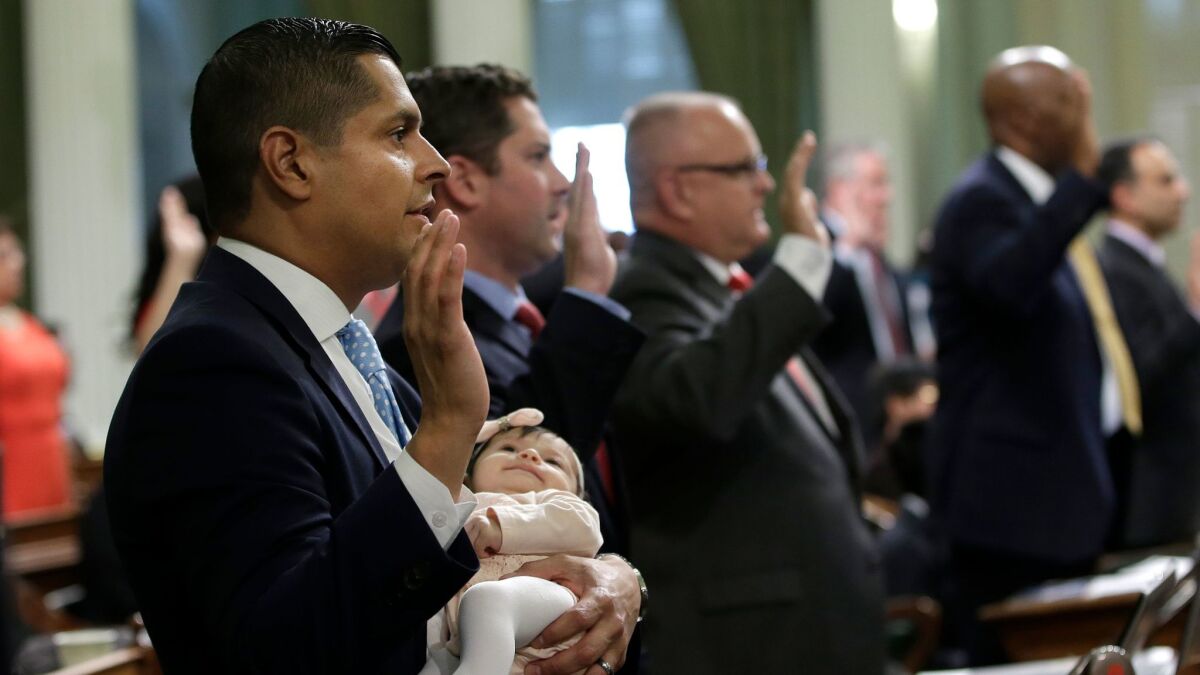 Reporting from Sacramento —
A Los Angeles lawmaker wants to make it harder for cities and counties to slow development in their communities, a response to decades of local ballot measures in Los Angeles and across California that have tried to restrain growth.
Assembly Bill 943 from Democratic Assemblyman Miguel Santiago increases the threshold from a simple majority to a two-thirds supermajority for passage of any local ballot measure that would block or delay development.
Santiago said the legislation would ensure local governments couldn't further restrict housing supply in the state.
"You can't address California's housing crisis by suppressing the construction of housing," said Santiago, whose district includes downtown Los Angeles. "I think even my 3-year-old can understand that."
Thursday's bill introduction comes as voters in the city of Los Angeles are weighing the approval of a strict anti-growth measure on the March 7 ballot. Measure S would slow development in Los Angeles by imposing a two-year moratorium on real estate projects that require special planning approvals, such as increases in height or density. Backers of the ballot measure argue that growth in Los Angeles needs greater constraints to address traffic, neighborhood character and other concerns.
If it passes, AB 943 wouldn't take effect until next year and would not impact the results of the vote on Measure S. Still, Santiago said that ballot initiative, as well as the continued worsening of California's housing affordability problems, spurred him to write the bill.
More than two-thirds of coastal communities in the state have adopted growth-limiting measures such as caps on population or height limits on buildings, which are aimed at restricting residential development, with the significant majority passed through the ballot, according to the state's nonpartisan Legislative Analyst's Office.
These proposals can have a large effect on housing costs, a key issue at a time when the state's median home value of $485,800 is more than two and a half times the national average. A 2006 study of California land-use rules by UC Berkeley researchers found that each growth restriction a city adopted increased home prices between 3% and 4.5%. The state's top housing official said recently that housing affordability is as bad as it's ever been in California history.
But Dan Carrigg, legislative director for the League of California Cities, said AB 943 would take too much power away from voters over how their communities look and grow, and would instead favor development interests. The principal backer of AB 943 is the California Apartment Assn., and Santiago has already announced the support of other pro-construction groups.
If Santiago's bill passes, Carrigg said he wouldn't be surprised if Californians tried to undo the legislation with a statewide ballot measure.
"Some voters may view this as something where the development community may be dictating what's going on in their communities more than their own city council," Carrigg said.
Carrigg also said the bill's language, which would apply the two-thirds threshold to any ballot measure seeking to "curb, delay, or deter growth or development within a city," could make it harder for local governments to pass other types of measures in addition to those intended to slow growth. Efforts to ban big-box retailers, force developers to set aside portions of their projects for low-income residents or implement rent control could all require a two-thirds vote under Santiago's bill on the grounds they restrain development, he said.
Santiago said his bill isn't intended to block those sorts of measures, simply those that limit housing construction. Under California law, cities and counties can already increase taxes to fund their day-to-day operating budgets by a majority vote. But any tax increase geared toward a specific purpose, such as spending on low-income housing, transit or parks, requires passage by a two-thirds supermajority.
Santiago said the same threshold should be applied to slow-growth measures that give too much power to opponents of development — often branded NIMBYs, for "not in my backyard" — at the expense of those who need less costly housing.
"I fully support local democracy," Santiago said. "But NIMBYism on steroids is not something I will support when we're trying to build affordable housing in California."
ALSO
With the election looming, L.A. moves to speed up review of neighborhood development plans
California's housing affordability problems 'as bad as they've ever been in the state's history,' housing director says
When developers want to build more than zoning allows, L.A. planning commissioners almost always say yes, Times analysis finds
Get our Essential Politics newsletter
The latest news, analysis and insights from our politics team.
You may occasionally receive promotional content from the Los Angeles Times.