This week in Trump: taxes, travel ban and the federal budget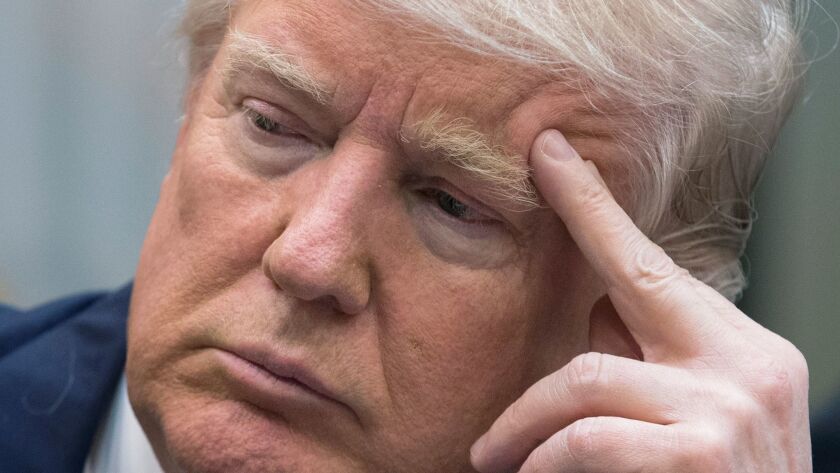 Not to jinx anything here, but the start of President Trump's eighth week in office has been remarkably more calm than the start of his previous seven. Now that we're past the halfway mark of his first 100 days, we all could use a reprieve. Enjoy it while it lasts:
Last weekend
U.S. Atty. Preet Bharara of New York was fired after refusing Jeff Sessions' request that he resign. Bharara said he had been previously assured by Trump and Sessions that although he was an Obama administration appointee, his job would be safe.
A California man was arrested for jumping the fence at the White House. Trump was inside at the time.
More members of Congress, including Sen. John McCain (R-Ariz.), are calling on Trump to provide evidence of his unsubstantiated claims that President Obama wiretapped his phones.
Monday, March 13
Tuesday, March 14
The White House is shifting gears. Originally, Trump's stated goal was to provide "insurance for everybody." But during a news briefing, Press Secretary Sean Spicer changed his tone and said the healthcare plan offers "more people the option to get healthcare."
Trump released his 2005 federal income tax return after Rachel Maddow announced on Twitter that she had a copy. He paid more than $35 million on $150 million in income, an effective rate of 24%.
Wednesday, March 15
Thursday, March 16
Friday, March 17
Can't get enough? We've got you covered for all of Trump's first 100 days. » »
Grade the president
Now that you're all caught up, here's your chance to tell us what you think of Trump as we track his major moves in the first 100 days.
Grading opens every Friday and closes at the end of Monday. We'll be posting your responses, so subscribe to our newsletter to be notified when they go up.
What did we miss? What questions do you have? Email colleen.shalby@latimes.com and melissa.leu@latimes.com or tweet us @cshalby and @melissaleu.
Need a recap of Trump's first 100 days so far? Look no further:
Week 1 | Week 2 | Week 3 | Week 4 | Week 5 | Week 6 | Week 7
---
Get our Essential Politics newsletter
The latest news, analysis and insights from our politics teams from Sacramento to D.C.
You may occasionally receive promotional content from the Los Angeles Times.