Sen. Ronald Calderon continued big spending in months before FBI raid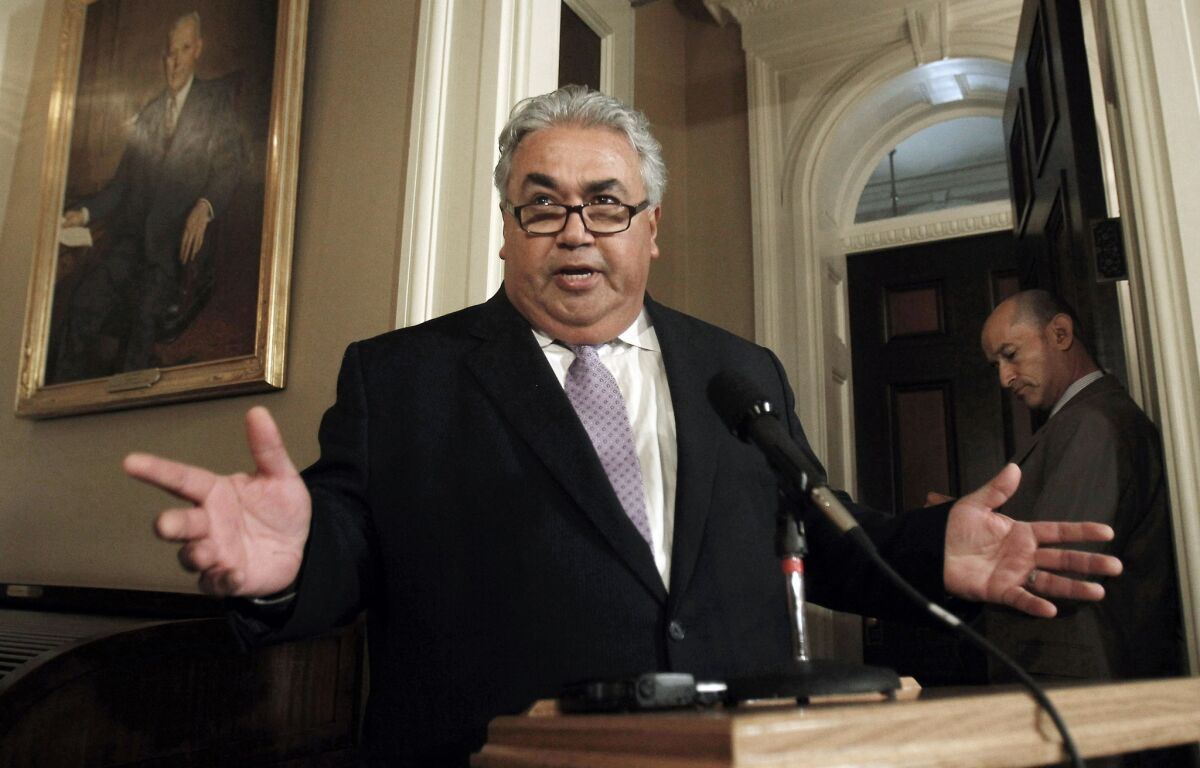 State Sen. Ronald Calderon (D-Montebello) reported raising $62,650 for a 2014 campaign committee for state controller and $30,147 for a 2014 campaign committee for the Assembly.
Calderon has been in the spotlight for lavish spending from his campaign accounts ever since the FBI raided his Capitol office June 4 as part of a corruption investigation.
In reports filed Wednesday, Calderon said he used $6,700 in campaign funds to pay for a "cultural exchange trip" to Cuba in the spring, including $2,650 in airfare paid to Virgin America.
Other campaign expenses included $9,600 in golf fees for a fundraiser at the Edgewood Tahoe resort, $1,560 for tickets to the Grammy Awards, and a meeting at the Bellagio Hotel and Casino in Las Vegas.
Phillip Ung of the watchdog group California Common Cause said candidates should be restricted to one campaign committee per election and that the spending on lavish trips should spur lawmakers and the state's Fair Political Practices Commission to act.
"This activity shows the Legislature and the FPPC need to adopt stronger restrictions on how campaign funds can be spent," Ung said. "Donors are rightfully angry when they see a candidate spent their donations on lavish trips to exotic places."
Ronald Calderon's brother Tom reported raising $8,500 for a campaign for Ronald Calderon's Senate seat next year, including a $2,000 loan from his own consulting firm, Calderon Group Inc.
Former Assemblyman Charles Calderon (D-Whittier), another brother, reported his secretary of State campaign committee raised $8,000 and was paid $861 by wife Lisa Calderon as "reimbursement for charges done erroneously on the American Express card."
ALSO:
Children's dental care faces new hurdles, report says
Poll: More than half of state voters give Jerry Brown high marks
Lawmaker, others say state oversight of oil field fracking is lacking
---
Life is stressful. Our weekly mental wellness newsletter can help.
You may occasionally receive promotional content from the Los Angeles Times.