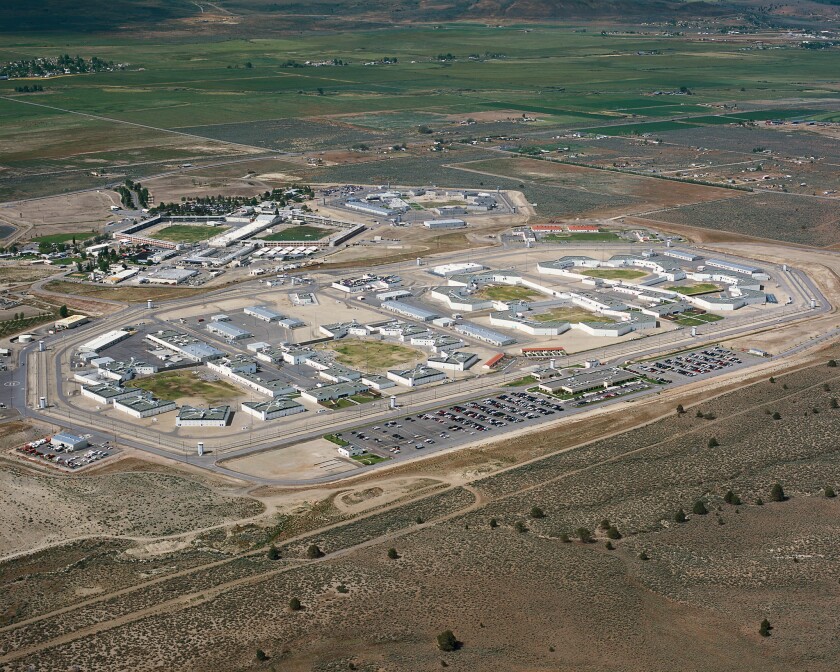 <i>This post has been updated. See the note below for details.</i>
A week before protests in prisons are planned to start statewide, inmates at High Desert State Prison in far Northern California have launched their own hunger strike.
Corrections department officials Friday confirmed that nearly two dozen inmates began refusing meals Monday. By Friday afternoon, that number had dropped to 20.
Department spokeswoman Terry Thornton said the High Desert inmates had presented a list of 30 complaints, all centered on conditions within the prison's administration segregation unit. Those areas are used not only to house inmates who have violated rules and require greater security, but serve as overflow housing for mentally ill inmates awaiting placement elsewhere.
Thornton would not provide a copy of the prisoners' list of demands, but said they include "larger food portions, more cleaning supplies, more access to the law library, the ability to purchase more soup, soap, coffee, snacks and food items from the canteen; and more TV channels. They also have concerns about the laundry and want the canteen to stock a wider selection of headphones and ear buds."
Inmates in California's supermax prison near the Oregon border, Pelican Bay, have said for months that they intend to launch their own hunger strike starting Monday, largely in protest over the state's use of indefinite solitary confinement to control prison gangs, and the conditions within those isolation units.
Inmates at other prisons around the state have said they also intend to refuse meals and also to refuse to go to work. State prisons rely on inmate laborers to man their kitchens, laundries and other facilities.
California experienced its largest mass prison hunger strike in 2011, during which some 6,500 inmates in nine prisons at one point or another refused food. In October 2012, California changed its criteria for segregation and began what it said would be a review of every inmate already isolated. To date, the state has reviewed the cases of 382 inmates, moving 208 back into the general population. Thornton said the corrections department intends to review all 7,800 inmates currently in solitary confinement by the end of 2014. [Updated 1:30 p.m. July 8: Thornton said she provided an incorrect number of inmates in segregated housing units. It is 4,527, and not all of them are eligible for the release review.]
ALSO:
Federal judges refuse to delay prison release order
Federal judges order California to free 9,600 inmates
State agrees to move 2,600 inmates at risk of valley fever
Follow updates at @paigestjohn
---