U.S. refuses to budge on Ukraine in response to Russian demands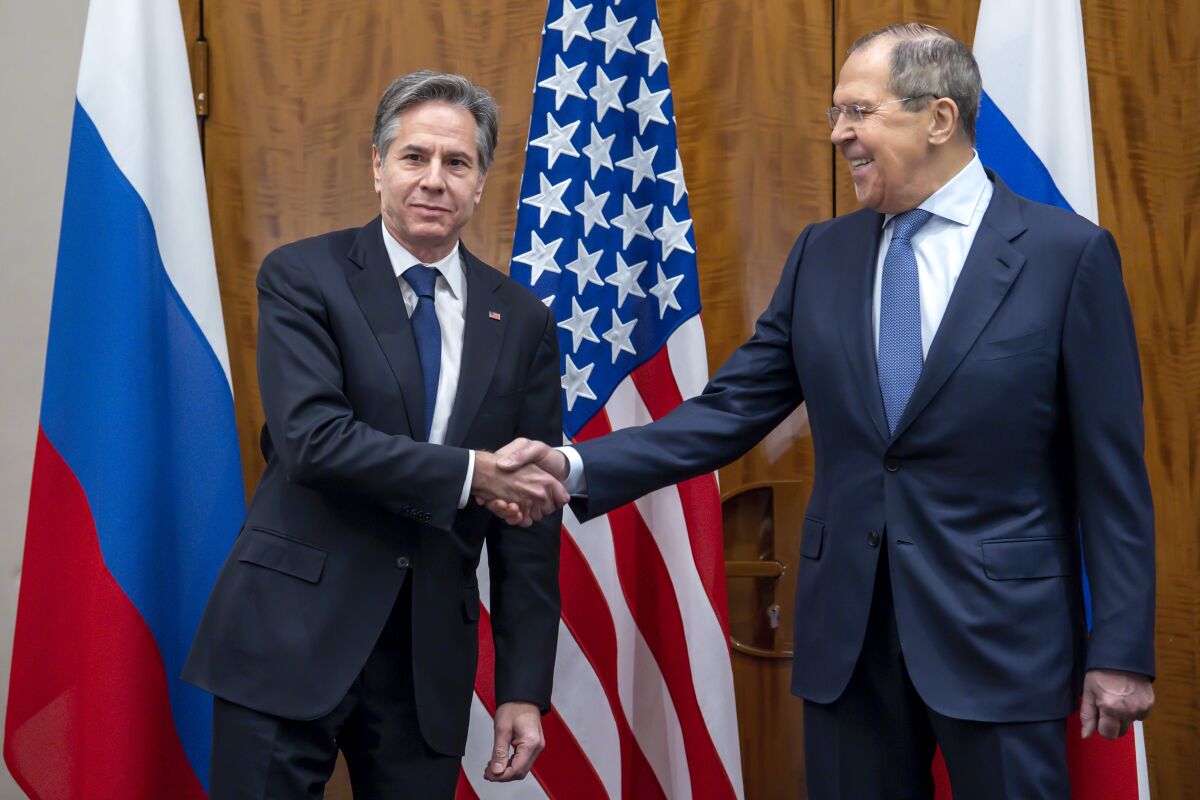 WASHINGTON —
With tensions rising over a potential Russian invasion of Ukraine, the Biden administration on Wednesday rejected Moscow's main demands for easing the crisis, dampening hopes that diplomats can find a peaceful resolution to the standoff.
Secretary of State Antony J. Blinken told reporters that in a letter delivered Wednesday, the U.S. rebuffed Moscow's insistence that NATO pledge to never admit the former Soviet republic into the transatlantic alliance and to halt troop deployments in Eastern Europe.
"We make clear that there are core principles that we are committed to uphold and defend — including Ukraine's sovereignty and territorial integrity and the right of states to choose their own security arrangements and alliances," Blinken said during a news conference at the State Department, alluding to whether Ukraine can apply to join the North Atlantic Treaty Organization.
America's top diplomat added that Washington was prepared to discuss "reciprocal" efforts involving arms control and "transparency" regarding military exercises in Europe, an offer that he said "sets out a serious diplomatic path forward, should Russia choose it."
Moscow had demanded a written response to two sets of position statements it made to Washington more than a month ago regarding Ukraine's entry into NATO and U.S. troop exercises near the Russian border. Initially, U.S. officials demurred but finally agreed to supply it.
The U.S. letter drew an angry response from Moscow even before Blinken's announcement confirming its delivery.
Western embassies are also moving some of their staff out of Kyiv
"If the West continues its aggressive course, Moscow will take the necessary retaliatory measures," Russian Foreign Minister Sergei Lavrov said in Moscow.
Although most experts agree that membership for Ukraine in the transatlantic alliance is not coming anytime soon, the State Department says that such a position will not be conveyed publicly to Russia.
"An open door is an open door," the department's spokesman, Ned Price, said, referring to the alliance's position that any nation has the sovereign right to apply to join.
President Biden has said he believed a Russian invasion is "imminent," and the State Department has ordered the withdrawal of dependents of U.S. Embassy staff in Kyiv and some "nonessential" employees. The move comes as tens of thousands of Russian troops mass on Ukraine's eastern and northern borders. If they move deeper into the country — as Russia did in 2014 — it would be the largest such invasion since World War II, Biden said Tuesday.
The president has said he will not send U.S. troops to Ukraine but has put 8,500 service members on high alert for rapid deployment to NATO countries that border Ukraine. The U.S. government is boosting military aid to the besieged country.
Over the weekend, tons of U.S. "lethal" materiel arrived in Kyiv, including Javelin antitank missiles, according to the Pentagon. Until recently, the U.S. had supplied Ukraine with defensive weaponry only. Under pressure from U.S. lawmakers and former diplomats who argue that Ukrainians need more serious firepower to blunt any Russian assault, the Biden administration changed course and supplied the missiles and other weapons.
"Russia could do anything at any moment," Kristina Kvien, the ranking U.S. diplomat in Kyiv, told reporters after overseeing the arrival of a weapons shipment. "It's like a gun to the head of Ukraine. And we don't think that Ukraine should have to live with a loaded gun to its head."
Slog of trench warfare in eastern Ukraine yields scenes reminiscent of World War I.
It remains unclear that such firepower will be able to withstand a Russian attack. Such an invasion, experts say, is sure to be a "hybrid" campaign relying on troops, tanks, aircraft, cybersabotage and social media disinformation. Kyiv has blamed Russia for recent hacks of dozens of government websites and fake bomb threats that forced the evacuation of schools.
The Biden administration and European allies are threatening Russia with "swift and severe" financial and diplomatic sanctions if President Vladimir Putin invades Ukraine.
Blinken insisted Wednesday that all Western parties are united in their resolve to seriously punish Russia. His assurances come as several European countries, which have strong economic ties with Moscow, have signaled their hesitance about hitting Russia too hard. Germany, for example, is reliant on Russia for much of its oil and gas imports.
"We've developed a high-impact, quick-action response that would inflict significant costs on the Russian economy and financial system," Blinken said Wednesday. The measures could target export controls and even Putin's pocketbook, U.S. officials said.
Ukrainian President Volodymyr Zelensky's government has sought to calm panic and place the threat from Russia in less stark terms. Several senior officials on Wednesday said that while the Russian deployment of more than 100,000 troops on that country's border posed a serious threat, it was not yet a large enough force to stage a full-scale invasion. At the same time, Russia, which claims the troop movement is part of routine exercises, has also dispatched reinforcements to its ally Belarus to Ukraine's north — just a few hundred miles from Kyiv, the Ukrainian capital.
In the United States , lawmakers and foreign policy experts generally agree that the U.S. must forcefully counter Russian aggression as a way to contain Putin, though some would like to see Biden take action even before shots are fired.
"I think the Ukrainians will fight, and I want to support moving more troops into NATO countries living in the shadow of Russia to show resolve regarding NATO," Sen. Lindsey Graham (R-S.C.) said Wednesday.
"We're talking way too much. We're doing way too little. Sanction Putin now."

Life is stressful. Our weekly mental wellness newsletter can help.
You may occasionally receive promotional content from the Los Angeles Times.