Biden fires embattled architect of the Capitol over alleged abuses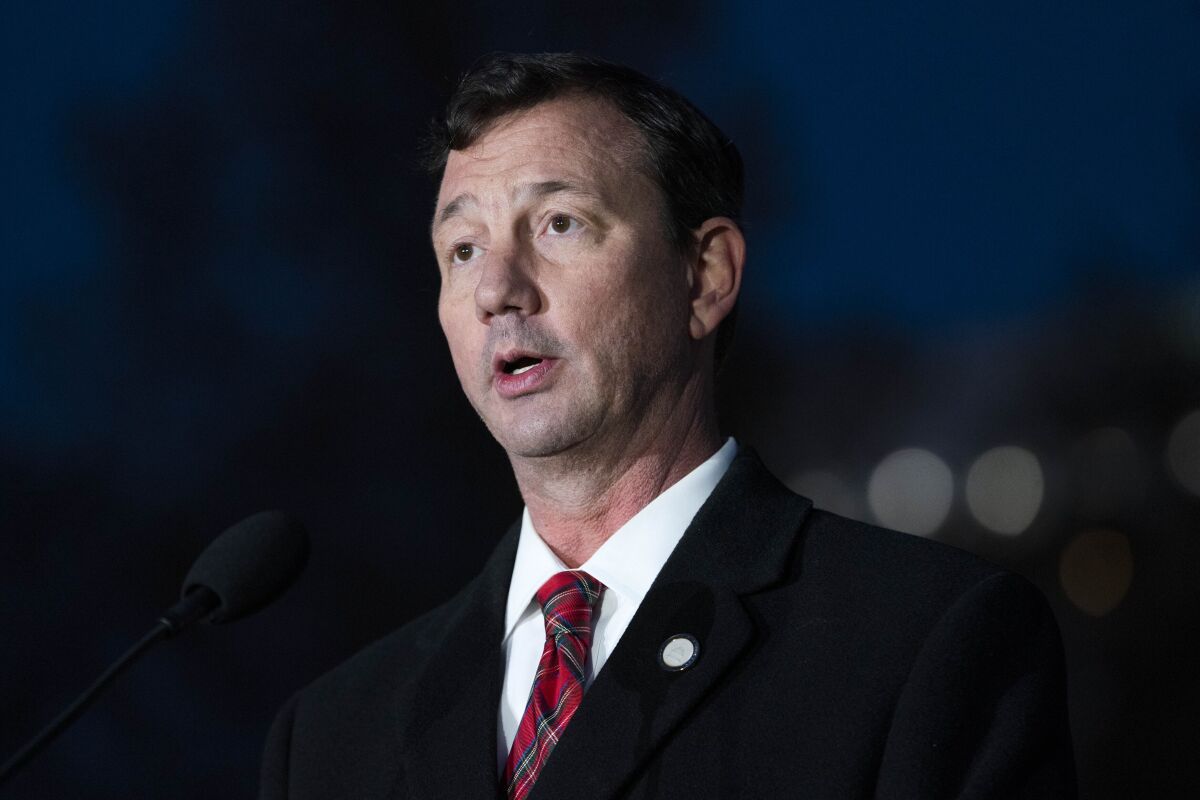 WASHINGTON —
President Biden has fired embattled Architect of the Capitol Brett Blanton, who oversees the historic building and its grounds, as pressure mounted for his removal following a scathing inspector general's report of personal and management lapses.
The White House said Monday that Blanton's appointment had been terminated. House Speaker Kevin McCarthy (R-Bakersfield) said Monday that he had lost confidence in Blanton's ability to do the job.
The inspector general's investigation, summarized in a report released last year, found "administrative, ethical and policy violations" by Blanton, a Trump-era appointee, including that he abused his government vehicle and misrepresented himself as a law enforcement official. A House hearing last week unearthed new questions and criticisms — including that he was not at the Capitol on Jan. 6, 2021, when it came under attack by former President Trump's supporters.
"The Architect of the Capitol, Brett Blanton, no longer has my confidence to continue in his job. He should resign or President Biden should remove him immediately," McCarthy said Monday in a tweet.
The speaker's statement came as questions and criticism swirled around the architect, who is responsible for the maintenance and operation of the historic Capitol building and its surrounding 570-acre complex and grounds.
Blanton came under intense criticism after the inspector general found that Blanton allowed unauthorized use of his work vehicle, including by his wife and adult daughter, racking up nearly 30,000 miles — about triple the estimate for his official use.
At a House hearing last week, Blanton also came under fire when he testified that he was not at the Capitol during the Jan. 6 attack because it was a "telework" day under COVID-19 protocols.
He also faced fierce questions about Capitol tours he allowed and sometimes conducted despite pandemic restrictions.
On Monday, the chairman of the House Administration Committee, Rep. Bryan Steil (R-Wis.), also called on Blanton to immediately resign.
"The inspector general's report was highly concerning," Steil said. He said at last week's hearing that Blanton's "refusal to be transparent and truthful has made clear that he can no longer lead the organization and must resign immediately."
Rioters entered through weak windows on Jan. 6, 2021. The Capitol Police Board won't tell a government watchdog what's being done to fix them.
The investigation grew from a hotline tip about unauthorized use of Blanton's work vehicle that drew attention to his office.
The inspector general's report, issued in October 2022, found that Blanton had "abused his authority, misused government property and wasted taxpayer money, among other substantial violations."
The inspector general said it received a hotline complaint on March 7, 2021, "concerning the misuse" of an AOC (architect of the Capitol) vehicle.
"The AOC OIG found overwhelming evidence that Blanton and his family continually misused AOC vehicles" intended for home-to-work use, the report said.
The report also found that Blanton used his official SUV on another occasion in 2020 to pursue a vehicle "involved in a hit-and-run incident that took place in front of his residence." It said he led the police and others involved during the court proceeding to believe he was law enforcement.
The report also found "multiple social media posts" created by Blanton's wife about Capitol tours, including one reading "All PATRIOTS welcome."
The report said that while the posts did not violate U.S. codes, "Offering private tours of the U.S. Capitol creates the appearance of impropriety and using a public position for private gain, which is a violation of AOC policy."
Blanton was nominated in December 2019 by Trump as the 12th architect of the Capitol and was confirmed to the post by the Senate.
Blanton, a former U.S. Navy officer, is a civil engineer and previously worked as deputy vice president at the Metropolitan Washington Airports Authority.
Life is stressful. Our weekly mental wellness newsletter can help.
You may occasionally receive promotional content from the Los Angeles Times.