Kamala Harris marks Juneteenth in L.A.: 'America is a promise'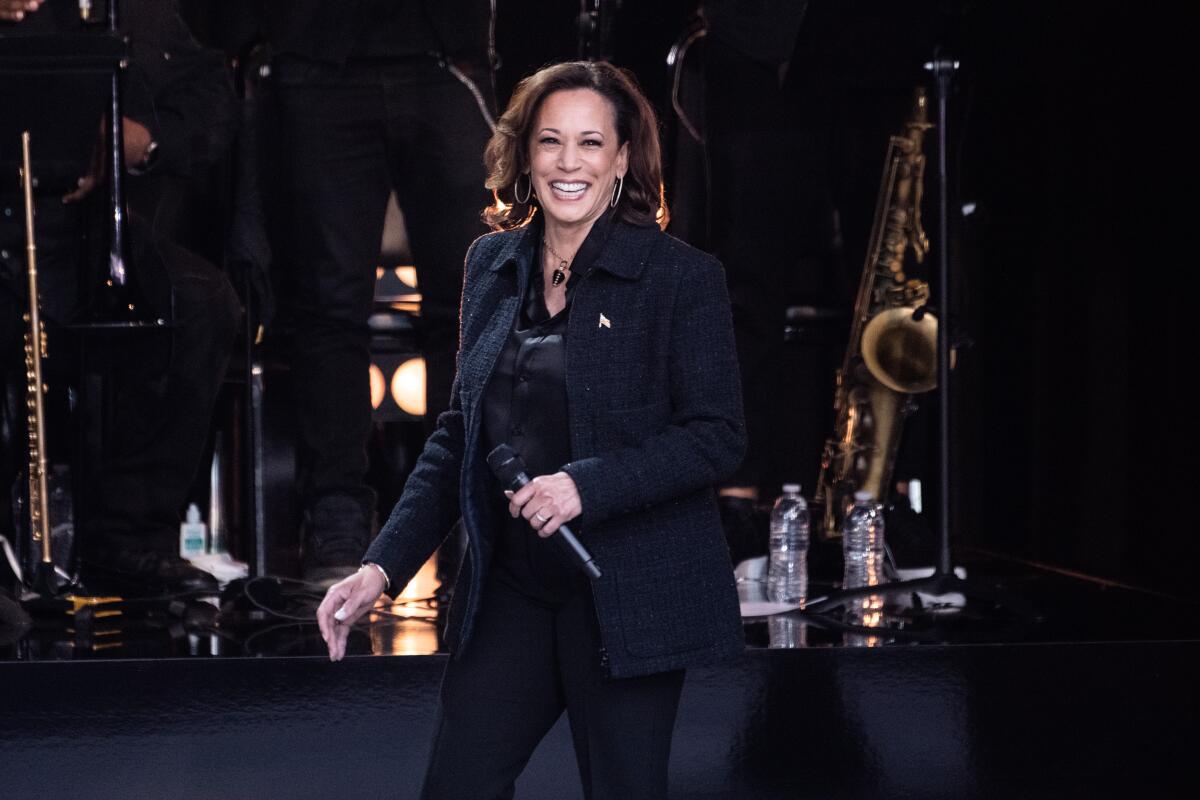 Vice President Kamala Harris greeted Juneteenth celebrants in Los Angeles on Monday by celebrating how far the nation has come in its treatment of Black Americans but warning that the fight for freedom is not over.
"Today Americans from all walks of life come together to celebrate Juneteenth, to honor Black excellence, culture and community, to remember our nation's full history and to celebrate one of our founding principles — the principle of freedom," Harris told the thousands of people gathered at the Greek Theatre.
"America is a promise," the vice president said, "a promise of freedom, liberty and justice. The story of Juneteenth as we celebrate it is the story of our ongoing fight to realize the American promise is not for some but for all."
Juneteenth, which recognizes the emancipation of enslaved people, is the nation's newest federal holiday.
Americans across the country are observing the relatively new Juneteenth federal holiday with festivals, parades, cookouts and other gatherings.
Harris noted that she co-sponsored legislation to recognize the holiday while in the U.S. Senate and then as vice president stood by President Biden's side when he signed the bill.
But she recalled Coretta Scott King's warning that each generation would have to maintain their freedom.
"So let us all stand together as Americans to teach and honor history, to protect our liberty and continue our fight for freedom," she said, before introducing a step-dancing performance by the Divine Nine, a group of historically Black fraternities and sororities. Harris joined Alpha Kappa Alpha when attending Howard University for her undergraduate degree.
Other performers at the show included hip-hop star Nelly; R&B band SWV; gospel artist Kirk Franklin; and singer Chloe Bailey, who performed a tribute to the late Tina Turner. The celebration was produced by a team of Black creators from Live Nation Urban and Jesse Collins Entertainment and broadcast internationally by CNN.
"We get a chance to celebrate each other," said Adam Blackstone, the event's musical director, who has advised artists including Janet Jackson, Nicki Minaj and Justin Timberlake. "We tried to do that specifically as a culture. And so what I wanted to do was create a playlist, a live playlist, that gets the party going and almost feels like a backyard barbecue."
Johnita P. Due, the cable station's executive vice president of integrity and inclusion, said the concert was about more than music.
"During the show, you just feel so many people with you. You feel your ancestors with you, you feel the relatives you've lost. You feel your entire community," she said. "That's why it's so impactful."
Due became emotional as she spoke of her late mother, Patricia Stephens Due, who led the nation's first jail-in protest — in which demonstrators opted for jail rather than paying bail — during the civil rights movement.
"My mom always used to say, 'Stories live forever. Storytellers don't, so listen to the storytellers while you can,''' Due said. "What you … see on the stage today is a bunch of storytellers telling their truth and celebrating the freedom of speech and expression and the freedom to tell our stories."
Shootings across California and elsewhere made for a violent Father's Day and Juneteenth weekend, with at least a dozen killed in seven states.
Get our Essential Politics newsletter
The latest news, analysis and insights from our politics team.
You may occasionally receive promotional content from the Los Angeles Times.