U.S. to expel 60 suspected Russian spies as punishment for poison attack in Britain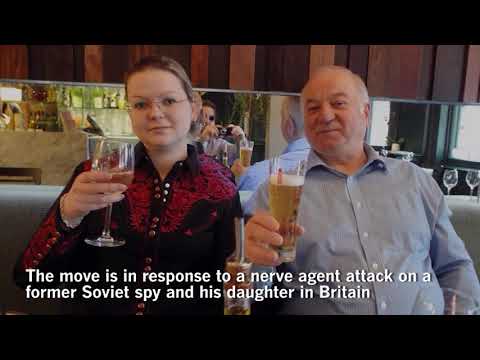 British and U.S. intelligence agencies blamed the attack on the Russian government.
Reporting from Washington —
The White House on Monday announced the most aggressive diplomatic slap-down of Russia since the end of the Cold War, but President Trump — rarely shy about claiming credit for his administration's bold action — remained quiet, offering no tweets or public statements about the retaliatory measures.
The U.S. expulsion of 60 alleged Russian spies operating under a cloak of diplomacy and the closing of Moscow's last diplomatic outpost on the West Coast came in response to the nerve agent attack on a former Soviet spy and his daughter in Britain earlier this month that British and U.S. intelligence agencies blamed on the Russian government.
The move was announced in coordination with more than a dozen European allies and received bipartisan praise from lawmakers, diplomats and foreign-policy experts in what is normally an uncompromisingly bifurcated political atmosphere.
All 60 Russians — 48 based at the Russian Embassy in Washington and elsewhere and 12 at the United Nations in New York — are intelligence agents "cloaked" by diplomatic disguise, said a senior administration official who briefed reporters in advance on condition of anonymity. The order also includes closing the Russian Consulate in Seattle.
The U.S. action followed earlier decisions by Britain to expel 40% of the Russian diplomatic staff there. Other countries joining in Monday's action against Russia included 15 members of the European Union and several former Soviet Baltic states. Germany and France expelled four diplomats each; Poland four, Ukraine 13, Lithuania three.
Canada also joined the coordinated action, saying it would expel four Russians and reject the applications of three others "identified as intelligence officers or individuals who have used their diplomatic status to undermine Canada's security or interfere in our democracy."
Jon Huntsman Jr., the Trump-appointed U.S. ambassador to Russia, said the administration's decision Monday represented the "largest expulsion of Russian intelligence agents in United States history."
In a statement, the White House said Trump had ordered the expulsions to "make the United States safer by reducing Russia's ability to spy on Americans and to conduct covert operations that threaten America's national security."
The Seattle consulate was ordered closed because of its "proximity to one of our submarine bases and Boeing," the statement said.
In language unusually harsh for the Trump administration where Russia is concerned, the statement added that Moscow's use of a "military-grade chemical weapon" on British soil was the "latest in its ongoing pattern of destabilizing activities around the world."
Notably however, Trump did not immediately make a statement in his own voice. No public appearances were scheduled for Monday, nor did he speak to reporters while at his resort in Florida over the weekend.
And White House principal deputy spokesman Raj Shah said the administration remained open to working with Russia. "The president wants to work with Russia," Shah said at the regular White House briefing Monday. "But their actions sometimes don't allow that to happen."
Normally a move as monumental as expelling 60 foreign operatives would be accompanied by a formal unveiling by the president or senior officials of his Cabinet.
By evening, Trump had tweeted only three times, once about the economy, another about the stock market and one on an undetermined topic, presumably his alleged affair with an adult film star in 2006: "So much Fake News. Never been more voluminous or more inaccurate. But through it all, our country is doing great!"
He has so far refused to personally condemn Vladimir Putin for the attack, instead calling the Russian leader recently to congratulate him for his victory in a dubious election.
Trump was slow to publicly acknowledge Russian complicity in the poisoning, which critically injured Sergei Skripal and his adult daughter, Yulia, on March 4 in the British city of Salisbury.
A White House official, also briefing reporters on condition of anonymity, insisted the order Monday was "absolutely" Trump's decision. But it stood in marked contrast to Trump's own description last week of a "very good call" with Putin, and plans to meet him in a summit to discuss "the arms race." His spokeswoman said at the time that the Skripal attack did not "come up" in the call.
Last year, the administration ordered Russia to close its consulate in San Francisco, an iconic building and the oldest Russian diplomatic mission in the United States. That order left Seattle as the only Russian diplomatic post on the West Coast. It came as part of a tit-for-tat dispute between Moscow and Washington over economic sanctions approved overwhelmingly by Congress, but only reluctantly enacted by Trump.
The sanctions then were in response to Russia's meddling in the 2016 election campaign.
Foreign policy experts said the expulsions were significant and sent a strong message to Russia. However, several advocated measures that would more directly target money controlled by Putin and the oligarchs and business tycoons who surround him.
"The expulsion of Russian diplomats alone ... is unlikely to deter Russia from its aggressive behavior," said Michael Carpenter, a former National Security Council director for Russia during the Obama administration who is now at the Atlantic Council think tank.
"A strong response would impose financial sanctions on Russia," he added, including "Iran-style" bans on Russia's participation in global financial institutions and markets, and an end to construction of the $10-billion Nord Stream 2 gas pipeline through Europe.
Russia immediately responded to Monday's action with threats of "reciprocal" retaliation, presumably the expulsion of U.S. diplomats from already diminished missions in Russia.
"We already stated and reconfirm that Russia has never had any relation to this [Skripal] case," Putin spokesman Dmitry Peskov told the Tass Russian news agency. "We will be guided by the principle of reciprocity as before."
The Russian Foreign Ministry said in a statement that the "provocative gesture" by the United States and its allies was "continuation of the confrontational policy to escalate the situation."
Countries had chosen to "blindly follow" the principle of "Euro-Atlantic unity at the expense of common sense," the ministry said, repeating claims that Britain had not supplied evidence of Russian involvement in the poison attack.
Members of the U.S. Congress almost universally welcomed the administration's move, including those lawmakers who have criticized Trump for failing to challenge Russia.
Sen. Robert Menendez (D-N.J.), ranking member of the Senate Foreign Relations Committee, praised what he called "long overdue steps" and urged a "comprehensive strategy to counter the Russian state's reprehensible behavior."
"It is long past time for the administration to take this national security threat seriously," Menendez said.
The expulsion decision "also represents the United States' complete rejection of Russia's denial of involvement in the attack," said Sen. Lindsey Graham (R-S.C.).
Sen. John McCain (R-Ariz.), a frequent critic of Trump, welcomed the expulsions as an important step forward but added: "While today's decision sends an important signal to Moscow, the only way to ensure Putin and his cronies feel the consequences of their brazen actions is by punishing them financially."
The U.S. ambassador to the United Nations, Nikki Haley, who has long been more hawkish on Russia than Trump, also praised the removal of the Russians, especially of the dozen from U.N. headquarters. There, she said, Russia has found a "safe haven for dangerous activities within our own borders."
Despite Trump's apparent affinity for and reluctance to criticize Putin, most of his senior advisors have long advocated a tougher stance, including two who just departed: Secretary of State Rex Tillerson, whom Trump fired on March 13 after he spoke especially harshly about Moscow's actions, and national security advisor H.R. McMaster, who stepped down on Thursday.
They are being replaced by veteran politicians known for hard-line foreign-policy views, including regarding Russia: CIA Director Mike Pompeo for Tillerson and former U.N. Ambassador John Bolton for McMaster. But it seems unlikely they had a role in Monday's decision, which had been in the works for some time, officials said.
The Russian diplomats and intelligence operatives have been given a week to depart the United States with their families.
Meanwhile, the Russian Embassy in Washington posted a Twitter poll inviting followers to help decide which U.S. consulate in Russia should be shut down in retaliation: Vladivostok, St. Petersburg or Yekaterinburg.
Special correspondent Sabra Ayres contributed from Moscow.
For more on international affairs, follow @TracyKWilkinson on Twitter.
---
UPDATES:
12:30 p.m.: This article was updated with reaction from the White House, U.S. Ambassador to Russia Jon Huntsman Jr. and others.
7:15 a.m.: This article was updated with information on actions taken by other countries and background on the U.S. decision.
This article was originally published at 6:05 a.m.
Get our Essential Politics newsletter
The latest news, analysis and insights from our politics team.
You may occasionally receive promotional content from the Los Angeles Times.