Businesses in Porter Ranch struggling as customers relocate
Reem Naaman cried as she broke the news to the operators of a Porter Ranch preschool that has been a second home to her children.
"We won't be able to keep our two little girls in your school any longer," she said. "We're relocating."
For the owners of the school, Douglas and Barbara Packard, the loss of yet another customer has them wondering how much worse things can get.
Before a Southern California Gas Co. natural gas well in Aliso Canyon began leaking three months ago, 48 children attended Starter Set Preschool & Childhood Development Center. Since then, 17 have been withdrawn, resulting in losses of more than $12,000 over the last two months and forcing the Packards to lay off one of their eight teachers.
"A few more of our families say they are thinking about relocating," said Barbara Packard, 70. "That would push us over the edge."
Other small businesses in the master-planned community of about 30,000 in the north San Fernando Valley are similarly being pinched by declining revenue as residents move away until the massive leak can be fixed. So far, no one has gone out of business, said Rana Ghadban, executive director of the 400-member Chatsworth/Porter Ranch Chamber of Commerce.
"But we're getting lots of complaints and calls for assistance," Ghadban said. "You can't expect thousands of families to move out of the area without it having an impact on the local economy."
The gas company expects to have the well repaired sometime in late February, providing hope that economic recovery is not far off. But until then the ripple effect will continue being felt through local businesses.
Porter Ranch Pharmacy, for example, is losing revenue as it transfers prescription refill orders to competitors located where its customers have found temporary housing.
At John Shindelus Flooring Inc., a family-owned business in the Porter Ranch Town Center whose rent is $3,700 per month, sales are down 25% for this time of year.
"I've had a few customers call to say they're relocating and won't be putting in a new floor for a while," owner John Shindelus said. "But I'm embedded here and have three more years on my lease."
Hair and nail salons are also feeling the pinch, including Nail Garden, which is co-owned and operated by the mother who took her two girls out of preschool. Naaman, her brother, Robert, and his wife, Diane, opened the 2,300-square-foot shop adjacent to a high-end grocery store in 2014, steadily growing a clientele base that justified their initial investment.
Then came October, the ruptured gas well and three months of uncertainty and declining revenue.
"On an average weekday, business is down by about 60%," Reem Naaman said. "Now, we're worried about meeting our payroll and the monthly rent."
Interested in the stories shaping California? Sign up for the free Essential California newsletter >>
Relocating her family to another community while trying to keep a struggling business afloat — and preserve relationships with customers — has proven "extraordinarily complicated," Naaman said.
"Before the gas leak, I lived about a mile away from the preschool, and my job," she said. "Now I commute 23 miles each way from our temporary home in La Crescenta and still haven't found another preschool for my kids."
L.A. City Councilman Mitch Englander has been referring business owners in need of emergency loans to the Valley Economic Development Center, a nonprofit business development organization with a budget of $8 million funded by federal, state and city government agencies.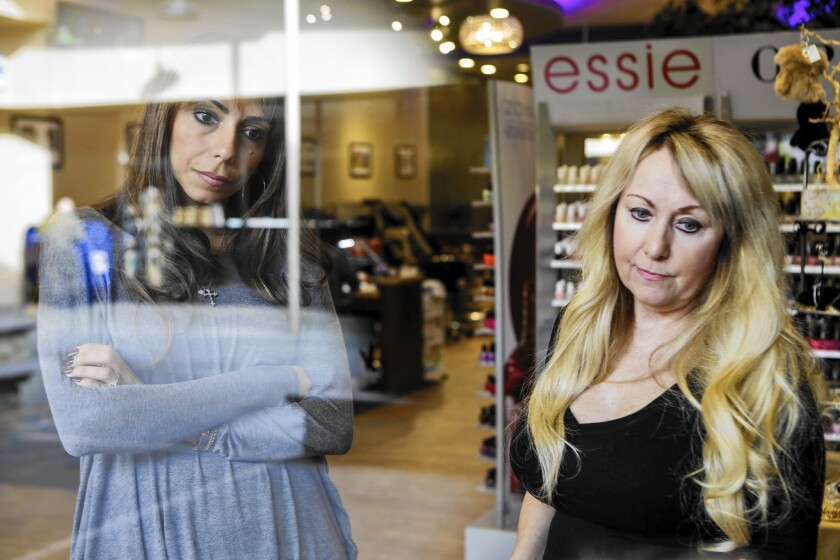 The agency was founded in 1976 to try to revitalize struggling Van Nuys Boulevard. Its staff of consultants, including former bank officers and venture capitalists, is best known for helping small businesses recover after the Northridge earthquake in 1994.
"Our agents have been going door to door in Porter Ranch's small-business community asking this question, 'How are sales?' " said Roberto Barragan, president and chief executive of the center. "Judging from the responses, if they don't get help soon there are going to be a lot of vacant spaces out there."
Nikki Doan, 36, who took over management at Nails Art near Rinaldi Street and Tampa Avenue shortly after the gas leak was discovered, said she believes the business can survive another month or so — a timetable that roughly coincides with the gas company's projection that it can stop the leak by the end of February.
Last Saturday, Doan was among three manicurists on duty in a salon that was all but empty.
"About 80% of my customers have relocated," she said. "I could take out a loan, but who will pay it off for me?"
The Packards are also weighing the risks and benefits of staying put with financial assistance.
Safety at the preschool, which has the distinction of being the closest commercial business to the leaking well, has not been a major concern because the school is not in the path of the prevailing winds.
"We've decided not to relocate because of all the Porter Ranch families that rely on us to care for their kids — to teach them, feed them, potty train them and to pick them up when they cry," said Barbara Packard, who is recovering from open heart surgery conducted before the leak was detected.
"Would a loan help keep our doors open? Sure," Douglas Packard, 77, said. "The big hang-up is that we are not going to put our preschool up as collateral to get one."
On that point, said Barragan of the economic development center, the agency is willing to be flexible.
Join the conversation on Facebook >>
MORE ON PORTER RANCH
As Porter Ranch gas leak lingers, candidates smell a political opportunity
Porter Ranch gas leak is affecting animals too, pet owners fear
Explosion risk stalls plan to capture and burn gas from Porter Ranch leak
---
Get our free Coronavirus Today newsletter
Sign up for the latest news, best stories and what they mean for you, plus answers to your questions.
You may occasionally receive promotional content from the Los Angeles Times.