U.S. is now Ebola-free, and the panic is gone as well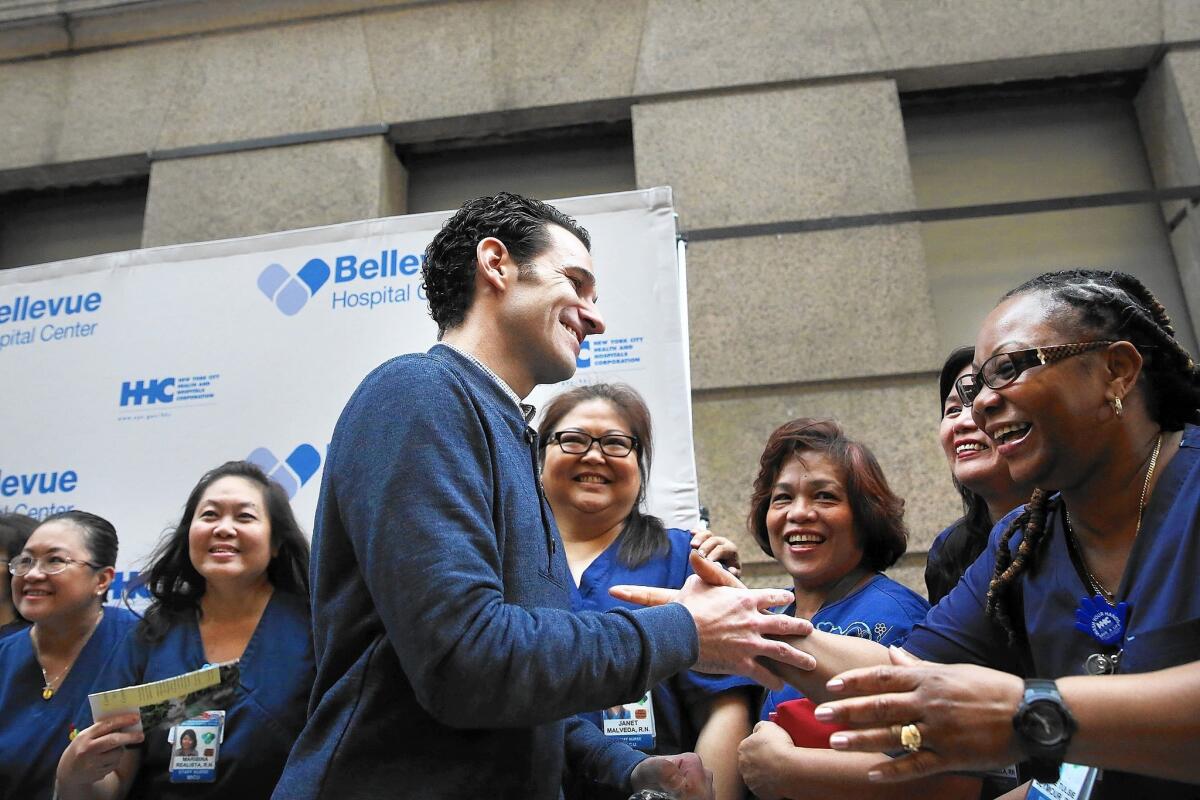 Reporting from NEW YORK —
A few short weeks ago, Ebola was public enemy No. 1.
About 1,000 people were being monitored by health officials. Several schools in Texas and Ohio shut down because of a single patient who boarded a plane. A cruise ship was refused permission to dock in Cozumel, off Mexico's Yucatan Peninsula. President Obama appointed an Ebola "czar." Polls showed a majority of Americans were concerned that Ebola would spread out of control in the U.S.
On Tuesday, a fully recovered Dr. Craig Spencer was released from Bellevue Hospital Center in Manhattan. The U.S. was now Ebola-free for the first time since Sept. 5 — a milestone that barely seemed to register with a once-frenzied public.
How did we get here from there?
Angst and anxiety gave way to calm as the days ticked by and no new patients were diagnosed. Meanwhile, the Centers for Disease Control and Prevention and other health authorities upped their game after Thomas Eric Duncan's arrival at a Dallas emergency room revealed major gaps in the public health system.
"It's hard to say definitively why the public thinks anything, but this is a welcome return to normalcy," said Andrew Noymer, a professor of public health at UC Irvine.
Spencer was the ninth person in the United States to be treated for Ebola and the eighth to survive. The only fatality was Duncan, who contracted the virus in his native Liberia.
Ebola is suspected of killing nearly 5,000 people in West Africa, but so far, public health officials have made good on CDC Director Thomas Frieden's pledge to stop the virus dead in its tracks in the United States.
They instituted medical "SWAT teams" prepared to help local hospitals deal with potential Ebola patients and upgraded guidelines for personal protective gear. Officials also designated several regional hospitals with expertise in treating highly infectious diseases as Ebola care centers and routed all inbound flights from West Africa to five airports with enhanced passenger screening.
But the initial response left much to be desired.
When Duncan first sought care at Texas Health Presbyterian Hospital on Sept. 25, the emergency room staff failed to make the correct diagnosis, delaying necessary care by three days. After two of his nurses became infected, medical workers openly questioned the CDC's advice on protective gear and other protocols. In cases where quarantines were imposed, it became clear that few had considered the logistics of providing food or disposing of trash for those affected.
Panic began to spread.
"October was a rough month for stigma and fear," said Doug Henry, a medical anthropologist at the University of North Texas in Denton. "The cruise ship that was denied entry into a port, kids who weren't welcome at school, parents who kept their own kids home — things got really bad here in Dallas."
To further complicate matters, the crisis occurred in the home stretch of the midterm election campaign. Some Democrats accused Republicans of stoking Ebola fears for political advantage. At the same time, nurses' unions denounced hospital administrators, saying they failed to properly train and equip nurses to face Ebola.
Training and personal protective equipment remain topics of heated labor negotiations in California, where 18,000 nurses at Kaiser Permanente hospitals and clinics mainly in northern parts of the state began a two-day strike Tuesday.
From the start, CDC and local health officials said tried-and-true public health measures, such as rapidly identifying those who had been in contact with infected individuals, would prevent the virus from spreading widely in the United States.
"We've demonstrated that if there is a case of Ebola in the United States, taking prudent measures — like tracing contacts and isolating people if necessary — makes a difference," said CDC spokeswoman Barbara Reynolds.
New York health officials were quick to adopt such measures after Spencer fell ill on Oct. 23, a few days after returning home from Guinea, where he volunteered for Doctors Without Borders. Epidemiologists swooped down on a bowling alley, a coffee kiosk and a restaurant that Spencer had visited before he became ill.
His diagnosis also triggered a wave of mandatory 21-day quarantines imposed by anxious state officials.
New York Gov. Andrew Cuomo and New Jersey Gov. Chris Christie said voluntary measures weren't strong enough to force symptom-free Ebola health workers to remain isolated in their homes while waiting for the virus' three-week incubation period to expire.
Several other states followed suit, angering healthcare experts, who said mandatory quarantines had no basis in science and would discourage volunteers from going to Africa. Containing the outbreak overseas is the best way to protect Americans at home, they agree.
Nurse Kaci Hickox forced a legal showdown in Maine by refusing to abide by a quarantine order there. A judge eventually ruled in Hickox's favor, but only after she spent two days in a bare-bones tent in Newark, N.J., after her arrival from West Africa.
Spencer's care at Bellevue underscored the fact that Ebola isn't a death sentence if it is caught early and treated properly. Medical experts said it was the simple things that saved him.
His quick diagnosis set the stage for the rapid launch of supportive care in a state-of-the-art hospital. The 33-year-old also received experimental antiviral drugs and plasma from another Ebola survivor, aid worker Nancy Writebol.
On Tuesday, a pale and smiling Spencer thanked the medical staffers who cared for him as New York Mayor Bill de Blasio gathered him in a bear hug. Nobody mentioned the word "quarantine," though it was on their minds.
"There is no need for anyone to be treated with anything but respect and our thanks for treating people in need," said De Blasio, who called Spencer a hero for his overseas work.
De Blasio also praised New Yorkers for the way they responded to news of Ebola in their city.
"They understood that Ebola is very, very hard to contract," he said. The city's 8.4 million residents "just went about their lives."
Morin reported from Los Angeles and Susman from New York.
Twitter: @montemorin
@tinasusman