Healthcare advocates push for medical services for uninsured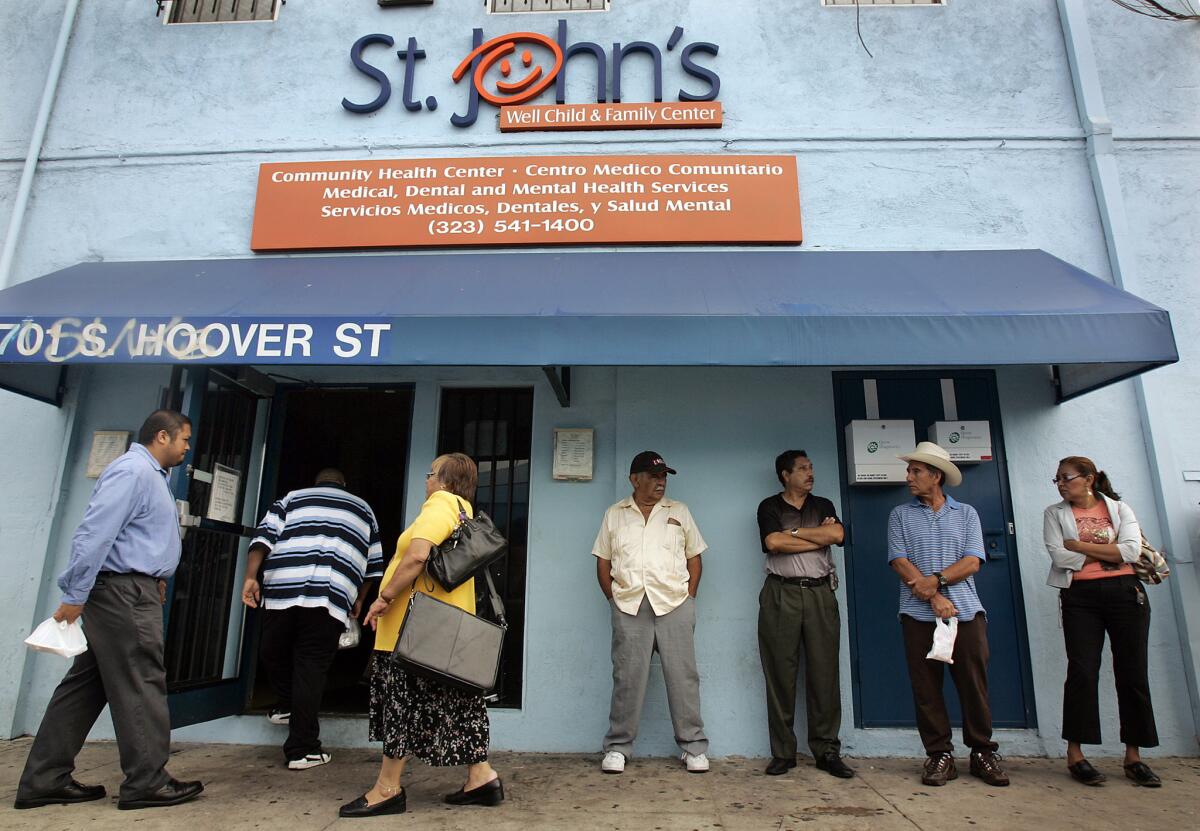 Healthcare advocates Tuesday urged the Los Angeles County Board of Supervisors to set aside at least $11 million in additional funding for free medical services for low-income residents — including immigrants lacking legal status — who remain uninsured under Obamacare.
Members of the faith-based coalition One L.A., labor groups and community healthcare organizations told reporters and board members that failing to expand a county program to serve thousands more poor and undocumented residents would endanger public health.
"We're only as healthy as the people we ride next to on the bus. They're sick, we're sick," said Father Bruce Wellems of the San Gabriel Mission, who co-chairs One L.A.'s health reform efforts. "How can we afford not to cover them?"
Later this year, the Board of Supervisors will decide whether to increase funding for Healthy Way L.A. Unmatched, a $55-million-a-year program that provides primary care for uninsured patients. Activists are pushing to triple the number of people served under the program to a total of about 300,000 patients.
More than half a million people in Los Angeles County have already secured new health coverage through the Covered California insurance exchange or through the expanded Medi-Cal program, county health services director Dr. Mitchell Katz told the board during a briefing on the implementation of new requirements of the federal government's healthcare overhaul.
About 1 million county residents will still lack health insurance because they failed to enroll or because they do not qualify for coverage, Katz said. Among those are immigrants without legal papers who are ineligible for government-paid Medi-Cal services or subsidized insurance policies offered through the state.
Uninsured patients can seek care at hospital emergency rooms, county medical clinics or nonprofit community clinics. That care is paid for through a mix of federal, state and local funding for indigent care.
But under Obamacare that funding is expected to be reduced, because more low-income people will have insurance coverage. To trim costs, counties like Los Angeles will have to discourage visits to their emergency rooms and deliver indigent care more efficiently.
With those goals in mind, a new version of Healthy Way L.A. Unmatched is set to launch in the fall. Under a managed-care-type system, uninsured poor patients not deemed eligible for other programs would be assigned to nonprofit community clinics, which would be paid a flat per-patient rate to manage their medical care.
On Tuesday, Katz said he planned to continue serving roughly 100,000 patients under the program.
But Lambreni Waddell of One L.A. told the board that her group wants the county to expand the program to 300,000 patients — and, as a first step, to add $11 million to the funding available to community clinics to serve the uninsured..
"We need to be sure that our continued efforts don't simply land families on a wait list because the funds … were insufficient to meet the demand," she said.
Jim Mangia, chief executive of St. John's Well Child and Family Center, which operates clinics in Los Angeles, said at a Tuesday news conference that significantly more investment will be needed in those health centers to meet the patient demand.
Community clinics like Mangia's are negotiating with the county to determine the per-patient rate they'll receive going forward under Obamacare and the new county program for the poor and undocumented.
County supervisors haven't signaled whether they will support additional funding for the clinics.
Supervisor Don Knabe on Tuesday pointed to the potential savings that could be realized at emergency rooms if more patients are treated at community clinics under a better-coordinated system.
But Supervisor Michael D. Antonovich, a frequent critic of county outlays for services involving immigrants in the country illegally, raised that issue again Tuesday. "The scope of services or conditions treated under the program, are they going to be limited in any way?" he asked.
Antonovich also asked whether recipients will be expected to share any of the cost of the benefits they receive. Katz said that hasn't been how the program has worked in the past.
Twitter: @LATerynbrown