If you can't squish 'em, join 'em: Scientists build cockroach robot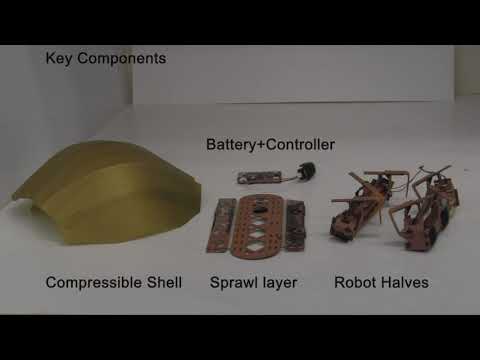 Robots that mimic cockroaches might someday assist search-and-rescue missions by scurrying through piles of debris to find survivors.
After running roaches through tunnels that were only as high as two pennies stacked flat, researchers at UC Berkeley have designed a cockroach robot that's able to squeeze through tiny spaces at blazing speeds.
Such a roach bot, described in the Proceedings of the National Academy of Sciences, might eventually be deployed as search-and-rescue robobugs in rubble-strewn disaster zones and may cause scientists and engineers to redefine their ideas about the kinds of animals that can inspire "soft robotics."
Study co-author Robert Full, a UC Berkeley biomechanist, has long explored how animals move – he's analyzed how geckos stick to walls and built other roach-inspired running robots. But he soon became intrigued by the insects' ability to wriggle their way into nooks and crannies – even though they technically have a hard, exoskeleton-clad body.
"Animals with exoskeletons like cockroaches can go everywhere, and infest any space, so we wondered, well, how did they do that?" Full said. "So we constructed a series of tight crevices to see what they could do."
The researchers took American cockroaches (Periplaneta americana) – "the one you think you don't have in your house, but you do," Full said – and had them run through a tunnel 12 millimeters high. Then they reduced the tunnel height, down to 9 millimeters, and then 6 millimeters, and then to a tight 4 millimeters – less than a third of their standing body height. Until the last, tightest tunnel, the cockroach basically maintained its high speed, running with its legs spread out out as its body became increasingly smooshed.
"They run really fast even though they're compressed in half, their legs completely splayed out to their side," Full said. "They could still run at 20 body lengths per second, 60 centimeters a second — which if you scale it up is 70 miles an hour for a human."
The researchers realized the cockroaches were moving in a totally novel way they called "body-friction legged crawling," in which the insects used their belly and their legs to make their way through the tunnel. So the scientists adjusted the friction on the tunnel's surfaces to see how it affected their speed. Raising the friction seemed to slow the cockroaches down because their bellies would experience more surface drag. But lowering the friction also slowed them down because it became difficult for the roach's legs to find purchase and push forward.
See the most-read stories in Science this hour >>
The scientists wondered just how much compression the bugs were feeling when they moved through the tight tunnels. They found that the insects experience 300 times their body weight as they moved through the tiniest tunnels and could withstand up to 900 times their body weight without injury. (No cockroaches were harmed in this study, Full added; they all moved normally after the squishing experiments.)
"We actually measured that," Full said. "We measured them running and flying, before and after."
Roboticists have been developing many "soft robots," which are made of pliable polymers and more reminiscent of animals like worms or octopuses, whose boneless bodies can easily change shape and move through tight spaces. But the new research shows that apparently hard-bodied critters can provide another model for soft robotics too.
"We're going to now argue that the best inspiration for soft robots should be arthropods with exoskeletons," Full said. "Because not only are they soft and compressible, but they have appendages too, like legs and wings, that can do lots of behaviors."
Join the conversation on Facebook >>
Using what they'd learned, the scientists then built a robotic roach with a flexible plastic exoskeleton that could squeeze through tight spots like the real cockroach did, splaying its legs when space got scarce.
Full says if they add sensors to the robot, he could see it being deployed when disaster strikes, squeezing through small cracks to search for survivors hidden in the rubble or to evaluable the pile's stability so that human rescuers can safely enter.
Because these robots can be made with an inexpensive, origami-like manufacturing technique, they could be deployed in swarms, giving first responders a cheap and easily deployable tool in an earthquake or other disaster zone.
Along with its practical applications, Full said, the robot serves as a physical model that scientists can use to probe the secrets behind the real roaches' super-squeezing powers.
Follow @aminawrite on Twitter for more science news and "like" Los Angeles Times Science & Health on Facebook.
MORE SCIENCE NEWS
Adolescents should be screened for depression too, says federal panel
Take a deep breath: Scientists locate the part of the brain that controls sighs
Newly discovered deep-sea worms, including one named 'churro,' could shed light on animal evolution