First full moon on Christmas since 1977! How to see it
For the first time in the 21st century, you can catch a glimpse of the full moon on Christmas Day.
The last time the moon was full on Christmas was in 1977, and astronomers say the next time won't be until 2034.
So if you love Christmas, and you love the moon, this is your moment!
The moon will be the most full at 3:11 a.m. PST on Dec. 25. However, if you sleep through it, don't fret.
Here in Los Angeles, you'll be able to see the moon until it sets at 6:52 on Christmas morning. And even if you sleep through that too, you're OK. A still very full-looking moon will rise at 5:34 that evening.
To some, gazing at the moon may seem mundane, but the biggest and brightest object in our night sky continues to surprise scientists.
Just this week, researchers using data collected by China's Chang'e 3 rover revealed evidence of a new type of basaltic rock in one of the dark basins on the moon. The finding suggests the lunar surface is more diverse than the one that emerged from studies following the Apollo and Luna missions.
In 2014, a different group of scientists found that volcanoes may have erupted on the moon during the time dinosaurs roamed the Earth -- practically last week by geological time scales.
And consider this: Even after more than a few hundred thousand years of staring up at the moon, we humans are still not 100% sure how it was created.
"It's worth remembering that the moon is more than just a celestial neighbor," John Keller of NASA's Goddard Space Flight Center said in a statement. "The geologic history of the moon and Earth are intimately tied together such that the Earth would be a dramatically different planet without the moon."
And finally, we're leaving you lunar fans with a little holiday present from NASA. The space agency's Lunar Reconnaissance Orbiter captured this composite image of the Earth in all its watery glory, as seen against the dark, undulating surface of the moon.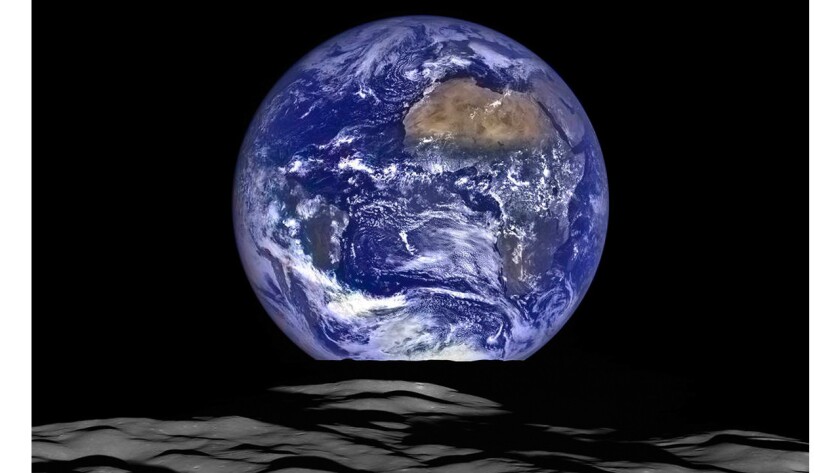 Happy holidays and happy sky watching!
Do you love science? I do! Follow me @DeborahNetburn and "like" Los Angeles Times Science & Health on Facebook.
---
Get our free Coronavirus Today newsletter
Sign up for the latest news, best stories and what they mean for you, plus answers to your questions.
You may occasionally receive promotional content from the Los Angeles Times.