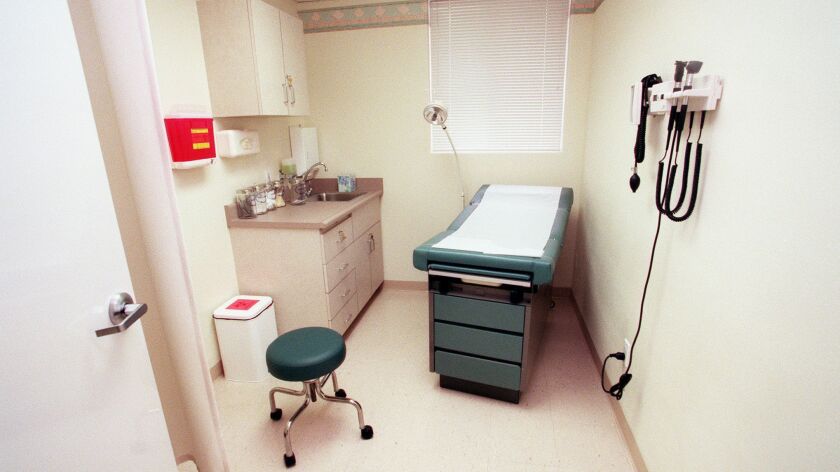 A visit to the gynecologist nearest to you is an important part of a woman's medical care. But more than other types of checkups, the exam puts patients in a vulnerable position of intimate scrutiny.
A gynecologist who treated University of Southern California students at a campus health center for nearly 30 years stands accused of behaving inappropriately during patient exams. In many cases, the patients had never gone to a gynecologist before and didn't know what to expect.
Scores of women said they knew something didn't feel right during their exam with Dr. George Tyndall, even though a chaperone was in the room. But they didn't know their discomfort could be a sign of a doctor's misconduct.
"Being so young, I didn't have a framework for what was acceptable," former patient Chelsea Wu told the Times.
More than 410 former patients have contacted the university about their former gynecologist since The Times published its report. The Los Angeles Police Department is investigating more than 50 complaints related to Tyndall, who was allowed to resign in 2017 with a financial payout. Tyndall has said his interactions with patients were appropriate and denied any wrongdoing, though an internal inquiry by USC found that his pelvic exams qualified as sexual harassment. The Medical Board of California is investigating Tyndall, and the U.S. Department of Education has launched an inquiry into USC's handling of the misconduct complaints against him.
As these cases make clear, it's sometimes difficult for patients to tell when a doctor's behavior crosses the line, especially during a woman's first exam.
What is normal? What should a patient expect? What sorts of things should never happen? Here are some answers:
A routine gynecological exam for someone under age 21 doesn't typically include an internal pelvic exam.
The American College of Obstetricians and Gynecologists recommends an initial screening at the gynecologist's office between the ages of 13 and 15 to establish trust between a patient and physician. That visit would include a general exam of the patient's weight, height and blood pressure.
Any medical problem that needs examination maybe also be discussed, such as a heavy, painful or irregular period. The visit might also include a visual breast exam and a genital external exam. If the patient is under age 18, she might receive an HPV vaccine to prevent future infection, if she wasn't vaccinated between the recommended ages of 11 and 12.
None of this involves an internal pelvic exam, which is usually "unnecessary during the initial reproductive health visit," said Dr. Sigal Klipstein, past chairwoman of the OB-GYN college's ethics committee.
"A speculum or internal exam is not routinely offered for women under age 21 unless there are specific concerns," Klipstein said.
These could include pain or abnormal bleeding, or a problem that is discovered while taking a patient's medical history, she said. If a patient is sexually active, she may be tested for sexually transmitted infections. However, most STDs can be detected with a urine sample.
A doctor should wear gloves at all times during an internal exam.
To have internal organs checked, a woman is asked to lie down on the exam table with knees bent and place her feet in two stirrups at the base. A doctor will place one or two gloved, lubricated fingers into a patient's vagina and cervix. With his or her other hand, the doctor will press on the abdomen from the outside.
USC scandal sparks a reckoning in gynecology: How to better protect patients? »
"Universal precautions dictate that physicians should always wear gloves when performing an internal exam," Klipstein said.
A doctor should communicate with a patient before an exam, and a chaperone should be offered.
A doctor should explain the purpose of the internal pelvic exam before it begins and answer any questions the patient might have, Klipstein said.
"The patient at this point should also be offered a chaperone for the physical exam portion of the visit," she added.
According to the American College of Obstetricians and Gynecologists, the chaperone can reassure a patient about the "professional context and content of the examination and the intention of the physician." The chaperone also serves as a witness to the exam, in the event of any misunderstanding.
At USC, several chaperones voiced concerns to their supervisors regarding Tyndall's unconventional behavior during exams.
The chaperone should not be a family member. Even if the presence of a family member is requested during the exam, a chaperone should also be present.
Physicians will ask about a patient's sexual history, but should not make sexually provocative remarks.
A patient's sexual history should be part of the conversation during a gynecological exam to identify the correct care that should be provided. Questions about sexual activity, pain tolerance, period cycle and birth control are not uncommon.
"At the initiation of a gynecological visit, the physician should ask the patient if there have been any changes to her health since they last met, Klipstein said. "The physician should also ask the patient about her general health, ask about any concerns she has, inquire about any recent potential exposures to sexually transmitted infections, any problems with bleeding, and her contraceptive or reproductive concerns."
One former patient of Tyndall's told The Times that the USC gynecologist seemed fixated on her sexual orientation and urged her to lose weight, suggesting that she could probably "get a guy instead of a girlfriend." That kind of talk is inappropriate, experts said.
If the patient initiates an inappropriate conversation, her doctor should redirect her to a medical issue, said Dr. Julie Cantor, who trained as a physician and is now a law professor at UCLA.
"You're supposed to be very clinical," Cantor said.
Areas of a woman's body that aren't being examined should remain covered.
"A woman is usually asked to lift her gown to expose her pelvis for the speculum and internal portion of the exam," Klipstein wrote. "She is asked to expose her chest for the breast exam. In general, any areas that are not being examined at the moment remain covered to protect the woman's privacy to the extent possible."
Tyndall reportedly asked women to lie on the exam table unclothed while he inspected every part of their body. He called these exams full body scans, and said he was checking for moles. That degree of nudity, however, is uncommon and inappropriate.
A doctor should only make necessary physical contact with a patient.
An exam should be performed with a minimum amount of physical contact, according to the American College of Obstetricians and Gynecologists. Every procedure during the examination should also include an explanation of what is being done and why.
If a woman complains of rectal bleeding, a "visual inspection of the anus or a rectal exam may be warranted" to check for hemorrhoids, Klipstein said.
If a woman feels something is not right during an exam, she should say so.
A patient has every right to ask questions, inquire about procedures and request the presence of a chaperone, Klipstein said.
"If a woman feels unsafe or uncomfortable during an exam, she should be encouraged to verbalize these concerns with her physician right away," she said. "If there is no chaperone in the room when she becomes concerned, she should immediately request that one be made available and the remainder of the exam should be delayed until a chaperone is present."
If a woman thinks she may have been abused during an exam, what should she do?
Cantor suggests using an acronym — TRUTH — to help women think through what to do if they believe a doctor has acted inappropriately during an exam.
T: Trust your gut.
"If you have a sense that something is inappropriate or wrong, I would trust that," Cantor said. Even if it turns out that everything was aboveboard, the misunderstanding can be a teachable moment for all involved about the importance of clear communication.
R: Report
If a woman believes she's been a victim of a doctor's abuse, Cantor suggests going to a district attorney, who decides whether to file criminal charges, or the state medical board, which handles licensing. In Los Angeles County, the Bureau of Victim Services can be reached by phone at (800) 380-3811 or online.
U: Understand
Friends, family and colleagues can offer insight to help a woman decipher whether what she experienced was out of the realm of normality. If a woman is unsure from the start about what to do, Cantor suggests this as a possible first step.
T: Talk to others.
An attorney could help a woman determine whether she has a civil case against her doctor. If a woman is seeking emotional support, a therapist or rape crisis counselor could help.
H: Have to persist.
A woman may have to advocate for herself and follow up with questions after a report has been filed to law enforcement or a medical board, Cantor said. Doing so can help not just the woman in question, but also potential future victims.
"Seek justice not only for yourself, but for others," she said.
Twitter: @cshalby
Times staff writer Soumya Karlamangla contributed to this report.
ALSO
FULL COVERAGE: USC former gynecologist Dr. George Tyndall accused of inappropriate behavior
Male doctors are disappearing from gynecology. Not everybody is thrilled about it
---