Must Reads: LAPD begins sweeping criminal probe of former USC gynecologist while urging patients to come forward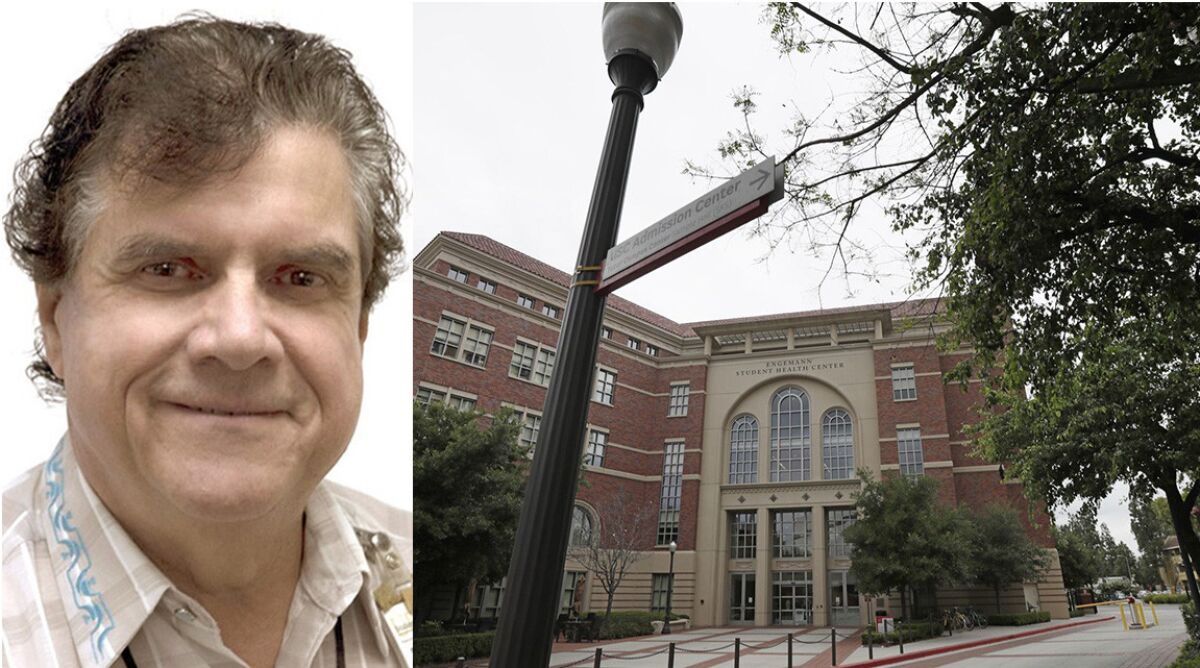 The Los Angeles Police Department said Tuesday it is investigating 52 complaints of misconduct filed by former patients of USC's longtime campus gynecologist as detectives launch a sweeping criminal probe into the scandal that has rocked the university.
LAPD detectives also made an appeal for other patients who feel mistreated to come forward, noting that thousands of students were examined by Dr. George Tyndall during his nearly 30-year career at USC. More than 410 people have contacted a university hotline about the physician since The Times revealed the allegations this month.
Tyndall's "behavior and practices appear to go beyond the norms of the medical profession and gynecological examinations," said Asst. Chief Beatrice Girmala. "We sincerely realize that victims may have difficulty recounting such details to investigators. We are empathetic and ready to listen."
FULL COVERAGE: USC former gynecologist Dr. George Tyndall accused of inappropriate behavior »
The advancement of the criminal probe comes as more women lodge civil lawsuits against USC. By Tuesday, an additional six women had sued Tyndall and the university, bringing the total number of former patients with pending litigation to 27.
Revelations of Tyndall's conduct in the clinic have fomented an uproar at the university, prompting trustees to announce Friday that President C.L. Max Nikias would step down.
Nikias is out as USC president: A timeline of his troubled tenure »
Although the LAPD probe is in its early stages, three veteran sex-crimes prosecutors from the Los Angeles County district attorney's office have been assigned to assist detectives.
Tyndall, who was allowed to resign last year with a financial payout, could not be reached for comment Tuesday, and it's unclear if he is represented by an attorney. In previous interviews, he has denied wrongdoing. In a letter to The Times dated May 17 but received late last week, the physician said he had heard of only one patient complaint before March 2016: an allegation that he did not wear gloves during a pelvic exam. He wrote that the claim was debunked by administrators.
"Patients sometimes fabricate stories," Tyndall wrote.
He included with his letter more than a dozen positive comments from patients who sent clinic supervisors emails from 2013 to 2015. "Overall Dr. Tyndall is a great doctor and a very friendly man who shows great care for his patients," one read.
LAPD Capt. Billy Hayes said that of the 52 complaints from former patients, 13 came directly to police and the rest were shared by USC.
Hayes said that some of the patients who came forward were believed to be under age 18 at the time. Investigators were working to corroborate and verify the dates of when their appointments took place.
The most serious crime under investigation by the LAPD is finger penetration.
Witnesses to Tyndall's exams said that he frequently commented on the tightness of patients' vaginal muscles, made inappropriate remarks about their sex lives, and touched patients inappropriately during breast and pelvic exams. The physician routinely inserted one to two fingers in patients after voicing concern that a speculum might not fit, and commented on their bodies as he probed them, the witnesses told The Times.
In interviews with The Times, Tyndall said his use of fingers had a legitimate medical purpose and said some of his comments to patients were misinterpreted.
An internal inquiry by USC in 2016 and 2017 disagreed, finding that his pelvic exams were outside the scope of accepted medical practice and amounted to sexual harassment of patients.
As detectives examine the wave of reports, Hayes said that police were consulting with experts in gynecological exams, the Medical Board of California and the Santa Monica Rape Treatment Center.
Tracy Green, a trial lawyer who defends physicians and other healthcare professionals, said that to bring a criminal case, prosecutors will have to show that Tyndall derived sexual gratification from any alleged misconduct. Green noted that inappropriate remarks could serve as evidence of sexual intent.
"When you add the color commentary, according to patients, that's what makes it a little odd," she said.
Leonard Levine, a criminal defense attorney who specializes in sexual abuse cases, said that part of the investigation will entail looking for potential patterns from victim statements.
The civil lawsuits against USC and Tyndall have also alleged a pattern of misconduct dating to the late 1980s.
A USC undergraduate said in a lawsuit filed Tuesday that in 2013, Tyndall groped her breasts, penetrated her vagina with ungloved fingers and was "leering at her naked body for his own sexual pleasure." Another former undergraduate said Tyndall complimented her genitalia for being "beautiful," adding: "You look like a model; I bet your mom looks like a model, too."
Another woman alleged in a lawsuit filed late last week that Tyndall penetrated her with three fingers while pushing her to go on birth control, saying she would be "great at sex."
USC has said that complaints about Tyndall dating to the early 2000s reached the clinic's executive director, who "handled patient complaints independently." The university said it was unclear why Tyndall was allowed to remain in his position. It was only after a frustrated nurse reported Tyndall to the campus rape crisis center in 2016 that the gynecologist was removed.
Top administrators have acknowledged that the system for reporting and disciplining Tyndall had broken down. But in a letter, Provost Michael Quick said he and top administrators didn't know about the complaints until 2017. USC ousted two top administrators at the clinic earlier this month.
Hayes, the LAPD captain, did not rule out whether the investigation would widen to include university administrators and other USC staff familiar with Tyndall's conduct, but he cautioned that it was premature.
"At this point in time, the focus is on the victims to determine if there are actual victims who rise to a criminal level," Hayes said.
John Manly, a civil attorney representing more than 100 former patients, said with the criminal investigation now launched, it was important that those with evidence reach out directly to the LAPD.
Anyone with information about Tyndall was urged to contact the Robbery-Homicide Division's special assault section at (213) 486-6910.
matt.hamilton@latimes.com | Twitter: @MattHjourno
richard.winton@latimes.com | Twitter: @lacrimes
adam.elmahrek@latimes.com | Twitter: @adamelmahrek
---
UPDATES:
7:05 p.m.: This article was updated with background and information from experts.
This article was originally published at 4:15 p.m.
The stories shaping California
Get up to speed with our Essential California newsletter, sent six days a week.
You may occasionally receive promotional content from the Los Angeles Times.