U.S. HIV cases dropped 33% over the last decade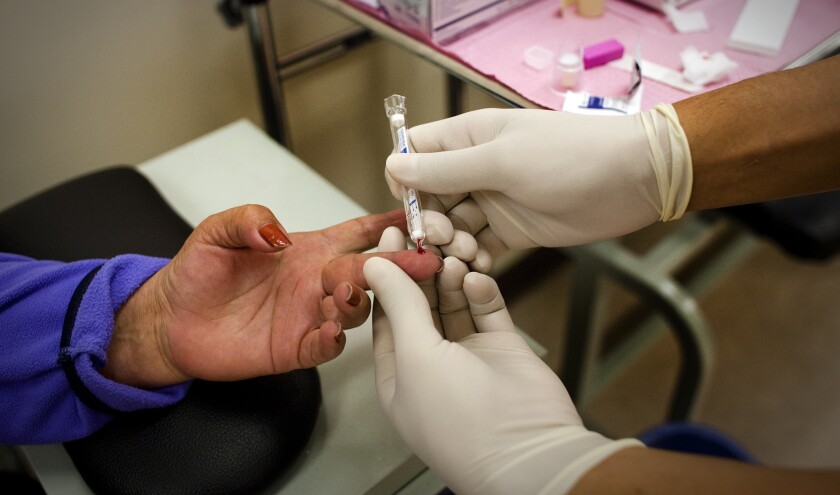 Cases of diagnosed HIV in United States dropped 33% over the last decade, declining for nearly all demographic groups except young men who have sex with males ages 13 to 24 years, according to health officials.
In a research letter published Tuesday in JAMA, epidemiologists and HIV experts said that newly available data from all U.S. states made it possible to examine national trends for the last decade.
While the overall annual HIV diagnosis rate dropped from 24.1 per 100,000 people in 2002 to 16.1 in 2011 -- a decline of 33.2% -- the diagnosis rate for men who have sex with males ages 13 to 24 increased 132%, researchers wrote.
"Among men who have sex with men, unprotected risk behaviors in the presence of high prevalence and unsuppressed viral load may continue to drive HIV transmission," Anna Satcher Johnson, an epidemiologist at the U.S. Centers for Disease Control and Prevention, and her colleagues wrote.
"Disparities in rates of HIV among young men who have sex with men present prevention challenges and warrant expanded efforts," the authors concluded.
The overall nationwide decrease in HIV diagnosis was significant for "nearly every demographic population, with the largest changes observed in women, persons aged 35 to 44 years, and persons of multiple races," the authors wrote.
"Changes were not evident for Asians or native Hawaiians/other Pacific Islanders," they said.
The annual number of HIV cases diagnosed dropped for people infected by injection drug use as well as heterosexual contact, the researchers found.
Also, HIV diagnoses attributable to male-to-male sexual contact remained stable overall but varied among different age groups.
Though the increase in diagnosed cases was highest for males ages 13 to 24, rates also increased for men ages 45 to 54 and those 55 and older. Diagnosis rates declined for males ages 35 to 44.
"Although increases in diagnosis were found in young men who have sex with men, reports show that many at high risk do not test annually and the overall percentage of youth who had ever tested for HIV during the period of analysis was low compared with other age groups," the authors wrote.
Follow @montemorin for science news.
---
Get our free Coronavirus Today newsletter
Sign up for the latest news, best stories and what they mean for you, plus answers to your questions.
You may occasionally receive promotional content from the Los Angeles Times.