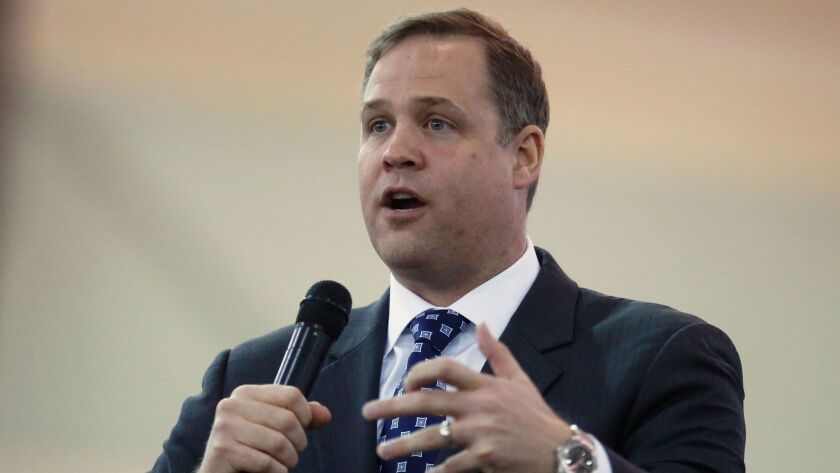 President Trump's pick to lead NASA is a congressman who wants to mine fuel from the moon and has denied human activity's role in climate change.
Rep. Jim Bridenstine, a Republican from Oklahoma, was officially nominated this week to head the space agency. If confirmed by the Senate, Bridenstine would become the first elected official to lead NASA in its nearly six-decade history.
"It is an honor to be nominated to serve our nation as NASA administrator," Bridenstine said in a statement. He declined requests to be interviewed until after the confirmation process is over.
Bridenstine is a Navy Reserve pilot and was executive director of the Tulsa Air and Space Museum and Planetarium before being elected to Congress in 2012.
"It's a different kind of pick, obviously," said John Logsdon, a professor emeritus and founder of George Washington University's Space Policy Institute. "He comes without experience in maintaining a large organization and without direct space program experience. He doesn't come out of the aerospace industry. On the other hand, he's spent a lot of time thinking about NASA, thinking about the space program. I think he comes better prepared intellectually to take on the job than most people that have held the position."
While Oklahoma does not have a major NASA connection — for example, it doesn't host a NASA field center such as the Jet Propulsion Laboratory in Southern California — Bridenstine has demonstrated a clear interest in the space agency.
In Congress, he's a member of the Science, Space and Technology Committee as well as the House Armed Services Committee. He has spoken out against space debris, floated legislation to prioritize NASA's efforts to send humans to Mars, and argued that Americans should be mining the water ice on the moon for fuel.
"From the discovery of water ice on the moon until this day, the American objective should have been a permanent outpost of rovers and machines at the poles with occasional manned missions for science and maintenance," he told the Lunar Exploration Analysis Group in 2016. "The purpose of such an outpost should have been to utilize the materials and energy of the moon to drive down the costs and increase the capabilities of cis-lunar space."
Bridenstine has pushed for the government to use more commercial space services, and called the current regulatory environment a "hindrance" to the industry.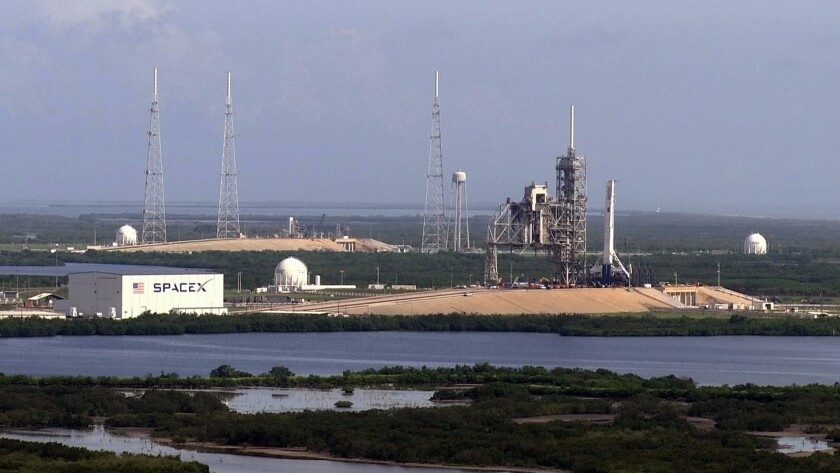 In a speech at the Commercial Space Transportation Conference this year, he told attendees that the U.S. was being "gouged" by the prices Russia charges to take American astronauts to the International Space Station. "We must make sure our space program is leveraging your industry, commercial space, in the most effective way possible," he told attendees.
Bridenstine appears to have made himself very available for space-related speaking engagements since Trump was sworn into office, Logsdon pointed out.
"Much more than any past administrators, he's publicly wanted the job," he said.
Phil Larson, an assistant dean at the University of Colorado Boulder and a former Obama space policy advisor, said Bridenstine's focus on moving the agency forward was promising.
"I'm fairly bullish, but there are still some questions that obviously need answering," Larson said.
Bridenstine has expressed doubt that human activity is fueling climate change. In a speech on the House floor, he claimed that President Obama's budget spent 30 times as much money on global warming research as on weather forecasting and warning — calling it a "gross misallocation" and asking for an apology from the president. The congressman's claim was rated as "mostly false" by Politifact.
Bridenstine's interests in NASA appear in line with those of the Trump administration. The White House budget proposal announced this year kept the space agency's funds largely stable, but sought to cancel certain Earth science missions that would have helped researchers better understand the planet's climate.
These kinds of statements will need to be clarified during Senate confirmation hearings, Larson said.
"We need to hear a clear acknowledgment that climate change is real, caused by humans, and NASA has an important role to play," he added.
Those hearings will allow senators to "look under the hood," Larson said, and get a clearer picture on Bridenstine's understanding of and plans for NASA. How he answers may help determine whether or not he is confirmed.
If he passes muster, Bridenstine would succeed former Administrator Charles Bolden, who was appointed by Obama in 2009. Bolden is a former astronaut, a retired Marine major general and the first African American to head the agency. He stepped down in January.
The agency has been without a permanent administrator for more than 32 weeks, the longest such stretch in NASA history.
Robert Lightfoot, the agency's acting administrator, said he looked forward to working with a new leadership team.
"Our history is amazing, and our future is even brighter, as we continue to build on this nation's incredible global leadership in human exploration, science, aeronautics and technology," he said.
Follow @aminawrite on Twitter for more science news and "like" Los Angeles Times Science & Health on Facebook.
MORE IN SCIENCE
Lasker Awards honor Planned Parenthood and research on preventing and fighting cancer
After California got rid of personal exemptions for vaccines, medical exemptions went way up
PSA screening for prostate cancer saves lives after all, study says
---
UPDATES:
Sept. 7, 5:30 p.m.: The story was updated with additional information on Rep. Bridenstine's interest in commercial spaceflight.
The story was originally published Sept. 6 at 6:15 p.m.
---