FDA panel endorses a booster shot for J&J's COVID-19 vaccine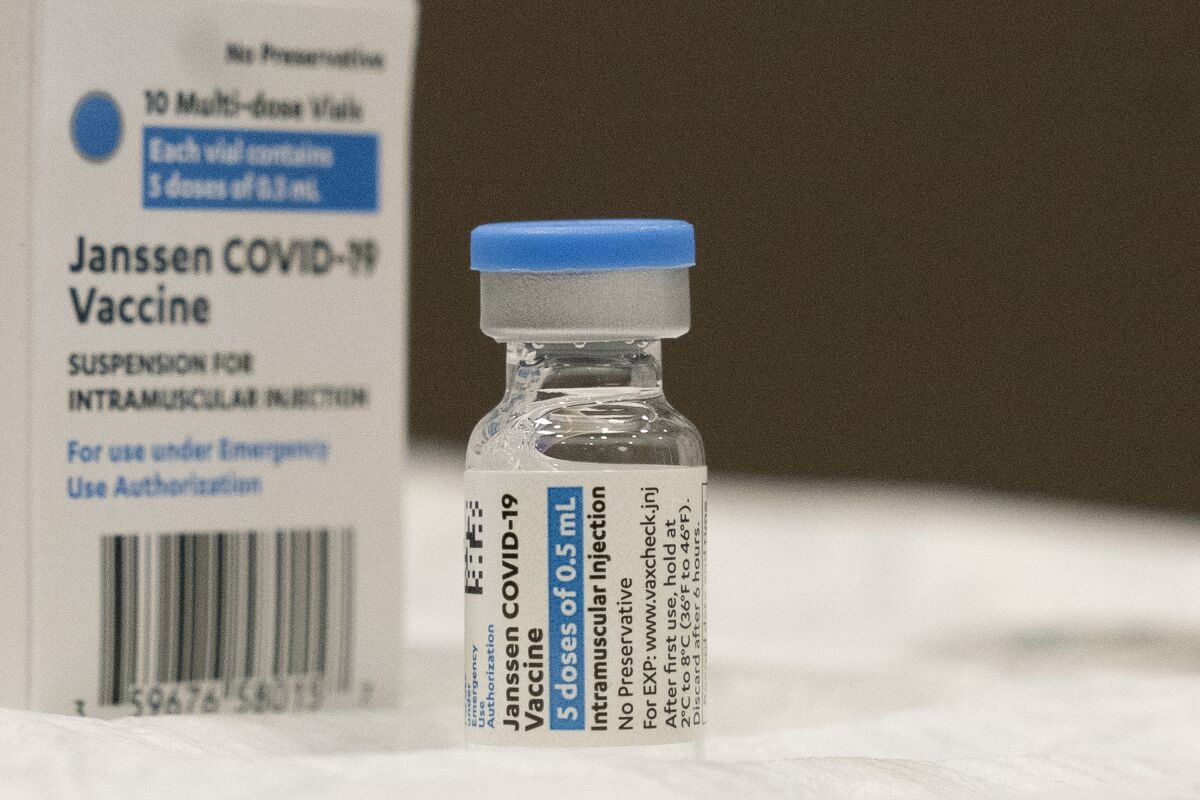 U.S. health advisors on Friday voted to shore up protection for more than 15 million Americans who have relied on Johnson & Johnson's COVID-19 vaccine for protection against the coronavirus, urging the Food and Drug Administration to greenlight a booster dose for those who got their jab at least two months earlier.
The unanimous vote came a day after the FDA's independent advisory panel on vaccines recommended boosters be made available to virtually any adult vaccinated at least six months earlier with the COVID-19 vaccine made by Moderna.
Panel members' solid support for making boosters widely available came despite their widely expressed misgivings. The cases that both manufacturers made for the extra shots often fell short of showing that all vaccine recipients need boosters, or that making them universally available would be safe.
But with the pandemic's persistence, along with mounting evidence that the protection afforded by all COVID-19 vaccines has waned, the advisors said the FDA must make booster shots widely accessible to virtually all who want them.
Get our free Coronavirus Today newsletter
Sign up for the latest news, best stories and what they mean for you, plus answers to your questions.
You may occasionally receive promotional content from the Los Angeles Times.
If the agency agrees, the expansive endorsement could still be narrowed. Another group of advisors to the Centers for Disease Control and Prevention may recommend that access to booster shots be prioritized for certain groups — including healthcare workers, older Americans and those with compromised immune systems — while recommending against their use in younger people.
The CDC, in response, could adopt those narrower recommendations. Or the agency could leave it to vaccinated adults and their doctors to decide whether a booster shot would make sense.
That decision could be made more complex with the unveiling of new findings on mixing and matching vaccines of different design and formulation.
A federally funded study that is still underway suggests that when initial doses of one U.S.-made vaccine are supplemented with a booster dose of another, coronavirus antibody levels rose dramatically.
While still preliminary, the findings turned up no evidence that serious adverse reactions increased when disparate COVID-19 vaccines are used together.
Mixing and matching doses of different COVID-19 vaccines was an idea that scientists dismissed out of hand. Now they're taking it seriously.
"In the real world all these kind of combinations are already happening, so I think it's a matter of some urgency for the FDA to help sort out what is admittedly a complicated and challenging scenario," said Dr. Ofer Levy of Boston Children's Hospital.
At Friday's meeting, advisory committee members were clearly frustrated with data that were often scant, brief in their follow-up and focused on only one part of humans' vaccine response — the production of immune proteins called antibodies.
But the committee, made up of experts in vaccines, viruses, immunity and public health, also expressed worry that if it withheld support for boosters, vaccinated Americans could die in yet another wave of COVID-19 illnesses.
Approving COVID-19 booster shots seemed like a slam dunk, but two influential advisory boards raised a host of complicated questions.
New coronavirus infections are beginning to slow nationally, following a tidal wave of illness and death over the summer. But on Thursday, Dr. Peter Marks, the FDA's chief of drug and vaccine evaluation, reminded the panel that further waves have been predicted by credible modeling groups, and the risk that they'll come to pass cannot be ruled out.
"We can't simply look at what's going on in the pandemic curve right now and call it a day," Marks said. "We do have to think ahead."
That worry was evident in the panel's broad discussions over two days of dense briefings.
Even as he commiserated with a fellow member's complaint of "a lot of uncertainties" in the data, panel chair Dr. Arnold Monto said the stakes are too high to delay the roll-out of booster shots.
"There's a public health imperative here," said Monto, an epidemiologist at the University of Michigan. "There's some urgency here to do something."
A little over 15 million Americans have received a single dose of the J&J vaccine, and more than 19 million additional doses have been administered across the globe.
The J&J vaccines won widespread support among both the FDA's and CDC's independent advisors "because of where it could go and what it could do," said Oveta Fuller, a University of Michigan immunologist who serves on the FDA advisory panel. That's because it's easier to transport and administer than the mRNA formulations made by Moderna and Pfizer-BioNTech.
Because it was thought to confer complete protection after a single dose, the J&J vaccine was also widely used in populations that might not return for second doses because of job demands, transportation challenges and scant access to doctors.
We look at the science behind the need for COVID-19 booster shots.
If the FDA accepts its advisory panel's recommendation, the "one and done" vaccine could begin to look more like the two-dose vaccine regimens of Pfizer-BioNTech and Moderna.
J&J on Friday presented evidence that after about five months, a single shot of the vaccine reduced the risk of moderate to severe COVID-19 by roughly 45%, and reduced the risk of severe or critical disease by 72%.
Booster doses administered two to six months after a first dose more than tripled the number virus-blocking antibodies in study participants, and in some cases increased them by a factor of six or more, J&J representatives said.
Older vaccine recipients saw greater increases in antibodies than younger ones. And those getting a booster close to six months from their first shot experienced a steeper rise in antibodies than those who got boosted two months after their first jab.
But the J&J studies that reflected conditions in the United States had small numbers of recruits; in one study, the outcomes of just 81 study participants were used to make the case for boosters.
Drawing from larger international studies, however, company representatives told the panel that providing boosters would "optimize immune response," prevent cases of severe COVID-19, and better protect people against future viral variants.
The small research populations and short follow-up of subjects also prompted concerns about whether any new safety risks tied to boosters would be detected before the additional shots were made available to the public.
The initial roll-out of COVID-19 vaccines made by Moderna and J&J was roiled by concerns over side effects, including certain types of heart inflammation in some younger people who received the Moderna vaccine and a highly unusual blood disorder linked to J&J vaccine. Both conditions are considered extremely rare, and neither Moderna nor J&J found evidence that they became more common with the administration of boosters.
But each company acknowledged that such rare adverse events might not be detected until much larger groups begin taking them.
The Associated Press contributed to this report.
---
Get our free Coronavirus Today newsletter
Sign up for the latest news, best stories and what they mean for you, plus answers to your questions.
You may occasionally receive promotional content from the Los Angeles Times.