WHO worried about COVID-19 surge in China amid lack of info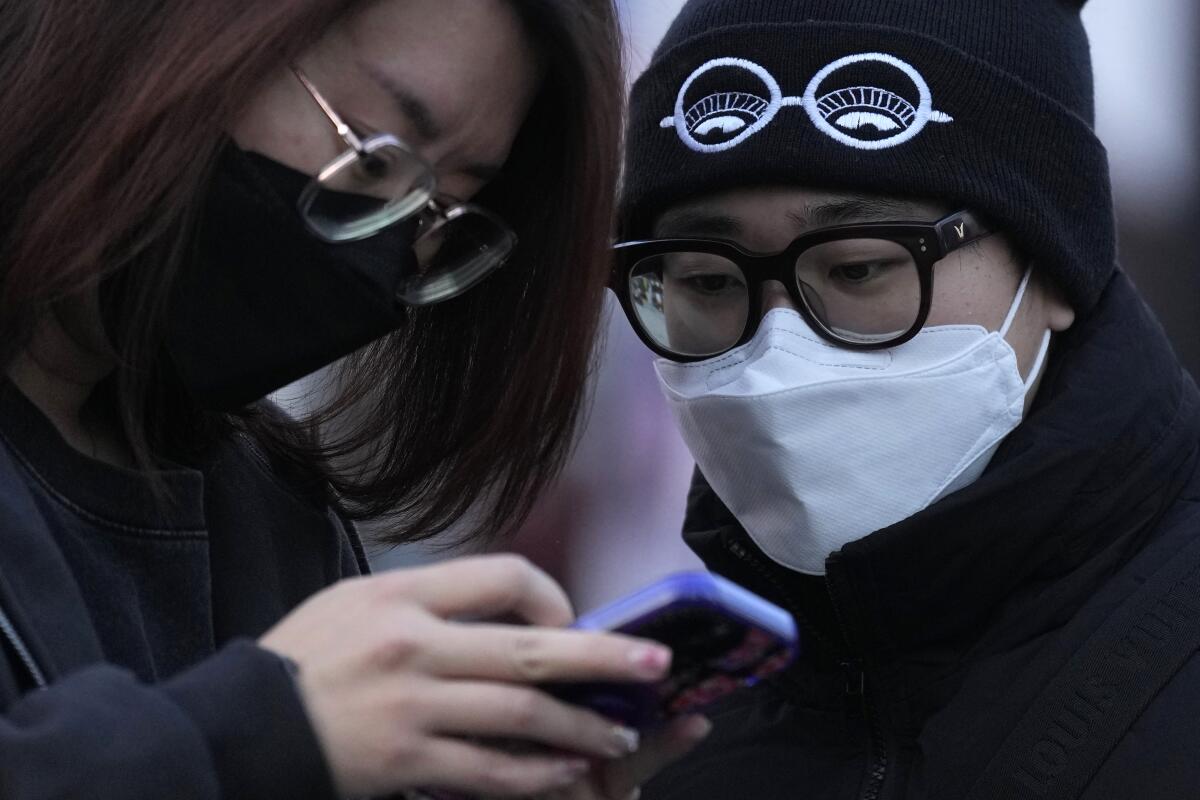 GENEVA —
The head of the World Health Organization said this week that the agency is "concerned about the risk to life in China" amid the coronavirus' explosive spread across the country and the lack of outbreak data from the Chinese government.
WHO Director-General Tedros Adhanom Ghebreyesus said the agency recently met with Chinese officials to underline the importance of sharing more details about COVID-19 issues including hospitalization rates and genetic sequences, even as the pandemic continues to recede globally.
"Data remains essential for WHO to carry out regular, rapid and robust risk assessments of the global situation," Tedros said at a press briefing on Wednesday.
Tedros said he understood why numerous countries have recently taken measures against travelers coming from China, saying "it's understandable that some countries are taking steps they believe will protect their own citizens" given the void of information about COVID-19.
WHO emergencies chief Dr. Michael Ryan said the testing protocols implemented by some countries were not a restriction against travel.
"It's not an excessive measure based on individual countries' risk assessment," Ryan said.
He noted that for the past three years, China has had some of the world's harshest rules regarding COVID-19. "The reality for China is that many countries (now feel) they don't have enough information to base their risk assessment," he said.
The CDC has a new plan to get a jump on new coronavirus variants — asking LAX passengers arriving from overseas to swab their noses for the sake of science.
Earlier this week, Chinese officials sharply criticized COVID-19 testing requirements imposed on visitors from China and threatened countermeasures against countries involved, which include the U.S. and several European nations.
"We believe that the entry restrictions adopted by some countries targeting China lack scientific basis, and some excessive practices are even more unacceptable," Foreign Ministry spokesperson Mao Ning said at a briefing Tuesday.
The WHO's Ryan added that there were continuing concerns about how Chinese officials are recording coronavirus deaths, saying that their definition, which only counts COVID-19 deaths if there is a record of respiratory failure, is too narrow.
Throughout December, China recorded only 13 official COVID-19 deaths, despite many thousands of cases every day and reports about overwhelmed hospitals, fever clinics and crematoriums.
Protesters in China are eager to see an easing of "zero-COVID" rules, but health experts warn that doing so could prompt a massive health emergency.
A WHO expert group said Wednesday that no worrying new COVID variants have been identified in China based on the information authorities have shared, including genetic sequences deposited into a public database. The WHO said Chinese scientists have now shared more than 770 sequences, with Omicron subvariants BA.5 and its descendants accounting for more than 97% of all local infections. Globally, BA.5 variants comprise about 68% of all sequences.
The European Centre for Disease Prevention and Control said it did not expect the surge of COVID-19 in China to affect the outbreak in Europe, given the high rates of vaccination across the continent. It also noted that the variants spreading in China were already present in Europe, suggesting that any spillover from China would have a negligible impact.
Maria Van Kerkhove, the WHO's technical lead on COVID-19, said the agency was currently evaluating the significance of the variant known as XBB.1.5, which has recently comprised an increasing proportion of cases in the U.S.
The newest Omicron subvariant of concern is XBB.1.5. It's more contagious and more resistant to existing immunity than any of it coronavirus predecessors.
"Our concern is how transmissible it is," Van Kerkhove said. "The more this virus circulates, the more chances it will have to change," she said, adding that further waves of transmission do not necessarily have to translate into more deaths, with the wide availability of vaccination and drugs.
Van Kerkhove said there is no data yet to prove that XBB.1.5 causes more severe disease, but that the WHO is working on a new risk assessment of the variant, which it expects to release soon.