Judge dismisses part of lawsuit filed by Hotel Laguna operator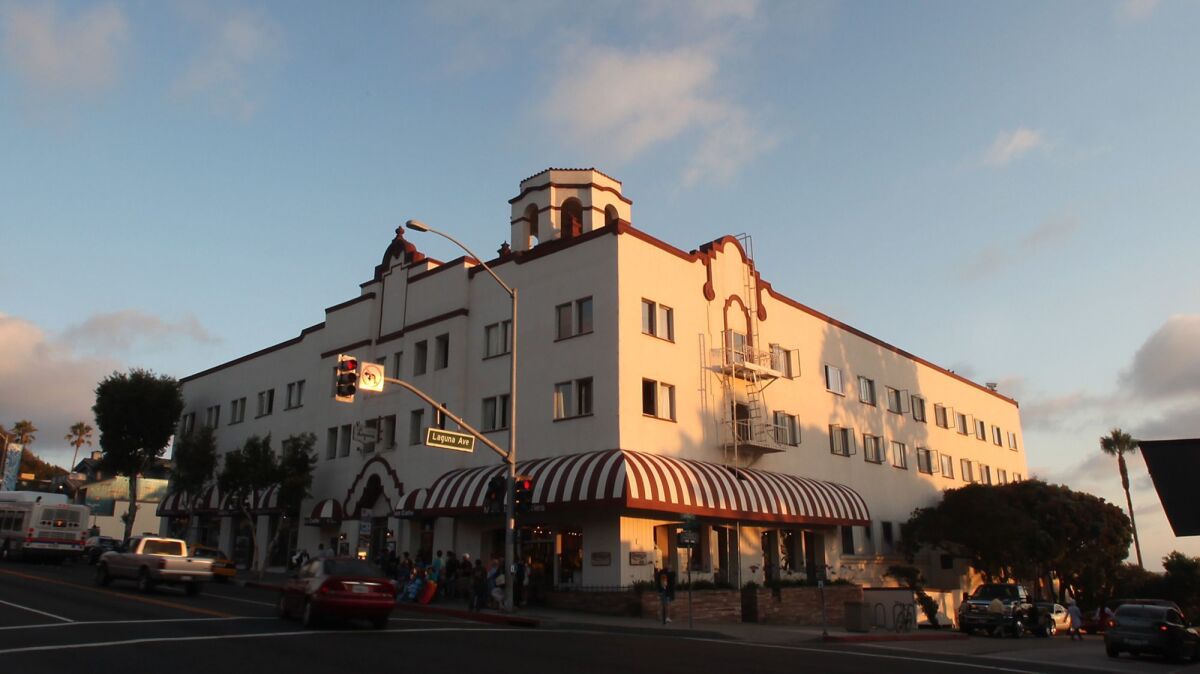 A U.S. District judge last week granted part of a group's request to dismiss portions of a lawsuit filed by the operator of Hotel Laguna in Laguna Beach.
Judge Josephine Staton, in her written order, dismissed hotel operator Andersen Hotels, Inc.'s claims of trademark infringement, false designation of origin and service mark dilution.
Trademark infringement law prevents unauthorized use of a trademark only when such uses occur in connection with a commercial transaction in which the trademark is being used to confuse potential customers, Staton said.
In its Oct. 12 filing, Andersen alleged a group that includes E.W. Merritt Farms, film director Greg MacGillivray, real estate investor Joe Hanauer, James Ray and Kimbark Group, LLC, a Delaware company that does business in California, are using the name Hotel Laguna and advertising themselves as the new owners of the property at 425 S. Coast Hwy. without Andersen's consent.
Andersen's lease expires Dec. 31. Staton's ruling does nothing to affect that date, said attorney Proud Usahacharoenporn, who represents Andersen.
Staton cited the Lanham Act as the basis for her ruling. The law is designed to protect consumers who have formed associations with a mark from buying a competing product using the same or similar mark.
The alleged advertisement is not used in connection with sales of goods or service, Staton said.
Kimbark requested Staton dismiss 10 of Andersen's claims, including breaches of contract and implied covenant of good faith and fair dealing, and injury to business reputation.
The allegations of contract breach and injury to reputation would usually be handled by a state judge, but Staton said that Andersen could file an amended complaint within 21 days of her Dec. 13 order to address deficiencies regarding federal trademark law claims and the court would review state-law claims, according to court records.
Andersen could also refile the case in state court, Staton wrote.
Andersen, a family business, sued property owner, E.W. Merritt Farms, alleging it violated lease terms to make way for a new operator.
Andersen has operated the hotel for 32 years but learned in January that Merritt Farms had agreed to lease the hotel and property to Kimbark, MacGillivray, Ray and/or Hanauer.
The suit claims Merritt Farms did not comply with lease terms to give Andersen the right of first refusal should Merritt Farms decide to sell the property or hotel.
Andersen alleges that Merritt Farms, Kimbark, MacGillivray, Ray and/or Hanauer structured a 99-year lease in an attempt to avoid Andersen's right of first refusal.
MacGillivray, in an October statement, acknowledged there is a plan afoot for the hotel — with preservation as a priority — but declined to give further details.
Twitter: @AldertonBryce
---