Coastal Commission rejects Laguna's plan to ban new short-term lodging permits in residential zones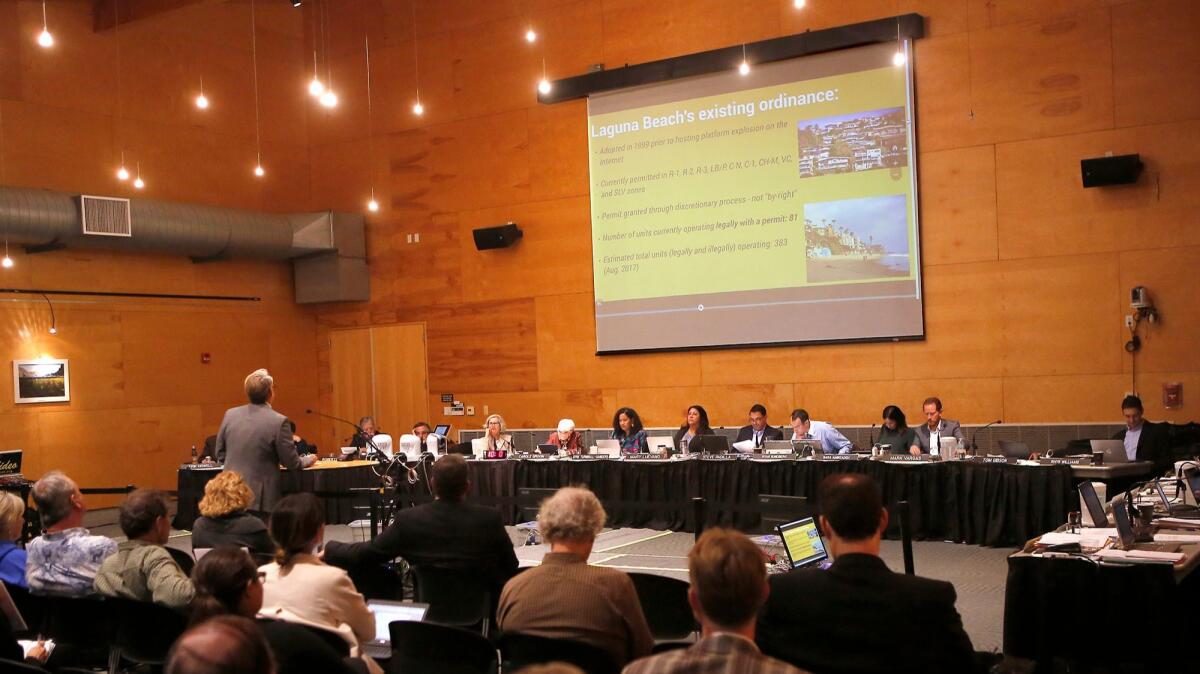 Short-term lodging will be allowed in Laguna Beach's residential zones going forward, the California Coastal Commission decided Thursday.
In a 9-2 vote commissioners denied the city's request to prohibit new permits for short-term rentals — stays for 30 consecutive days or less — in residential zones. The city's proposed revision would have instead expanded commercial areas where such rentals would be allowed.
The city wanted 8,900 residential lots, including properties with substandard lot sizes, removed from consideration as short-term rentals, according to a commission staff report.
Nearly 730 existing residential units on 282 lots in commercial areas would have been eligible for short-term rentals under the amended ordinance, the report said.
Commissioner Steve Padilla said the numbers tell the story.
"This is a loss. Nothing else in the record suggests anything other than that," Padilla said.
"I've owned property and rented property and, in my experience, I would have gladly traded some of my neighbors who were owners because it is not just short-term renters who can be a pain in the butt," he added.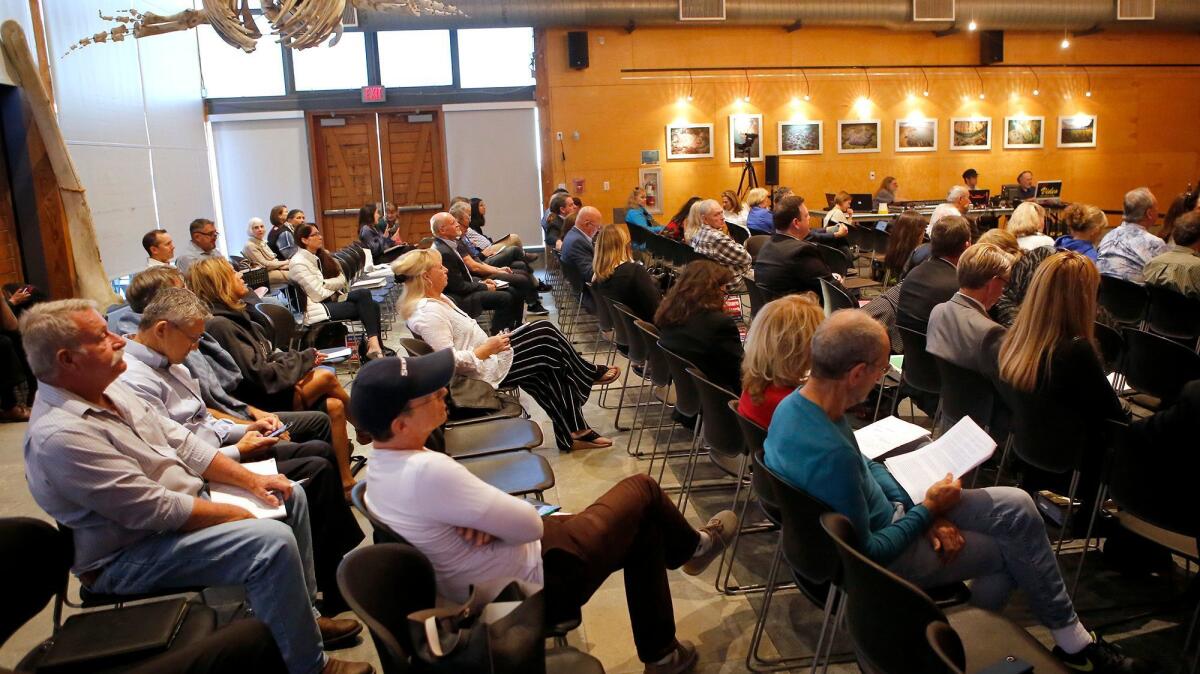 It's been nearly 16 months since the Laguna Beach City Council approved changes to short-term lodging rules amid complaints of loud parties and littered sidewalks and streets that some residents attributed to short-stay renters.
The council enacted a moratorium on new short-term lodging permits from May 2015 until Oct. 1, 2016 while city staff researched the issue and gathered public feedback during 11 hearings.
"I'm disappointed and don't believe they [commissioners] acknowledged the effort the council made to accommodate tourists," Laguna Beach City Manager John Pietig said, adding that it was too early to say whether the city would return to the commission with another proposal.
In favoring Laguna's proposed changes, Commissioner Aaron Peskin questioned the argument that short-term lodging offers visitors more affordable rates than hotels or motels.
At Laguna's currently permitted 81 short-term rental units, the average nightly rate is $403, Laguna Beach Community Development Director Greg Pfost told commissioners at the meeting held in Dana Point.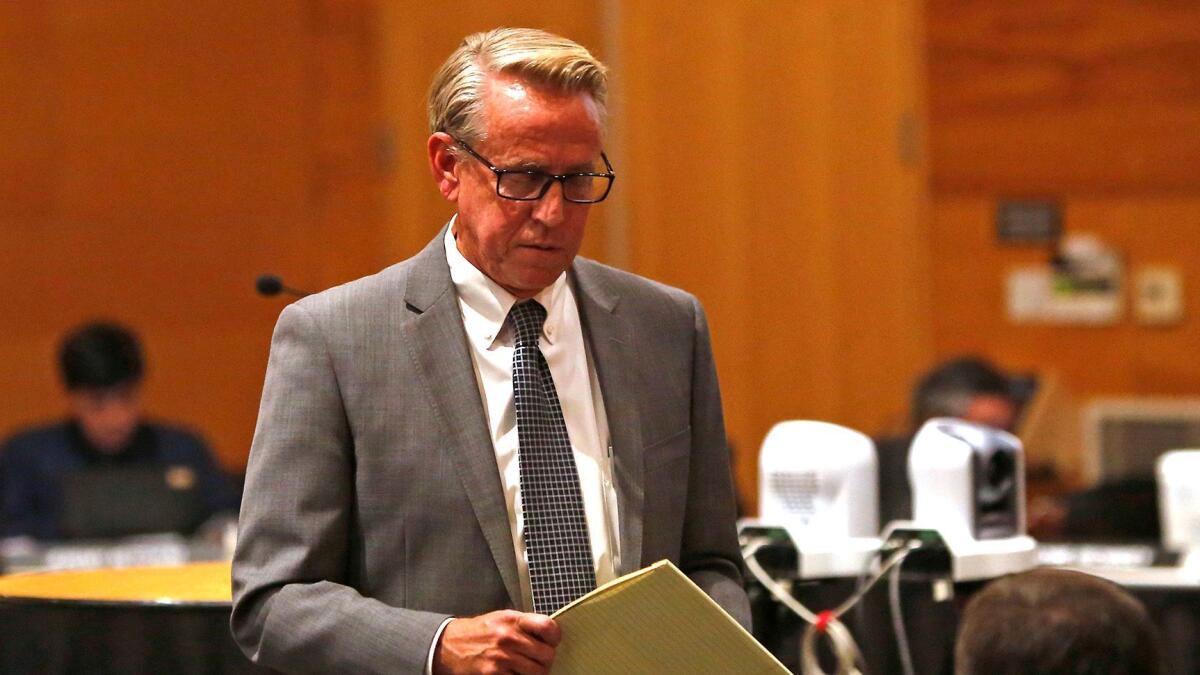 The average nightly room rate for one of Laguna's 1,305 hotel and motel rooms in 2015-16 was $292 on weekdays and $350 on weekends, the commission's report said.
"We may grow the amount of opportunities for visitors [with residential units]," Peskin said, "but this is already a town, it sounds like, visitors are getting there.
"I don't think anywhere in [the Coastal Act] is the commission supposed to help visitors seek more residential vacation experiences."
The 34 speakers at the meeting were roughly split on whether to supporting Laguna Beach's proposed changes .
"I was renting out to people from out of state and out of the country, mainly because they were appreciative for being in Laguna for the kind of money I was charging," resident Bruce Wheeler said. "Most of the time they were at the beach or shopping or eating out."
City officials said Laguna's trolley shuttle, which offers passengers free rides, coupled with potential locations of short-term units in zones close to beaches and parks, would give visitors plenty of opportunities to access coastal areas.
Commission staff did approve of some of the revised ordinance, such as rules stipulating the number of guests and the times they could be on the property.
Twitter: @AldertonBryce
Sign up for Essential California for news, features and recommendations from the L.A. Times and beyond in your inbox six days a week.
You may occasionally receive promotional content from the Los Angeles Times.