Tree vandalism raising concern in Laguna Beach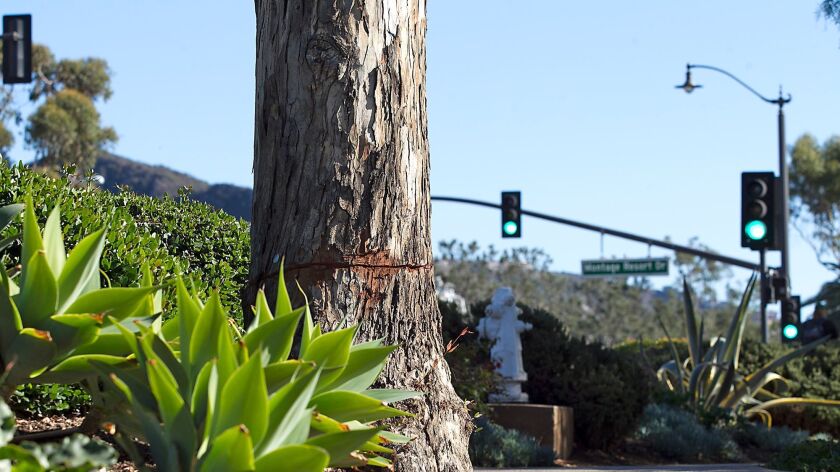 Laguna Beach police are investigating a late-December report of two downed eucalyptus trees in South Laguna, the latest attack on trees that has raised concerns among residents and city officials.
Two trees were discovered lying on a hillside Dec. 28 in the 31000 block of South Coast Highway, police Sgt. Jim Cota said.
The trees' owner is involved in a dispute with a neighbor who says the trees, valued at a combined $400, block a view, Cota said. No arrests have been made.
Unrelated tree vandalism occurred earlier in 2017 and in 2016, Cota said.
At the City Council's Dec. 5 meeting, several residents urged the city to find whoever poured a substance that smelled like fuel around the base of a 60-foot-tall eucalyptus tree months earlier at 31942 S. Coast Hwy.
Former mayor Ann Christoph asked about the incident after she received a call from a neighbor who had reported seeing nails pounded into the tree's trunk and a trench next to it containing a substance.
Police also had received a report of a person pouring a substance on the city-maintained tree, according to Public Works Director Shohreh Dupuis. Firefighters responded and placed absorbent around the tree to remove the substance.
On an arborist's recommendation, the city tried to stop further damage by, among other things, scrubbing the tree with a brush to remove any residue from the substance.
A few weeks later, the city removed a dozen nails that had been inserted in the trunk, Dupuis said. An arborist said the tree could recover but it wasn't likely, Dupuis added.
The tree eventually died and the city removed it Dec. 7, Dupuis said.
"Yes, it may have been in somebody's view. I understand the frustrations with views," Ruben Flores, founder of Visionscape Inc., a landscape design company, told the council during the Dec. 5 meeting. "I don't know what the mind-set of people is that allows them to think that doing something like that is OK. You would not go and put nails in somebody's car. Yet the value of that tree is superior to most cars."
Resident Ginger Osborne added, "If we don't treat this as a crime, it will continue."
Tree vandalism also occurred in November 2016 at the Montage Laguna Beach resort at 30801 S. Coast Hwy.
Five eucalyptus trees ranging from 40 to 45 years old sustained 1- to 2-inch cuts at the base of their trunks. A Montage security guard reported the cuts to police.
The trees are next to a walkway close to the highway and are monitored by arborists, according to the resort's engineering director, Chris Russell.
Detectives are investigating each vandalism case separately, Cota said. Police face challenges in solving these types of cases because of conflicting statements and a lack of witnesses, he said.
Councilman Steve Dicterow characterized the acts as malicious and the perpetrators as mean-spirited.
"There are certain levels of what people think is right and wrong behavior," Dicterow said. "More people do not care about the consequences of what they do.
"It goes deeper than the behavior. It's reflecting a psychological stirring within a person that leads them to do that."
Mayor Kelly Boyd called the incidents "disturbing."
"I don't understand it; we have a great view ordinance," Boyd said. "Why people are doing this is beyond me.
"I don't know what the solution is unless they are caught."
A revised view ordinance took effect in January 2015 and requires property owners in a dispute to attempt a solution on their own or with a mediator before the city-appointed View Restoration Committee considers the matter at a public hearing.
Eucalyptus trees have a mixed reputation in Laguna. Some residents bemoan them as a fire hazard, while others say their majestic stature contributes to neighborhood character.
Twitter: @AldertonBryce
---