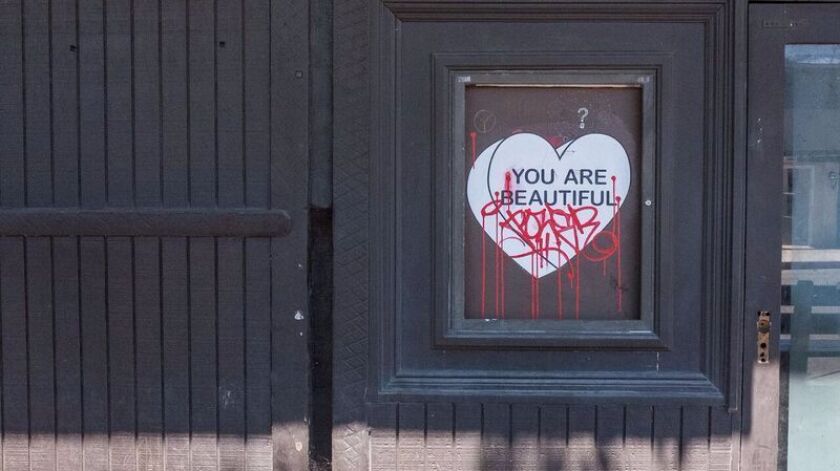 For once Sleepy Hollow in Laguna Beach is living up to its name.
The narrow, forsaken wedge of land just south of downtown has become everything that Washington Irving described nearly 200 years ago. In "The Legend of Sleepy Hollow," he called it a "listless repose" and "sequestered glen" that is clearly bewitched.
"A drowsy, dreamy influence seems to hang over the land, and to pervade the very atmosphere," he wrote.
Now, the Laguna incarnation is feeling the full impacts of its troubled location.
More than a half dozen highly visible businesses are shuttered between Legion and Cleo streets with no new tenants in sight.
True to form, Sleepy Hollow has become Laguna's business ghetto.
There is an increase in homeless malingering, blight and graffiti, especially at the long-closed Mosun building.
Recent owners who left all point to the obvious: no parking, no foot traffic and no real community support.
The Buy Hand owners, for example, moved south to the HIP District as soon as an attractive spot opened by the Sandpiper Lounge. They said they love the new location — vibrant with multiple parking options.
Spirit Qin, the T-shirt shop owner of Personalitees, struggled for years before finally pulling stakes in February and abandoning the retail business entirely.
Kent Kelley of Cherry Moon moved his shop a few spots north but still worries about his long-term viability.
"If it wasn't for Taco Loco, this would be a dead block," he said. "The building owners say they are going to remodel, but then it will be all dressed up and nowhere to go."
The shops at 660, 662, 670A and 670B S. Coast Hwy. are all closed, along with the old Tippecanoes, Mosun and the real estate office near the north corner. In addition, the storefront at the 14 West boutique hotel, 688 S. Coast, now is a barren office but used to be a separate business.
For Mosun's part, the new owners are still trying to remodel the large site and create a high-end Chinese restaurant called Red Dragon. Architect Jim Conrad said Monday that they're moving forward with the city to make the necessary improvements, including a plan to have delivery trucks utilize the Ralphs lot instead of the residential road behind the restaurant.
He hopes to finalize the details and start the remodeling in the next couple months. If everything comes together, perhaps the restaurant could open by the end of 2018, he said.
Assuming Red Dragon opens and is successful, perhaps it can turn around an area that right now has little life and even less parking.
Conrad admitted that parking is a huge challenge for businesses throughout the city.
"It really does need to be looked at," he said.
The question is who is going to look at it?
The city? The business owners? The parking gods?
No one wants to address parking in Laguna Beach.
What makes Sleepy Hollow even more problematic is the beach side of the street doesn't really care what happens on the other side. The hotels and swanky beachside restaurants all have their valets and ample shared parking agreements.
But on the non-beach side of Coast Hwy., there are only 18 street parking spaces for the entire block. Unlike other areas of town, there is no real parking available for Sleepy Hollow. The hotels have their own spots, and the old Mosun site is grandfathered from the mid-1950s.
If you do happen to find street parking, you're more likely to get a broken car mirror than a ticket because even the parking police don't like this narrow, dangerous stretch of no-man's land.
In addition to the parking problem, there's little foot traffic for the open businesses. Rarely do shoppers walk down the hill past Legion Street and into the dark bowels of Sleepy Hollow.
It remains to be seen if the new pedestrian wayfinding signs will help. With nothing to entice them, it's doubtful shoppers will make the hike. The best case is they go to Taco Loco then spend some extra time in the shops.
It's obvious that Sleepy Hollow is a victim of its languid past when zoning, parking and business plans were not high on everyone's priority list.
The same could be said for other areas of town, but that's best left for another story, another scary book filled with headless horsemen.
DAVID HANSEN is a writer and Laguna Beach resident. He can be reached at hansen.dave@gmail.com.
---