Another battle possible over Angels outfielder Josh Hamilton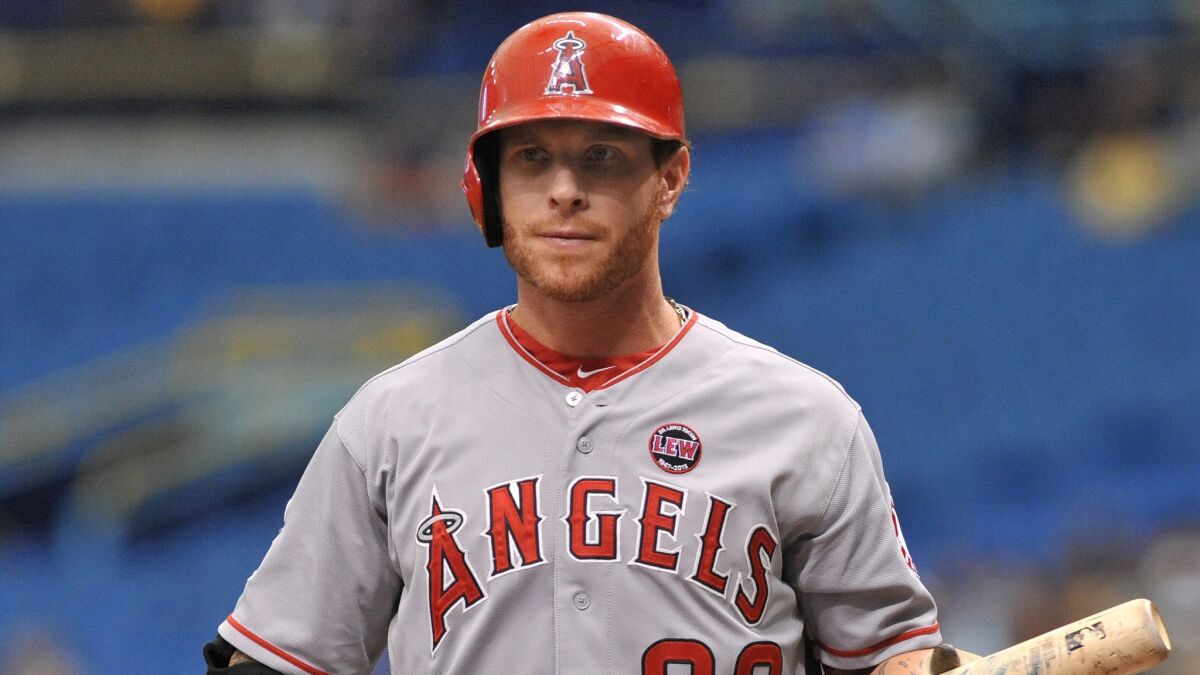 Although the players' association insists nothing in Josh Hamilton's contract would allow Angels owner Arte Moreno to recoup at least some of his investment in the troubled outfielder, the commissioner's office does not agree with the union's stance.
If Moreno pursues the matter, the commissioner's office and the union could face off in a second arbitration hearing on Hamilton.
Moreno said last week that he might try to enforce contract language that he said protected the Angels against a substance-abuse relapse by Hamilton. Within hours, the union issued a sharply worded statement that said provisions of baseball's collectively bargained drug policy "supersede all other player contract provisions and explicitly prevent clubs from exactly the type of action Mr. Moreno alluded to."
However, MLB chief legal officer Dan Halem told the Los Angeles Times on Wednesday: "We obviously have a different view than the players' association regarding the club's rights under these circumstances."
Halem declined to comment further.
Hamilton, who is rehabilitating a surgically repaired shoulder, is not expected to be able to play for at least another month. Moreno is not believed to be considering any imminent action.
The time for such action would have been immediately after an arbitrator ruled Hamilton had not violated his drug treatment program by reporting a relapse and could not be suspended. That ruling came April 3, three days before the Angels opened their season.
As Fox Sports first reported, a player's annual salary becomes fully guaranteed on opening day, leaving Moreno liable for the $23 million he owes Hamilton this season. The Angels owe Hamilton $30 million in each of the next two seasons.
Two people familiar with Hamilton's contract say it contains at least three provisions Moreno could use to pursue his case, including one that would enable the club to void the deal if Hamilton could not perform because he had engaged in "dangerous activities" that include drug and alcohol abuse. The Angels also could cite a provision that would allow the club to walk away if it determined Hamilton was not in "first-class condition" because of substance abuse.
Although such language is not uncommon in player contracts, it is uncertain whether the Angels — and perhaps the commissioner's office — could persuade an arbitrator that the team should be relieved of Hamilton's contract if he is physically ready to play.
Moreno last week pointedly declined to say that Hamilton would play another game for the Angels. "I will not say that," Moreno said.
Moreno could release Hamilton any day he wanted, but only by paying the $83 million remaining on his contract. The two sides could agree on a buyout, although the union generally permits a discount only if the player gets some other benefit.
That benefit could be free agency now rather than waiting until 2017, when Hamilton would be 36, but the value could be negligible given his uneven performance even before the relapse. Also, since Moreno has signaled Hamilton might never play in Anaheim again, any club interested in signing or trading for Hamilton might well wait to see if the Angels simply release him.
Twitter: @BillShaikin
Get the latest on L.A.'s teams in the daily Sports Report newsletter.
You may occasionally receive promotional content from the Los Angeles Times.