Angels' Joe Blanton has another forgettable game in 4-3 loss to Twins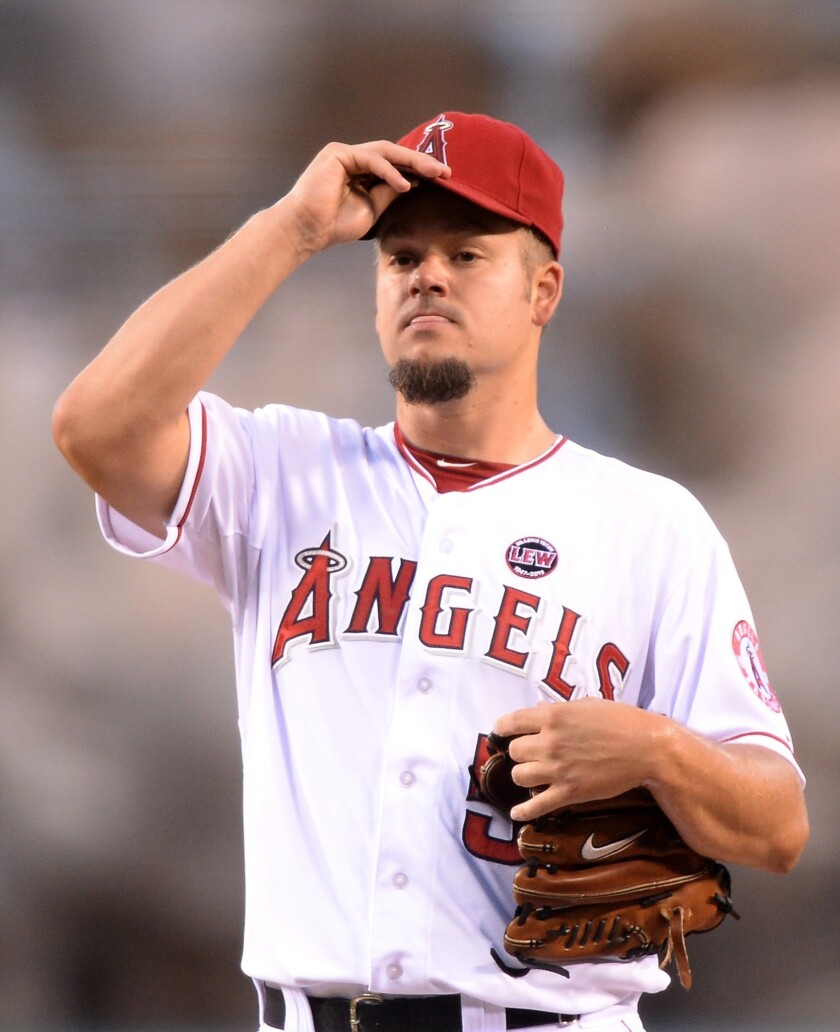 Joe Blanton's struggles reached a pinnacle Monday night in the Angels' 4-3 loss to the Minnesota Twins.
Coming into the game at Angel Stadium, Blanton had allowed 15 runs on 22 hits in his previous three starts. Coming out of it he leads the majors in home runs allowed (24) and earned runs allowed (73).
Blanton didn't even make it out of the fourth inning, when Manager Mike Scioscia took the ball from him.
This time there was no angry thrashing, no inanimate object in which Blanton vented his frustrations upon. Just an air or resignation as he clenched his shirt collar between his teeth, tucked his mitt under his left arm and trudged solemnly through the dugout, eyes blankly staring forward.
Blanton (2-13, 5.66 ERA) gave up four runs on nine hits while walking two in a tenuous 32/3-inning outing that pushed him to the verge of losing his spot in the rotation. A fourth-inning home run by Twins left fielder Clete Thomas marked Blanton's 10th consecutive start in which he's given up a homer.
Still, the Angels came within inches of pulling out a win.
After falling behind 4-2 in the fourth inning and making little headway against Twins starter Samuel Deduno (6-4, 3.50), they made it 4-3 when pinch-hitter Collin Cowgill hit a two-out single to left field to score Howie Kendrick in the eighth.
Then it was Chris Iannetta's turn to hop off the bench. And he walloped the first pitch he saw from reliever Glen Perkins toward the Angels' bullpen as the crowd rose to its feet.
But Thomas leaped to rob Iannetta of a home run.
In the ninth inning, the Angels had two runners on with one out, but Albert Pujols and Kendrick struck out and they lost their sixth game in nine tries.
But Blanton's struggles far surpass that of the team's.
In 20 starts this season, his ERA hasn't dipped below 5.07. His frustrations boiled over after his last start when he shoved a Gatorade cooler onto the dugout floor. But Monday he looked simply defeated.
And the Angels have replacement options in relievers Billy Buckner, Michael Roth and Garrett Richards — all of whom have started this season. Buckner has started two games this season and 23 since 2007 while the rookie Roth struggled in his lone start. Richards would likely have to return to triple A for endurance work before trying his hand as a starter after making his last 25 appearances in relief.
"Well, you're always looking to improve where your team is and where your rotation is," Manager Mike Scioscia said. "It's a tough outing for Joe, and we'll assess things as we start to get guys back and see where we are."
Early on, it appeared Deduno might be in for a long night as well. He walked J.B. Shuck and Mike Trout to start the game before a Kendrick sacrifice fly gave the Angels a 1-0 lead.
Two innings later, he served up an Erick Aybar leadoff double. Trout knocked him home with an RBI single to extend his career-best, 13-game hitting streak.
But while Deduno worked out of his slow start, Blanton drowned in his. Thomas and Aaron Hicks, the Twins' No. 8 and 9 hitters, had back-to-back doubles in the second inning to make it 2-1 Minnesota. Thomas' solo shot in the fourth reclaimed the lead for the Twins at 3-2.
twitter.com/stephen_bailey1
---
Get the latest on L.A.'s teams in the daily Sports Report newsletter.
You may occasionally receive promotional content from the Los Angeles Times.